Paris, Prince And Blanket Jackson: Where Are Michael Jackson's Kids Now?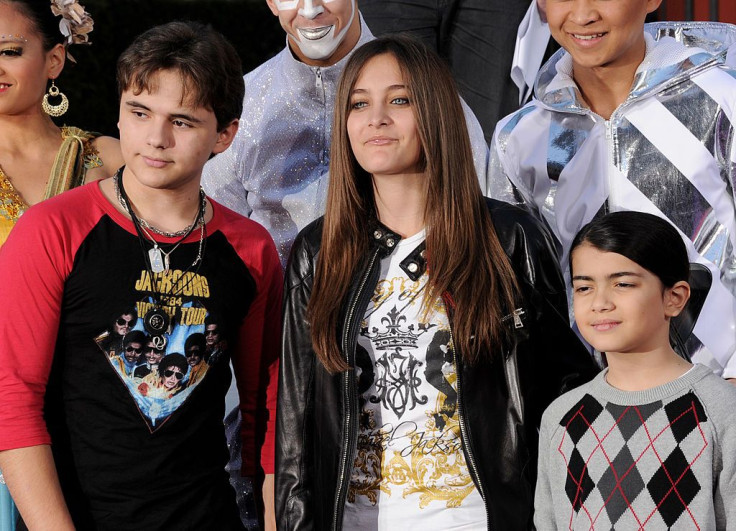 It's been seven years since legendary singer Michael Jackson passed away. The father to three children — Paris, Prince and Blanket — the King of Pop tried his best to keep his children out of the spotlight while he was alive, often covering his kid's faces from paparazzi with masks and blankets. After the singer's death, his kids have maintained the same level of privacy but as they get older, some have stepped out into public more often. Check out what MJ's kids are up to now in 2016.
Michael Joseph Jackson Jr., 19
Around the age of 16, the oldest Jackson child, also known as Prince Michael, began doing work on television, appearing on "Entertainment Weekly" and "90210." Following his TV work, Prince began making less appearances in public. In 2015, Prince graduated high school and now currently attends Loyola Marymount University. Prince also remains active on social media, tweeting and retweeting followers.
Paris-Michael Katherine Jackson, 18
Out of all the children, Michael's only daughter has been seen the most in public. Following her father's death, Paris and her brother's made appearances at various Michael Jackson-related events. Usually, Paris could be seen sporting a shirt with her father's image. Although things were going well for Paris, in 2013, at the age of 15, Paris attempted suicide. Luckily, Paris survived and hasn't attempted suicide since but she is apparently dealing with cyber bullying.
Earlier this month, Paris took to YouTube to upload a video firing back at online bullies. "I don't understand how there can be so much hated in the world right now," she said. "I've tried sticking up for myself. I've tried the whole 'blocking the haters' thing, not reading the comments. I've tried a lot of things; ignoring it. But it's hard."
Prince Michael Jackson II, 14
Better known as Blanket — besides infamously being dangled over a balcony by his father — the youngest Jackson child has kept the lowest profile. After being called Blanket his entire life, the eighth-grader recently changed his named to Bigi. According to Radar Online, the name made the youngest Jackson child the subject of bullying. While he hasn't been seen often, Bigi was recently spotted in Malibu, California. See what he looks like now here.
© Copyright IBTimes 2023. All rights reserved.
FOLLOW MORE IBT NEWS ON THE BELOW CHANNELS