Patients Want to Read, Share Their Medical Records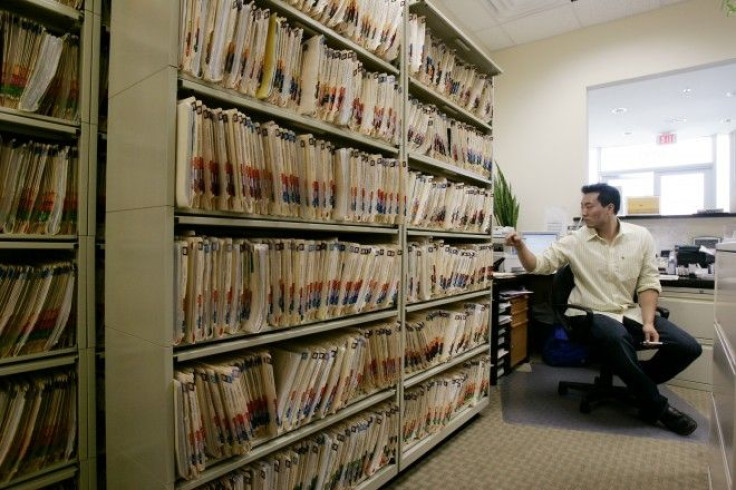 (Reuters Health) - Patients want easy access to any notes their doctor has recorded about them, and they want the right to let others view their medical information, according to a pair of U.S. studies.
Advocates of open-access medical records say they are not only a patient's right but will help boost the quality of care as well.
We believe there is abundant evidence that having patients actively participate in their care and know what's happening will improve their care, said Dr. Kenneth Shine, the executive vice chancellor for health affairs at the University of Texas System, who wrote an editorial accompanying the studies in the Annals of Internal Medicine.
Patients have not always had an easy time getting hold of their medical records, especially the notes that doctors take during a visit, said one of the study's senior authors, Dr. Tom Delbanco at Beth Israel Deaconess Medical Center and Harvard Medical School.
I think the doctors felt that they owned the notes, Delbanco told Reuters Health.
Increasingly, health systems are making it easier for patients to get access to prescription lists, lab results and, sometimes, doctors' notes. Delbanco said one reason is that the whole world is becoming transparent ... The other is that computers make it easier.
He and his colleagues started OpenNotes, a system that gives patients an online portal to their doctors' comments from a visit.
Their study surveyed more than 37,000 patients and more than 170 primary care doctors, in advance of the debut of OpenNotes, about their expectations for the system. For more details on the study, see: bit.ly/noh3IT
The doctors and patients came from Beth Israel Deaconess Medical Center in Boston, Geisinger Health System in Pennsylvania and Harborview Medical Center in Seattle.
Beth Israel and Geisinger Health System already offered online access to medical information, but the doctors' notes were a new addition.
Sixty-three of the physicians who answered the survey decided not to participate in OpenNotes.
Four out of five of them thought it would cost them more time in having to answer patients' questions, and the majority also felt that the extra pair of eyes would cause them to censor their notes regarding mental health and substance abuse.
Doctors who opted in to the program had much more optimistic views, most of them believing that patients would be more satisfied with their care. A sizeable group of the doctors thought it would make care safer.
Patients were overwhelmingly enthusiastic about OpenNotes, regardless of whether they decided to join the program or not, with more than 90 percent responding favorably.
They were not only enthusiastic, they were all enthusiastic, said Jan Walker, the lead author of the study, who is also affiliated with Beth Israel Deaconess Medical Center and Harvard Medical School.
AVOIDING MISTAKES
Dave deBronkart, a patient advocate writer and speaker who goes by the handle e-Patient Dave, said patients can be a second set of eyes to make sure nothing falls through the cracks.
It seems obvious to me that to the extent we can let patients help carry the load we can avoid mistakes, deBronkart told Reuters Health.
In some cases it's wise to withhold information temporarily from patients, said Shine, who did not participate in the research.
At the University of Texas System, patients have electronic access to their records, but cancer test results are shielded from them for seven days to make sure doctors have the opportunity to present them with a full explanation.
In Walker's study, 35 percent of the patients had concerns about their privacy, but 22 percent said they were interested in sharing their doctor's notes with a family member, doctor or other health professional.
A second study, published in the same issue of the journal, explored patients' desires to share their medical information and found an even greater interest.
Veterans Affairs medical centers have an online system called My HealtheVet that lets patients view some medical information, such as prescription lists.
The researchers asked more than 18,000 My HealtheVet users whom they would share information with, and what they would want to share.
About four out of five users would want to designate someone to have access to their records, primarily a spouse.
Our studies suggest that health systems need to be developing these record systems that allow patients to share their health information with care givers and other providers, said lead author Dr. Donna Zulman at the VA Palo Alto Health Care System.
Zulman said shared access could help family members, especially those who live at a distance and can't attend doctor visits, to participate in the care.
Making it easier for family members and other physicians to view medical information is also likely to streamline the often complex management plans for those with multiple chronic conditions, she added.
The electronic sharing of My HealtheVet and the OpenNotes system were not available at the time of the surveys.
OpenNotes went live in 2010, and for a year the researchers tracked its impact on doctor-patient relationships, physician time and patients' adherence to medications and medical plans.
Results have not been published, but Delbanco said he's encouraged that, since the study ended, all of the doctors who participated in OpenNotes have opted to continue using it.
(Reporting by Kerry Grens in New York; Editing by Steve Orlofsky)
© Copyright Thomson Reuters 2023. All rights reserved.