Patriots - Colts 2014: Betting Odds, Prediction And News For Saturday's NFL Playoff Matchup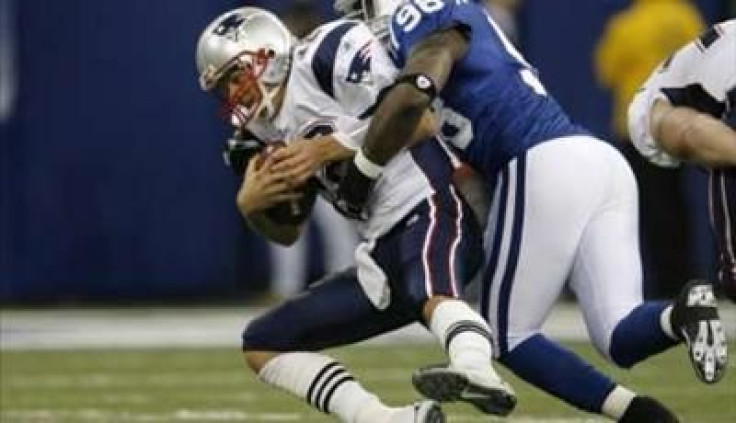 Tom Brady is considered by many to be the best quarterback of his generation. When Andrew Luck was drafted in April 2012, he was expected to become the No.1 signal caller for the next decade.
On Saturday, they will go head-to-head in the playoffs for the first time.
Following their win over the Kansas City Chiefs on wild-card weekend, the Indianapolis Colts will visit the New England Patriots. The AFC East champs secured a bye with a win in Week 17, going 12-4 in the 2013 regular season.
The Colts came extremely close to not reaching the divisional round. In the second half of their game against the Chiefs, they trailed 38-10. Luck led his team on a ferocious comeback, helping them score 35 points in the final two quarters to eke out a one point victory. He led all quarterbacks in the first round, throwing for 443 yards and four touchdowns. It was his highest passing total of the season, though he was also picked off three times after throwing just nine interceptions in 16 games.
"He's no question a complete football player, one of the top quarterbacks in this league already," New England head coach Bill Belichick said Sunday. "He's got a great career in front of him. He's already established himself as a very poised, talented player that can do a lot of things to beat you. He manages his team well and plays good situational football."
Brady didn't put up record numbers this year like Peyton Manning, but he managed to lead one of the NFL's top offenses while playing with limited weapons. The Patriots finished the season ranking third in scoring, despite losing Wes Welker and Aaron Hernandez in the offseason, and having Rob Gronkowski for only seven games. Danny Amendola was supposed to be the team's leading receiver, but he battled injuries and missed a quarter of the season. Julian Edelman, whose career-high in catches was 37 before the start of the year, ended the season with 105 receptions for 1,056 yards.
During the regular season, the Colts ranked 13th in defending the pass, but if this past weekend was any indication, Brady and company could have a big day on Saturday night. Indianapolis allowed Alex Smith to throw for 378 yards, four touchdowns and no interceptions. Last season, Brady recorded a 127.2 passer rating in a 35-point victory over the Colts.
New England will have a distinct advantage by playing at home. They were one of three teams to go undefeated in front of their fans this year. The Patriots defeated the likes of the Denver Broncos and New Orleans Saints at Gillette Stadium.
Because of their dominance at home, the Patriots have been listed as seven-point favorites at most Las Vegas casinos. Indianapolis was an underdog in their first-round matchup, as well. The Colts were one of the better teams against the spread this season, going 9-6-1. New England covered the betting line six out of eight times at home.
Betting Odds: New England -7, 53.5
Prediction: New England 33, Indianapolis 28
© Copyright IBTimes 2023. All rights reserved.