Paul McCartney And Ringo Starr Shine At Beatles Grammy Tribute With Help From Friends Like Stevie Wonder, Maroon 5, Dave Grohl, Keith Urban, John Mayer, Annie Lennox, Joe Walsh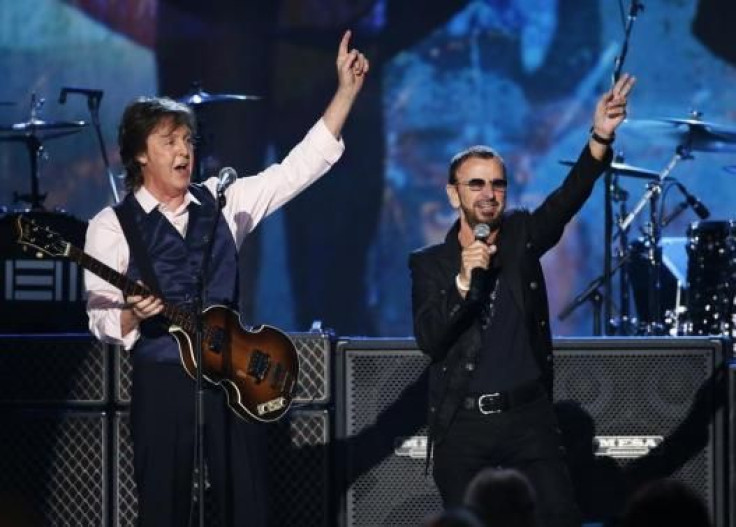 Paul McCartney recalls the day that he and his bandmates in the Beatles arrived in the United States on Feb. 7, 1964:
"There were millions of kids at the airport, which nobody had expected. We heard about it in mid-air. There were journalists on the plane, and the pilot had rang ahead and said, 'Tell the boys there's a big crowd waiting for them.' We thought, 'Wow! God, we really have made it.'" McCartney is quoted as saying, according to
TheBeatles.com.
They indeed made it, and as time has progressed, the Beatles continue to be recognized as the most accomplished and most universally beloved rock group in history.
On Sunday -- 50 years after the Fab Four traveled from London to the U.S. and dazzled the world with their first televised performance, on "The Ed Sullivan Show" -- "The Beatles: The Night That Changed America - A Grammy Salute" was held. Joining Paul McCartney and Ringo Starr, who were interviewed throughout the program by David Letterman, were a big batch of key music artists, including Keith Urban, John Mayer, and Alicia Keys, John Legend, Maroon 5, Stevie Wonder, Brad Paisley, Katy Perry, Pharrell Williams, Dave Grohl, Joe Walsh, LL COOL J, Jeff Lynne and Eurythmics co-leaders Annie Lennox and Dave Stewart.
As it turned out, the evening was packed with intriguing and sometimes riveting performances.
Maroon 5
started things off with a brief side-by-side video of themselves live on stage and a Beatles' video performance before performing "All My Loving" and "Ticket to Ride" at the show. Not surprisingly, frontman
Adam Levine
was in fine form.
Before Stevie Wonder began to sing "We Can Work It Out," he discussed the first time he ever heard that song -- when he was 15 years old. As Wonder sang the tune and jazzed it up considerably, the camera zoomed in on an extremely delighted Paul McCartney.
Later in the show, Eagles guitarist/singer Joe Walsh, vocalist/guitarist Gary Clark Jr. and drummer Dave Grohl delivered a stirring rendition of "While My Guitar Gently Weeps." Walsh and Clark provided quite a tag-team, complementing each other's vocal styles and providing dual guitar mastery during the song's closing solo (watch out, Eric Clapton), while Grohl pounded the drums as if he were back behind the kit with his old band Nirvana.
But of course, most of the evening's finest musical moments were provided by the two surviving Beatles.
Ringo Starr performed "Matchbox" and "Boys," and then delivered a terrific "Yellow Submarine," while inviting the crowd to sing along with him.
McCartney and his band launched into their set with "Birthday" (which made sense, considering this night was 50th anniversary) and really rocked it up with a rousing rendition of "Get Back" before delivering a stately "Sgt. Pepper's Lonely Hearts Club Band."
Naturally, that song flowed right into "With a Little Help From My Friends," with Ringo walking back on stage to tackle the tune's main vocals.
At that point, Paul and Ringo invited everyone who had performed earlier -- don't forget about guitar wizards Steve Lukather of
Toto
and
Peter Frampton
-- to join them in a goose-bump-raising rendition of "Hey Jude."
Ed Sullivan would have been extremely proud.
© Copyright IBTimes 2023. All rights reserved.