Paul Rudd Teases Ant-Man Cameo In 'Captain America: Civil War'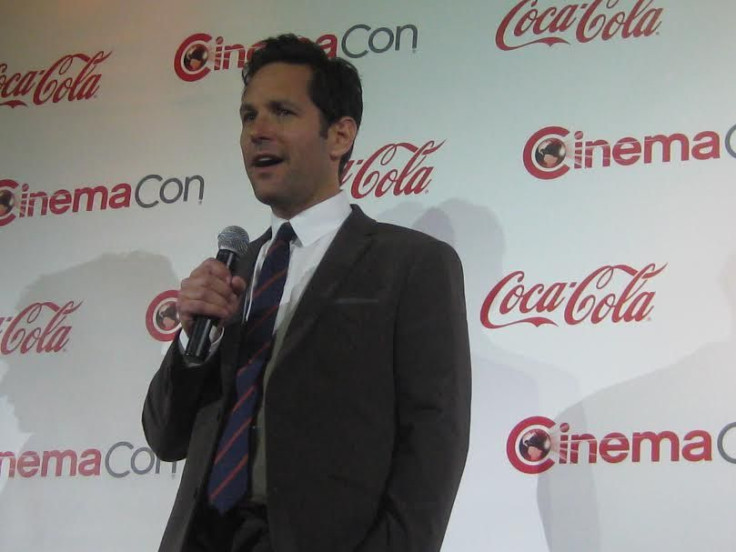 Could Ant-Man be teaming up with Captain America? Paul Rudd acted coyly when asked if his "Ant-Man" character would show up alongside the fellow superhero in the upcoming film "Captain American: Civil War" during a press conference at CinemaCon, the official convention of the National Association of Theatre Owners, in Las Vegas April 23.
"Hmm, I don't know," Rudd, who was present to accept his award for Male Star of the Year at CinemaCon's annual Big Screen Achievement Awards, said with a smile when asked about the possibility of a role in the 2016 Marvel film. While the 46-year-old actor did not dish any details about a potential cameo in the action flick, he did reveal that he has been pushing for the Ant-Man, Captain American collaboration.
"That's really up to the top brass. I've really tried to make my case for it," he said.
If the powers at be do allow Rudd to star in the film, he will have no issue putting back on his newfound Ant-Man suit. In the film the suit gives his character the power of incredible strength and the ability to shrink down to the size of a — you guessed it — ant. When asked about his affinity for the superhero garb, the actor said he was a fan.
"The suit was great. It's impossible not to put on that kind of suit and feel a little heroic. Little, I guess, being the operative word," he joked. "I remember the first time I got to try it on…. there's lots of suits, but this one's really good."
Marvel fans will get their first glimpse of Rudd as Ant-Man when the sci-fi film premieres in theaters July 17. Corey Stoll of "House of Cards" fame will portray the villain Darren Cross/Yellowjacket. The Peyton Reed directed movie also stars Hayley Atwell as Peggy Carter, Evangeline Lilly and Hope Van Dyne, John Slaterry as Howard Stark.
"It's a really fun story," Rudd dished.
"Captain America: Civil War" will be the sixth time -- if you count his uncredited role in "Thor: The Dark World" -- moviegoers get to see Chris Evans onscreen as Steve Rogers/Captain America. The film will also star some of the "Avengers: Age of Ultron" cast, actors Scarlett Johansson, Robert Downey Jr., Jeremy Renner, and Elizabeth Olsen.
Would you want to see Ant-Man in "Captain America: Civil War"? Sound off in the comments section below.
© Copyright IBTimes 2023. All rights reserved.