Pelosi: Biden 'Has to Deal With' Sexual Assault Allegations From Tara Reade
KEY POINTS
A former Biden staffer claims he sexually assaulted her in the early 1990s
Biden has denied it, but campaign talking points issued on it were refuted by the NYT
Pelosi said Biden himself "has to deal" with the allegations
Speaker Nancy Pelosi, D-Calif., said that presumptive Democratic presidential nominee Joe Biden "has to deal with" the sexual assault allegations made by a former staffer of his, Tara Reade.
In an interview with CNN's New Day, Pelosi initially said, "I do support Joe Biden, I'm satisfied with how he has responded. I know him, I was proud to endorse him on Monday. Very proud to endorse him, and so I'm satisfied with that." But she added Biden does have to "deal with" the allegations, after CNN anchor Alisyn Camerota pointed out: "To be clear, [Biden] hasn't addressed it, his campaign has addressed it, but he has not directly addressed it."
Reade worked as a staff assistant for then-Senator Biden from 1992 to 1993, and in an interview with journalist Katie Halper, she said, "I remember it happened all at once... his hands were on me and underneath my clothes," and then she alleges he penetrated her with his fingers. She continued, "I remember him saying, first, as he was doing it 'Do you want to go somewhere else?' and then him saying to me, when I pulled away... he said 'Come on man, I heard you liked me.' That phrase stayed with me."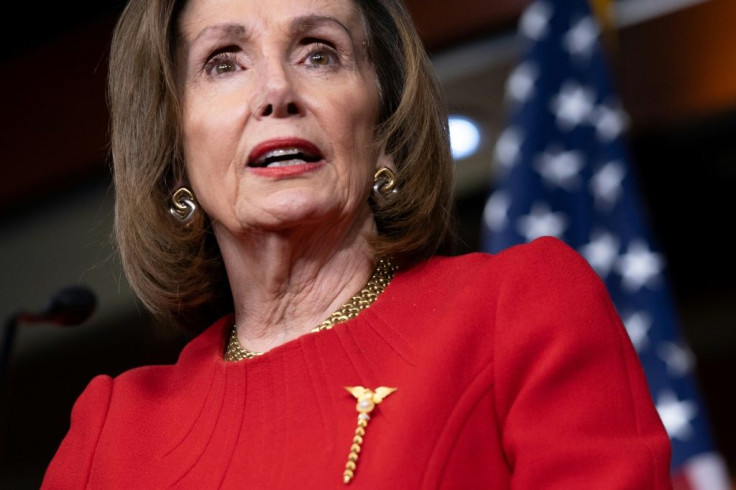 Biden's campaign sent its surrogates a set of talking points that have already been publicly disputed by the New York Times, one of the outlets that has reported on the allegations. In the talking points, Biden surrogates were directed to say "Biden believes that all women have the right to be heard and to have their claims thoroughly reviewed. In this case, a thorough review by the New York Times has led to the truth: this incident did not happen."
In response, the New York Times told The Huffington Post that these talking points "inaccurately suggest" that the NYT investigation found that it "did not happen. Our investigation made no conclusion either way."
The Democratic Party finds itself in a precarious position, as its "believe women" stance has been a central part of party messaging since President Trump's election. Democrats fought hard to try to deny Brett Kavanaugh a seat on the Supreme Court over a sexual assault allegation from his past, and Republicans are already beginning to attack them over their supposed hypocrisy with a similarly unproven — but independently corroborated — allegation from the past against a Democratic politician.
Both public polling and Trump's internal polling show Biden leading the race as of right now, but as Hillary Clinton's email scandal demonstrated in 2016, how a politician responds to allegations of any kind of misconduct will determine much of how it affects them politically.
Such false statements start off a chain reaction: invite further investigation by reporters, which brings further scrutiny that Trump is eager to integrate into his messaging, and that then gets covered by news outlets. While Clinton's email server seemed like a secondary issue at best early in the race, by October, 2016, it was front-page news almost every day in outlets like the New York Times. Biden's campaign has already been repudiated by the NYT for issuing "inaccurate" talking points, creating an opportunity for many to question Biden's credibility.
This is likely why Pelosi relented and said Biden himself must "deal with" this allegation that looks ready to snowball into a major liability for the campaign.
© Copyright IBTimes 2023. All rights reserved.