Penney adds Martha Stewart brand shops, equity stake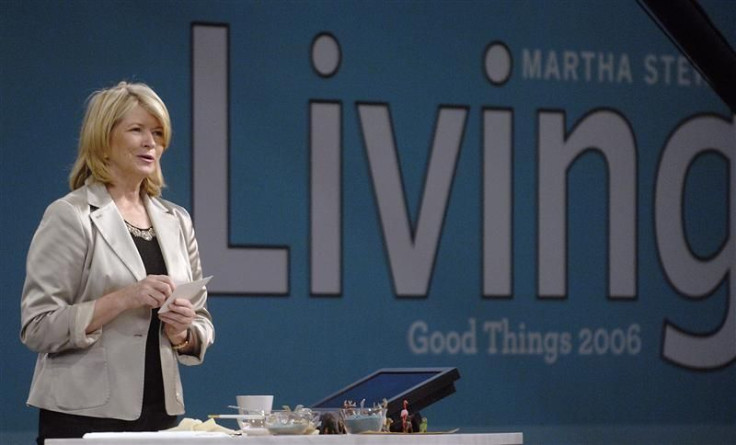 (REUTERS) -- J.C. Penney Co Inc took a stake in Martha Stewart Living Omnimedia Inc and plans to open Martha Stewart shops within its stores, in the first big deal announced by its new chief executive as he tries to turn the department store chain around.
Chief Executive Ron Johnson, the force behind Apple Inc's retail stores, took the helm at J.C. Penney last month and said he wanted to transform Penney, not merely improve it. He said on Wednesday that the Martha Stewart deal was a centerpiece of that transformation.
The 10-year agreement calls for store-in-stores, which will sell home products designed by Stewart, to open in February 2013. Penney and Martha Stewart Living will also develop an e-commerce site for the venture, also expected in 2013.
The move represents a direct challenge to Penney archrival Macy's Inc , which has sold an exclusive line of home products by Martha Stewart since 2007.
It is also the first indication of where Johnson wants to take Penney as he looks to make it competitive with other department stores as they race to land exclusives that give shoppers reason to choose one chain over another.
These are very exciting things, things that can ultimately move the needle, Esplanade Capital President Shawn Kravetz told the Reuters Investment Outlook in New York.
Macy's said it would review that arrangement, but for now still sell those products. A Martha Stewart Living spokeswoman said the company will continue to work with Macy's.
J.C. Penney bought 11 million newly issued shares of Martha Stewart Living for $3.50 per share, or a 12 percent premium to the stock's closing price of $3.12 on Tuesday. That investment, totaling $38.5 million, gives Penney a 16.6 percent stake of the media company, makes it the largest shareholder, and gives it two seats on the Martha Stewart board.
Stewart herself rejoined the board in September, nearly eight years after resigning amid charges she lied to investigators about the timing of stock sale.
The companies estimated that the arrangement would bring Martha Stewart Living more than $200 million, including royalty payments, design fees and advertising commitments, over the life of the contract.
Stewart said in a statement that the deal puts her products within easy reach of an even broader consumer audience.
Martha Stewart Living also plans to pay shareholders a special dividend of 25 cents a share.
Martha Stewart Living Chief Financial Officer Kenneth West told Reuters on the sidelines of a conference in New York that the deal has a three-year standstill provision preventing Penney from increasing its stake. He also said there are no other potential minority investors lined up right now.
Martha Stewart Living's shares were up 31.1 percent at $4.09 on Wednesday afternoon, while Penney shares were down 0.1 percent at $33.26.
TURNING AROUND TWO COMPANIES
Martha Stewart Living, which in May said it might sell itself, has been losing money for years as sales have declined, falling by more than a quarter between 2007 and 2010.
But in the nine months ended September 30, revenue from merchandising rose 13.7 percent to $35.5 million from a year earlier. Most revenue comes from its magazines.
Penney has lost market share to chains including Macy's and Kohl's Corp in recent years and, despite improvements earlier in the year, sales at stores open at least year have fallen each month since August.
Penney is the exclusive U.S. department store chain for cosmetics brand Sephora and Spanish fast fashion company M by Mango -- deals signed in recent years to draw in younger, fashionable shoppers.
But the cornerstone of Penney's exclusive brands is Liz Claiborne, which it bought for $267.5 million in October.
One analyst said the Martha Stewart deal was a welcome way for Penney to reach a bigger audience and not just focus new lines on younger shoppers.
For J.C. Penney to be successful, they really need to target a broad audience, Macquarie Research analyst Liz Dunn told Reuters. If you've got stores that big you really can't target your audience so narrowly. You need to have offerings for everyone.
Department stores have been waging battle with one another in recent years to offer shoppers exclusive merchandise and give them a reason to choose one chain over the other. Kohl's recently launched a clothing collection by entertainer Jennifer Lopez.
Blackstone Advisory Partners was the financial adviser to Martha Stewart Living, while Peter J. Solomon Co advised Penney.
(Reporting by Phil Wahba in New York; Additional reporting by Nadia Damouni and Martinne Geller in New York and Jessica Wohl in Chicago, and Rachana Khanzode and Ranjita Ganesan in Bangalore; Editing by Hans-Juergen Peters, Lisa VonAhn and Matthew Lewis)
© Copyright Thomson Reuters 2023. All rights reserved.