Pennsylvania Vote Recount Update: Russian Hack 'Evidence' Is Doubted As Judge Rejects Review Of Paper Ballots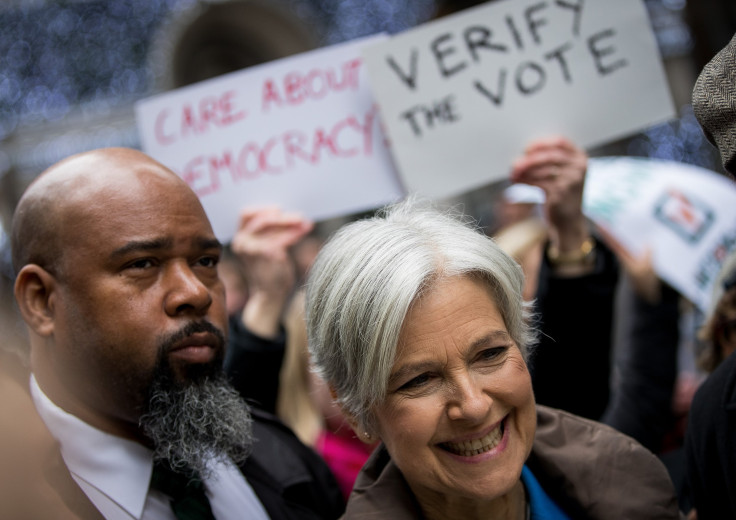 An effort to recount presidential election ballots in Pennsylvania was rejected as there "is no credible evidence" that the election process was compromised from being hacked, a federal judge ruled in Philadelphia Monday morning.
Green Party presidential nominee Jill Stein had launched efforts for paper ballot recounts in Michigan and Wisconsin, as well, but both those efforts were also rejected. She has led the charge that Russia launched a cyber-attack that helped swayed the contest for the White House in favor of President-elect Donald Trump.
U.S. District Judge Paul Diamond issued his 31-page ruling based on six reasons why a potential election hack "borders on the irrational," the Associated Press reported. Chief among them was "there is no credible evidence that any 'hack' occurred, and compelling evidence that Pennsylvania's voting system was not in any way compromised," Diamond wrote.
The theory of Russia hacking the election is one that has been mocked by Trump, especially on Twitter. The president-elect suggested that the claim falls along party lines and that Democrats had floated the theory out of anger their party's presidential nominee, Hillary Clinton, fell short on Election Day.
President Barack Obama ordered an official investigation into the possibility of Russia hacking the election, the White House announced Friday.
"The President has directed the Intelligence Community to conduct a full review of what happened during the 2016 election process. It is to capture lessons learned from that and to report to a range of stakeholders," White House Homeland Security and Counterterrorism Adviser Lisa Monaco said during a media briefing. "This is consistent with the work that we did over the summer to engage Congress on the threats that we were seeing."
Democratic New York Sen. Chuck Schumer echoed the president's call for a probe and emphasized the investigation should be of a bipartisan nature and not come across as only Democrats versus Republicans, Politico reported.
"Senate Democrats will join with our Republican colleagues next year to demand a congressional investigation and hearings to get to the bottom of this," Schumer said in part. "It's imperative that our intelligence community turns over any relevant information so that Congress can conduct a full investigation."
Powerful Republican and Arizona Sen. John McCain has previously said matter-of-factly that "the Russians have interfered with this election."
© Copyright IBTimes 2023. All rights reserved.
FOLLOW MORE IBT NEWS ON THE BELOW CHANNELS