Pension Trustees To File Lawsuit Against New Jersey Governor Chris Christie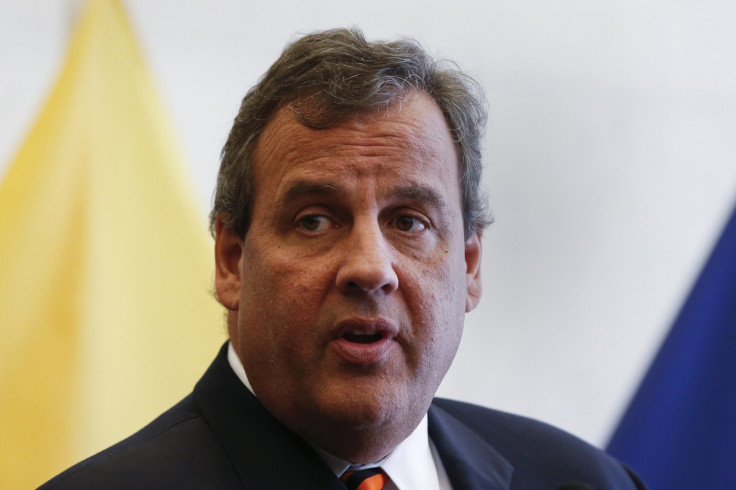 The trustees of the boards overseeing New Jersey's $80 billion public employee retirement system will file a lawsuit Wednesday morning against Gov. Chris Christie for his decision to not make legally required annual pension contributions, International Business Times has learned. If successful, the lawsuit could compel Christie to reverse his recent cuts to the state's required $2.25 billion payment.
In 2011, Christie signed legislation obligating both his administration and state workers to make actuarially required contributions to shore up the underfinanced pension system. According to the lawsuit, the state's teachers, firefighters, police officers and other government workers made their contributions, which under the new law increased from 5.5 percent of their paychecks to more than 7 percent of their paychecks. However, Christie in 2014 announced he was slashing the required contributions from the state.
The cuts came despite the Christie-backed law stating that the Republican governor's administration "must make the annual required contribution on a timely basis" and that failure to do so is an impermissible "impairment" of public workers' contractual rights. Christie administration lawyers have subsequently argued that those legal provisions are unconstitutional. Earlier this year, in June, the state's pension trustees had announced they'd explore legal action to force the governor to follow through on the state's contribution.
"The funding problems of the pension funds are, to quote the Governor himself, the fault of prior administrations," said a statement sent to International Business Times from the chairmen of the pension boards that are filing the lawsuit against Christie. "And now, by scrapping his own promises while demanding sacrifices from public workers, the Governor has claimed this breach of faith as his and his alone. The Governor's sins of political expediency have now been visited on the active and retired employees and their families who seek only the deferred compensation earned through a lifetime of loyal service."
In June, New Jersey lawmakers passed legislation to make the legally mandated pension contribution, funded in part by tax increases on high-income individuals and corporations. Christie vetoed the bill, saying, "Current economic reality compels this reduction" in the pension payment. His veto came at the same time that Christie has backed legislation dramatically increasing taxpayer-funded corporate subsidies - many of which have flowed to firms whose executives have made major campaign contributions to Christie-linked political organizations.
"It's one thing to say there is a fiscal emergency, but it is another thing to veto a solid funding stream because you don't like what that funding stream is," New Jersey pension trustee Tom Bruno told IBTimes. "There is no fiscal emergency when you yourself are vetoing the funding. He is creating the crisis through his own actions."
Bruno told IBTimes that, as fiduciaries of the pension system, trustees have a legal responsibility "to protect the fund and collect the monies due to the fund, whether that money is due from members that have gotten benefits and weren't supposed to, or from the governor of the state who is refusing to make legally required contributions. The workers have not refused to make their payments - the governor has."
Earlier this year, Christie's decision to cut the state's pension contribution prompted a downgrade in New Jersey's credit rating. That downgrade was followed up this week by a Moody's report warning that the state pension system could run out of money in a decade.
© Copyright IBTimes 2023. All rights reserved.
FOLLOW MORE IBT NEWS ON THE BELOW CHANNELS