Peru Govt to Newmont Mining's Strikers: 'Nada Violencia'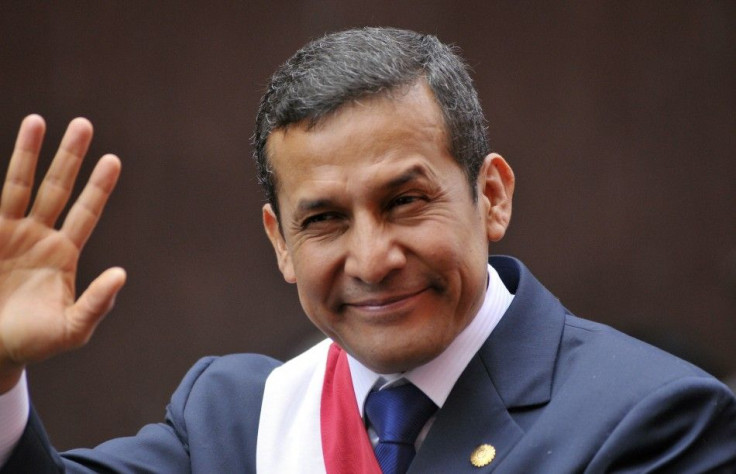 (REUTERS) -- Peru's government urged opponents of Newmont Mining's proposed $4.8 billion Conga gold mine project to refrain from violence during a protest on Thursday as President Ollanta Humala scrambles to solve the bitter dispute.
Interior Minister Oscar Valdes said intelligence sources have warned that armed radicals had infiltrated local opposition groups. He said local political leaders in the Andean region of Cajamarca would be held responsible if Thursday's protest turned violent.
Opposition groups say the mine would cause pollution and hurt water supplies.
I'm warning protest leaders that they can't allow infiltrators to use arms and cause deaths, Valdes said on RPP radio on Wednesday. The police haven't come here to hurt or kill anybody. We've come to maintain public order.
The Conga impasse has become a crucial test for Humala, a leftist former army officer who campaigned on promises to defuse persistent social conflicts over natural resources that have delayed billions of dollars in investments in the country, one of the world's top minerals exporters.
Humala has said he wants the mine, which would be the biggest investment in the history of Peruvian mining, built.
Humala's aides have made clear they want to avert violence that plagued the administration of his predecessor, Alan Garcia, who was forced to fire his entire cabinet after three dozen people died in a 2009 clash over laws that opened the Amazon basin to logging, mining and oil projects.
We are calling on the population to not commit (violence), Gregorio Santos, who is against the project and is the president of the region of Cajamarca, said after meeting with the interior minister.
Newmont said it would halt prepatory work on Conga on Thursday as a precaution, as it has done during previous protests.
Humala has sought to avert conflicts over resources by steering more social spending to rural towns and emphasizing mediation efforts between local communities and companies. Rural towns often mobilize to stop mines saying they will cause pollution, hurt scarce water supplies or fail to bring direct economic benefits.
Opponents of Conga say it would replace a series of alpine lakes with reservoirs that might not adequately irrigate crops raised by farmers.
Wilfredo Saavedra, head a group called the Cajamarca Environmental Defense Front, said Humala should personally handle the Conga dispute instead of dispatching aides.
Only the president can deal with this, said Saavedra.
Newmont says its environmental plan for the mine, which was already approved by the government, was drawn up in adherence to rigorous standards.
We'll make every possible effort to solve the issues related to the environment, Newmont's Peru country manager Carlos Santa Cruz said.
The Conga project, which Newmont owns with Peruvian precious metals miner Buenaventura, is near the town of Pampa Verde, 13,800 feet (4,200 meters) high in the Andes.
Nearby sits Newmont's existing Yanacocha mine, which produced 1.5 million ounces of gold last year. It suffered a mercury spill in 2000 that still angers some local residents even though the mine says it has strict environmental controls and runs extensive community development programs.
Newmont has faced opposition to its expansion plans in the past. In 2004 it halted exploration to expand Yanacocha to include Cerro Quilish, a nearby mountain, because of community protests over water supplies. Conga would produce 580,000 to 680,000 ounces of gold a year.
Humala's prime minister, Salomon Lerner, met with local mayors on Wednesday and his team was slated to travel to Cajamarca on Thursday for another round of mediation efforts.
We are open to dialogue 24 hours a day and development for all Peruvians can only be attained if we all understand each other, he told reporters.
© Copyright Thomson Reuters 2023. All rights reserved.