Pet Dog Bitten By Deadly Snake While Fighting Reptile To Protect Owner
A pet dog was bitten by a deadly snake in Tennessee while it tried to protect its owner from the reptile that had entered the home.
According to local media reports, Haley McCormack did not notice the snake when she was entering her house in Davidson County on Monday night.
"As I pass the corner of my front porch, the snake is already recoiled back," McCormack told YourCentralValley. "Arlo (the dog) lunged out and actually grabbed it by its tail."
Arlo, the pit bull, killed the copperhead snake before it could bite the owner. However, the dog was bitten at least three times on the face by the reptile. McCormack said Arlo's face and neck swelled up within minutes of being bitten and his breathing became heavy.
She rushed Arlo to an emergency vet clinic were the doctors administered antivenom, YourCentralValley reported.
According to McCormack, Arlo was also prescribed pain medication. She thanked her dog for his bravery.
"I could've gotten bit. He could've ignored the snake. He could've run off. But he chose to put himself in front of me," McCormack said.
Dr. Whitney Long, who works with Nashville Veterinary Specialists, said it was very important that pets who were bitten by venomous snakes be brought in immediately for treatment, as any delay could be fatal, YourCentralValley reported, citing News 2.
"The longer you wait, the more damage that can be done," the doctor explained, adding that the number of snake bite cases increase during summer months as the reptiles search for places to hide due to the heat. Long also advised other emergency clinics to have antivenom for dogs.
In October, a pet dog fought a deadly snake to prevent the reptile from entering its owner's home in India. The dog got into a fierce battle with a king cobra, during which the snake reportedly wrapped itself around the canine's body. Neighbors came to the scene hearing the dog bark and managed to pull the snake off the dog.
The canine was rushed to a nearby vet where it was treated for minor injuries and was later said to be in a good condition. The snake was killed by the neighbors.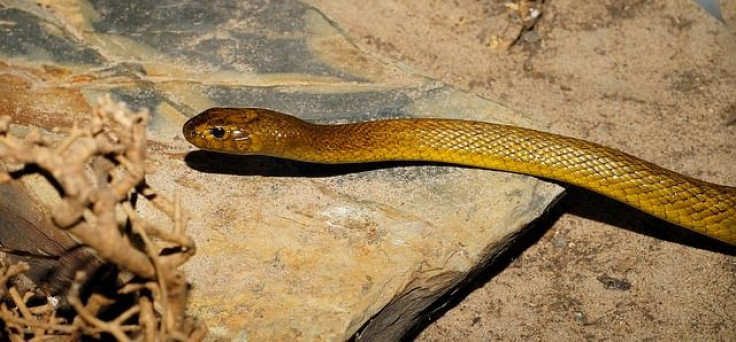 FOLLOW MORE IBT NEWS ON THE BELOW CHANNELS