PETA Protesters Take On Gordon Ramsay Over Foie Gras At NYC Restaurant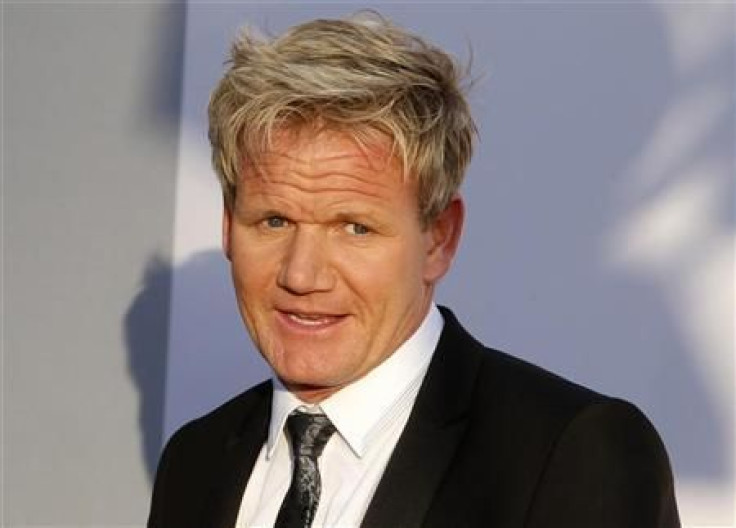 Gordon Ramsay is in hot water with PETA.
The outspoken animal-rights group is planning a protest in Midtown Manhattan outside the restaurant Gordon Ramsay at the London. According to an email sent Friday by PETA, the group wants Ramsay's chain of fancy eateries to drop foie gras, a controversial delicacy made from duck or goose livers. Creating the dish involves a painful process in which the birds are force fed through a steel tube until their livers become inflamed and diseased.
The force-feeding process, which PETA calls "grotesquely cruel," is already banned in many countries and in California. More recently, animal-rights advocates have called on Amazon.com Inc. (NASDAQ:AMZN) to ban foie gras products from its website.
Earlier this year, a PETA investigator visited Hudson Valley Foie Gras, which supplies foie gras to Ramsay restaurants, and claims to have seen workers force-feeding ducks and pumping them full of grains. A video uploaded to YouTube purports to expose what goes on at the facilities.
PETA is not the only one calling out Ramsay over foie gras. In July, the pop singer Morrissey donated almost $15,000 to fund an ad campaign attacking the product. Morrissey received the money from a copyright settlement from Channel 4, which used one of his songs to promote "Gordon Ramsay's Christmas Cookalong Live" show in 2011. Morrissey, an avowed vegetarian, told the Guardian at the time, "Ramsay may very well stick his head in his microwave when he hears that the money I received … Foie gras is so cruelly produced that he'd be against it if he had an ethical bone in his body."
Ironically, Ramsay himself may never hear about PETA's protest. While the Midtown restaurant bears his name, the ill-tempered celebrity chef sold it to the Blackstone Group (NYSE:BX) in 2009. The establishment has apparently struggled to turn a profit amid lawsuits, staff walkouts and a two-star New York Times review, according to New York magazine's Eater blog. Ramsay does still act as a consultant for the restaurant, according to PETA.
In July, Eater reported that the restaurant may shutter for good as soon as in September.
The protest, which PETA is calling an "outreach event," takes place on Tuesday, 6:30 p.m., at 151 W. 54th St. A Facebook events page provides the details.
© Copyright IBTimes 2023. All rights reserved.