Petrobras and Partners Announce the Commerciality of Billion-Barrel Oil Field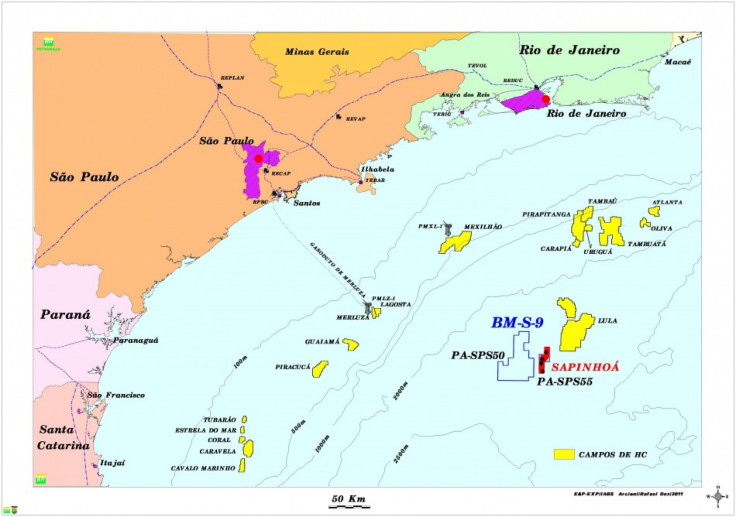 Brazil's oil footprint has been made larger following oil giant Petrobras' late Thursday announcement that a new billion-barrel oil field is commercially viable.
The new field was originally drilled in 2008, said the Brazilian company, and is expected to hold 2.1 billion barrels of oil. The new field, Sapinhoá is located offshore in ultra-deep regions of the South Atlantic.
Sapinhoá is yet another enormous field discovered in the Brazilian pre-salt layer and one of the biggest in the country, consisting of good quality oil reservoirs, said Petrobras officials in a company statement.
Brazil is in the midst of pushing hard for investments to help develop the country's oil fields, and Petrobras itself is slating roughly $220 billion in that effort through 2015, Bloomberg reported.
Reaching the oil is a technological challenge, since the oil is trapped below layers of underground salt -- sometimes tens of thousands of feet thick and roughly 6,000 feet below the surface.
Mining the oil is not without its fair share of potential oil spills. The minor spill caused by Chevron last month is a testament to that, but the rewards seem to be worth it.
This new field, according to a company map, is located in the Santos Basin, which when coupled with a second ultra-deep oil rich basin further offshore, Brazil holds 33 to 35 billion barrels of hydrocarbons, reported Forbes.
Petrobras is joined in the new field by BG Group and Spanish oil company Repsol, though the Brazilian company holds the majority stake.
Together, the companies drilled four wells in the new field and conducted a five-month long test to evaluate the discovery's recoverable resources. Convinced of the wells' output, officials with Petrobras and its partners made Thursday's announcement one year ahead of schedule, read Pertrobras' announcement.
The excellent exploratory data obtained in the area reaffirms the high potential of the pre-salt layer and presents a promising outlook for boosting the Company's output and oil and natural gas reserves, Petrobras said.
© Copyright IBTimes 2023. All rights reserved.