Phillies' Hamels Throws No-Hitter Against Cubs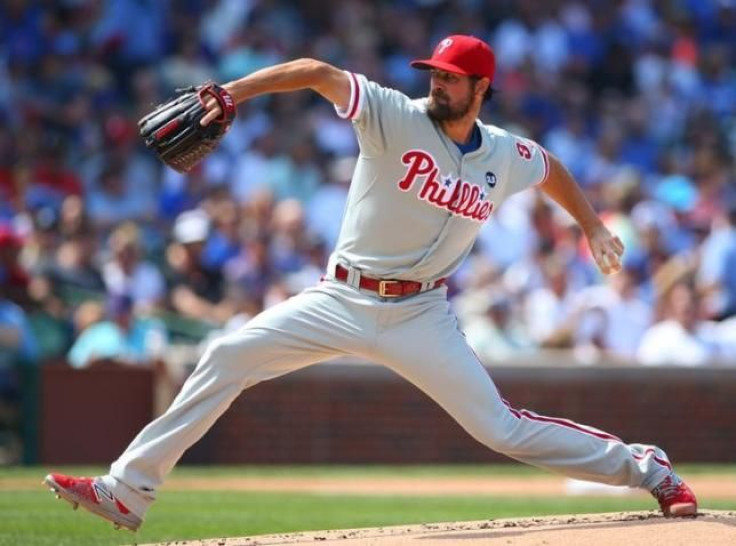 Cole Hamels of the Philadelphia Phillies pitched a no-hitter including 13 strikeouts against the Chicago Cubs at Wrigley Field on Saturday in a 5-0 win.
Backed by Ryan Howard, who crushed a three-run homer in the third, the 31-year-old Hamels (6-7) allowed just two baserunners on a pair of walks as he threw 129 pitches to register the first no-hitter at hitter-friendly Wrigley Field in 43 years.
It was the third no-hitter of the major league season.
Chris Heston of the San Francisco Giants threw the first against New York Mets on June 9, and Max Scherzer of the Washington Nationals followed suit against the Pittsburgh Pirates on June 20.
"It feels good," said an emotional Hamels after being doused with water by some of his teammates.
The last out was registered on a towering fly to center by rookie slugger Kris Bryant that looked at first as though it might be headed over the fence.
Odubel Herrera, who made a fine running catch deep in left-center in the eighth inning to preserve the no-hit bid, stumbled and fell as he neared the fence and caught the ball while lying on the warning track ground.
"I hung that (final) pitch ... and especially with Bryant and his power, fortunately the wind was in my favor today.
"Herrera made two phenomenal catches out there that definitely picked me up. It's exciting just to pick the team up. We are playing well and it's been fun to see. Everybody is participating, I guess it's nice to finally participate myself."
The lefthander has been rumored to be on the trade block as the July 31 trade deadline approaches.
Hamels, a three-time All-Star who earned the Most Valuable Player award when the Phillies won the World Series in 2008, was part of a combined no-hitter last season when he went six innings in a 7-0 victory over the Atlanta Braves.
"Just being able to pound the zone, that was kind of something I really wanted to do today," said Hamels, who threw 83 pitches for strikes.
"I had a few things I was working on from the past couple of days ... really trying to be aggressive in the zone and I don't think I was doing that too well that the last couple of games."
(Reporting by Mark Lamport-Stokes in Los Angeles; Editing by Larry Fine)
© Copyright IBTimes 2023. All rights reserved.