Pilots Question United Continental Merger Issues in Wall Street Protest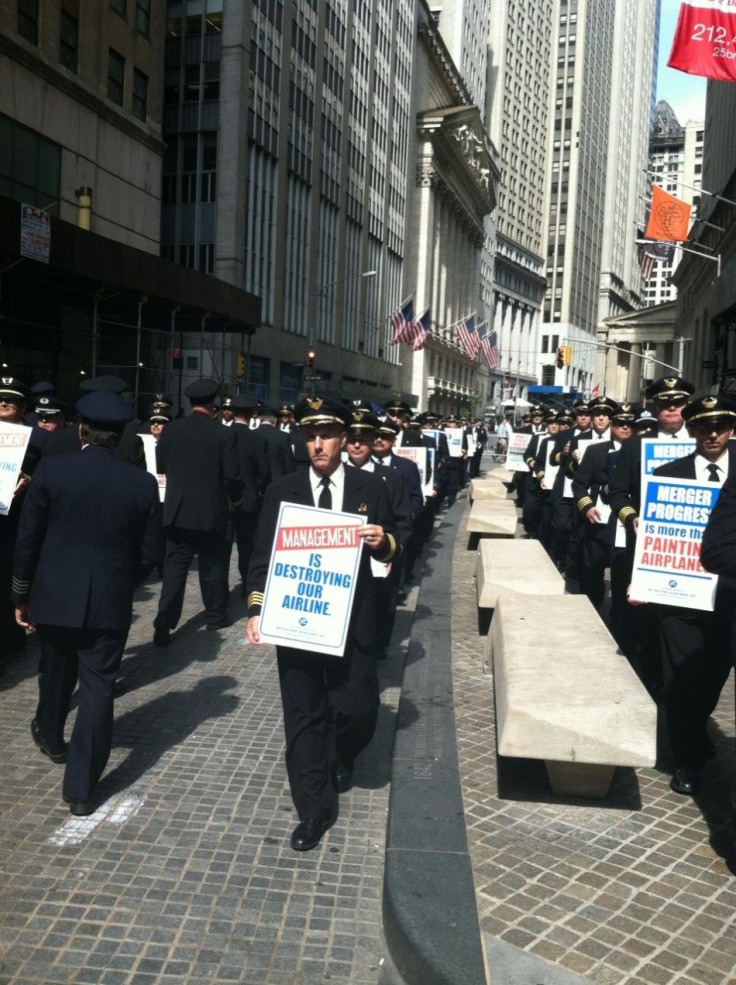 More than 700 Continental and United Continental pilots took to Wall Street on Tuesday to protest slow contract negotiations and misinformation regarding merger integration. The demonstrating pilots marched together, queitely, in order and in full uniform, holding two signs.
Merger Progress is More than Painting Airplanes, said one sign.
Management is Destroying our Airline, said another sign.
United Continental Holdings plans to fully integrate the two airlines by mid-2012, but pilots on Wall Street on Tuesday believe that the company needs to focus on contract negotiations instead of changing the logo on the cocktail napkins. The pilots say too many contract issues including benefits and job protections remain unresolved.
Randy Hodge, the Secretary Treasurer for the Continental Master Executive Council, detailed how pilots have worked on a continue in force contract since 1997 -- through the good and bad times -- and wanted to come to an agreement so the joint-company can reach full synergy.
We negotiated in 30 days that gave up our pensions to save the company from bankruptcy, Hodge said. We think they are dragging their feet here.
The pilots walked quietly back and forth in an enclosed area in front on Tuesday, often walking in accordance with one another -- a stark contrast from the Occupy Wall Street protests just a few blocks away. While the Occupy Wall Street protests and August's Verizon employee protests frequently rely on noise, the pilots on Wall Street -- decked out in their full uniform -- very purposely decided against whistles and other noisemakers to draw attention to the proceedings.
Hodge said it was because they were professionals and very disciplined and as pilots needed to act accordingly. The group, represented by the Air Lines Pilots Association, decided the best strategy was acting respectfully and showing the strong numbers.
The group of pilots flew in from all over -- Hodge himself was from San Antonio -- into Newark and LaGuardia Airports before being bussed down to Lower Manhattan. Throughout the day on Wall Street and throughout the surrounding blocks, a steady, quiet line of pilots seemed to permeate the areas.
The strategy, according to Amy Flanagan, a senior communications specialist for the council, was to appeal to frequent fliers in the Wall Street area to try to show them that the merger between the two airlines wasn't going quite as well as the company would like for you to believe.
Management may be attempting to portray success with the progress of the merger, but the reality is that it takes more than painting airplanes, hanging new airport signs and revamping a frequent-flier program, Capt. Jay Pierce, chairman of the Continental pilots union, said in a statement.
Real process with implementing the merger requires the involvement of pilots and an acknowledgement by management of the contributions that pilots make in creating a successful airline.
When questioned about how new paint and other aesthetic changes are more visible to customers than changes behind the scenes, Flanagan noted that customers frequently voice their frustration on blogs and ultimately better synergy would make them happy.
Lack of synergy and further developed contract negotiations could lead to employee frustrations that ultimately put a damper on a customer's flying experience, according to Flanagan.
United Airlines pilots recently sued the company to delay new procedures due to safety concerns. In the spirit of synergy the company is putting forth uniform procedures for the two airlines, but United pilots argue they have not had long enough to get used the new procedures, which largely come from Continental.
An airlines spokesman told the Associated Press on Monday it was a shameful effort to influence negotiations for a joint collective bargaining agreement, under a guise of safety.
Capt. Wendy Morse, the chairman of United's union, claimed that pilot have gotten no classroom instruction on the new changes and only got a computer-based slideshow. The lack of teaching, along with a plethora of changes in a row, made United pilots uncomfortable.
United Continental Holdings (NYSE: UAL) dropped more than four percent of the day of the protest, but are close to $5.00 higher than the company's 52-week low in August at $15.92.
© Copyright IBTimes 2023. All rights reserved.