Pittsburgh Steelers vs. Baltimore Ravens Game: Betting Line, Prediction Preview For 2015 Playoff Matchup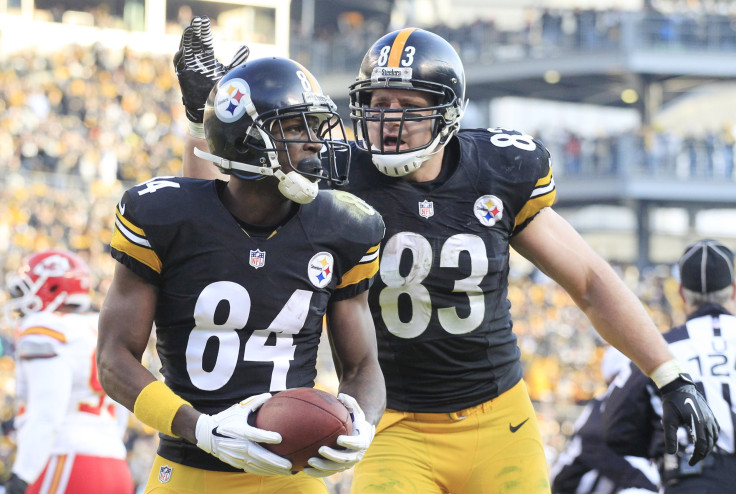 The Pittsburgh Steelers (11-5) and Baltimore Ravens (10-6) will look to settle the score after splitting their two regular-season matchups. The two teams will renew, perhaps, the best rivalry in the NFL with a playoff game on the first day of Wild Card Weekend 2015.
Both teams enter Saturday's contest on a high note. Pittsburgh clinched a postseason berth in Week 16, but a win over the Cincinnati Bengals in the regular season's finale game gave them the AFC North title. Baltimore needed some help from the San Diego Chargers to land the No.6 seed, and they beat the Cleveland Browns to secure a sixth playoff appearance in seven years.
The Steelers are one of the hottest teams in football. They've won four games in a row, including two victories over the 10-win Bengals and a win over the nine-win Kansas City Chiefs. The Ravens are winners in three of their last four games, but they've struggled against the toughest part of their schedule, losing their last five games against winning teams.
Baltimore's only win in 2014 over a team with a record above .500 came in Week 2 against Pittsburgh. Just days after the video of Ray Rice hitting his wife in an Atlantic City hotel elevator was released, the Ravens hosted the Steelers, winning 26-6. It was one of two games this year in which Ben Roethlisberger didn't throw a touchdown pass, and the Ravens rushed for 157 yards.
Seven weeks later, Pittsburgh returned the favor with a 20-point victory over Baltimore. Roethlisberger had one of the best games of any quarterback this season, completing 25 of 37 passes for 340 yards, six touchdowns and no interceptions. The 43 points scored by the Steelers were the most the Ravens surrendered all season, and they only allowed more than 28 points one other time in 2014.
Le'Veon Bell didn't have much of an impact on the ground in either game, totaling just 79 rushing yards, though he did catch 10 passes for 86 yards and a score. There's a chance he will be a nonfactor in Saturday's game, after hyperextending his right knee in Week 17. Bell left the contest in the third quarter and did not return.
If Bell is unable to play, the Steelers will be without a key part of their offense. Bell finished second in the NFL with 1,361 rushing yards, averaging 4.7 yards per carry. He's also been a major part of the passing game, catching 83 passes for 854 receptions. Bell totaled at least 100 all-purpose yards in 13 games.
The AFC North rivals are known for their history of hard-hitting, defensive oriented battles, but Pittsburgh might be more inclined to compete in a high-scoring affair. The Steelers finished the season ranked second in yards per game (411.1) and seventh in scoring average (27.3). They had some of the biggest offensive outbursts this season, totaling 94 points in back-to-back games. Roethlisberger tied for the most passing yards in the league (4,952) and Antonio Brown led all players in receiving yards (1,698).
Baltimore had their share of big offensive performances, and Joe Flacco set career-highs with 3,986 passing yards and 27 touchdowns. The team finished eighth in rushing yards per game (126.2), and Justin Forsett was a strong replacement for Rice, rushing for 1,266 yards on 5.4 yards per carry.
However, it was the Raven's No.6 scoring defense that was the biggest part of their 10 wins. They had trouble at times against the pass, ranking 24th in passing yards allowed per game (248.7), but only three teams surrendered fewer rushing yards per game (88.3).
The Ravens are underdogs on the road, but Las Vegas oddsmakers consider the teams to be virtually even, and the point spread is the smallest on the first-round playoff schedule. Pittsburgh is giving Baltimore three points and the over/under is 47 points. Prior to this season, the two teams had played five straight games that were decided by three points or less.
Prediction: Pittsburgh over Baltimore, 30-20
© Copyright IBTimes 2023. All rights reserved.