Amid Russia Controversy In Trump White House, Major Energy Companies Lobbied On Russia-Focused Bills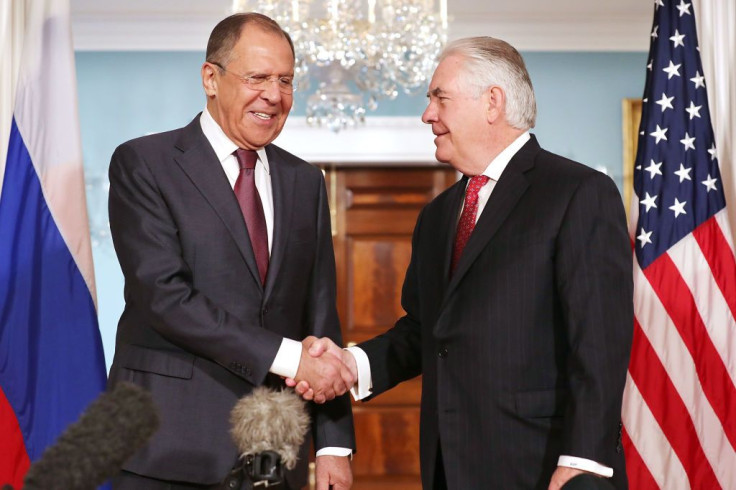 Earlier this week, President Donald Trump held an Oval Office meeting with Russian officials to discuss the relationship between the former Cold War adversaries. Trump and representatives from Vladimir Putin's government, though, are hardly the only political players focused on the bilateral relationship. Newly released federal records show that the firestorm of Russia controversy engulfing the Trump White House has coincided with a barrage of new Russia-focused lobbying in Washington by companies from the energy industry — and some Russian groups as well.
Disclosure forms reviewed by International Business Times show that in the first three months of 2017, major energy giants have been lobbying federal lawmakers not only on proposed sanctions that could directly affect those fossil fuel firms' business operations, but also on bills that would investigate allegations that Russia interfered in the 2016 election.
Read: Donald Trump Appointee Could Allow Fossil Fuel Companies He Lobbied For To Drill On Federal Land
For instance, Exxon Mobil -- whose former longtime CEO is now Trump's Secretary of State -- hired a lobbyist solely to lobby on the Counteracting Russian Hostilities Act, according to quarterly lobbying records covering January 1 to March 31 this year . During his confirmation hearings to lead the State department, Rex Tillerson faced questions about whether his relationship with Putin would present an inherent conflict of interest in his new role as America's top diplomat.
Chevron, Centrus Energy Corp., and the Nuclear Energy Institute, Inc. also lobbied on bills related to Russia's interference in last year's election.
Lobbying records do not show which legislators were lobbied, nor do they show the position the company took on any given bill. But the records reveal how actively the energy sector is concerned about possible government action against Russia.
Energy companies have lobbied lawmakers on the " Counteracting Russian Hostilities Act of 2017," which would impose sanctions on Russia for interfering in last year's elections; Senate bill 27, which would establish an independent " Commission to End Russian Interference in United States Elections"; and the " Russia Sanction Review Act of 2017," which would insert Congress in any decision to reduce or eliminate sanctions against Russia. The first two bills were introduced by Maryland Sen. Ben Cardin, a Democrat. The Russia Sanctions Review Act of 2017 was introduced by South Carolina Sen. Lindsey Graham, a Republican.
Chevron lobbied both the House and the Senate on the Counteracting Russian Hostilities Act and the Russia Sanctions Review Act, records show. Centrus Energy Corp, which is led by Daniel Poneman, who served as the Deputy Secretary of Energy in the Obama administration from 2009 to 2014, lobbied on the Counteracting Russian Hostilities Act. Centrus, which enriches uranium for the nuclear industry, was formerly known as United States Enrichment Corp. before it emerged from bankruptcy in 2014.
The Nuclear Energy Institute, Inc., the nuclear energy industry's advocacy group, lobbied on the Counteracting Russian Hostilities Act, as well as another bill, HR 1182, that would increase U.S. defense capabilities in response to Russia's alleged noncompliance with the 1987 Intermediate-Range Nuclear Forces (INF) Treaty.
Ecolab, which describes itself as a "leader in water, hygiene and energy technologies and services that protect people and vital resources," hired a lobbyist to lobby the House and Senate specifically on "issues related to international sanctions legislation specifically including Russia Sanctions," as well as the Counteracting Russian Hostilities Act and the Russia Sanctions Review Act. Ecolab's 2016 annual report shows the company has two joint energy ventures in Russia, one with Kogalym Chemicals Plant LLC, and the other with CJSC Nalco Element JV.
Energy companies weren't the only corporations to lobby lawmakers on Russia issues. Janus Global Operations, a security and risk management company that provides protection and support services for clients in the energy industry, also lobbied the Senate, House and State Department on "Russia sanctions," according to lobbying records. Citigroup hired three lobbyists to lobby the House and Senate on "Russian Sanctions Issues."
Russian groups also hired lobbyists to work the Capitol in the first quarter of 2017. The Russian government owns 60.9 percent of the voting shares of VTB Bank, one of Russia's largest banks, which hired a lobbyist to lobby the Senate and House on "Congressional or Executive Branch actions that affect the imposition of U.S. sanctions on international financial institutions affiliated with Russia."
Yamal LNG, a Russian gas liquefaction plant funded by Russian and Chinese banks, hired three lobbyists to work on sanctions implemented in 2014 in response to the Russian annexation of Ukraine, as well as "credit financing" and "global energy markets" issues.
Russian state-owned bank Sberbank hired a lobbyist in January, and filings show the lobbyist has lobbied the Senate, House and State Department on "clarifying the scope of sanctions" and "assessing possible ways to address sanctions." Last year, Sberbank hired the Podesta Group to lobby on the same issues. Podesta Group was founded by Clinton campaign manager John Podesta and his brother Tony.
© Copyright IBTimes 2023. All rights reserved.
FOLLOW MORE IBT NEWS ON THE BELOW CHANNELS