Connecticut Groups Call For Dan Malloy To Remove Insurance Regulator In Anthem-Cigna Merger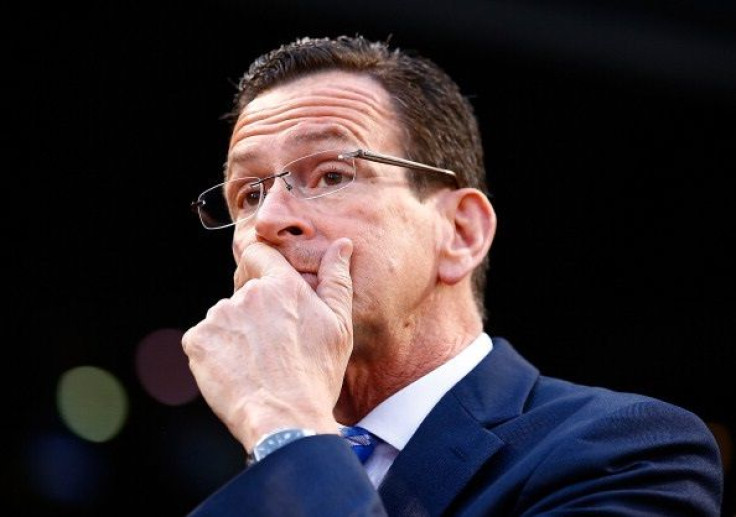 Two prominent grassroots groups in Connecticut on Thursday called on Connecticut Gov. Dannel Malloy to remove his insurance regulator over her ties to a giant health insurance conglomerate that is seeking merger approval from her agency. That call was soon echoed by a national liberal group, which said if Malloy does not act, it would call into question the appropriateness of his role writing the Democratic Party's national platform at the party's upcoming convention (see update below).
Connecticut Insurance Commissioner Katharine Wade — who was appointed by Malloy — has resisted calls to recuse herself from reviewing a merger between Anthem and Cigna, despite being a former lobbyist for Cigna who is married to a Cigna executive and whose family members have also worked for the company. She also appointed as her deputy an official with ties to Cigna, and permitted another agency official who had worked at Cigna to be involved in the state's regulatory review of the deal — a review that is considered crucial to the transaction because Cigna is headquartered in Connecticut.
The calls for Wade's removal come from the Universal Health Care Foundation of Connecticut and the Connecticut Citizen Action Group, who along with groups representing physicians and hospitals, have asserted that the merger would raise premiums and limit medical care. Their broadside against Malloy — a top Hillary Clinton ally who is co-chairing the committee writing the Democratic Party's national platform — follow an International Business Times investigation documenting Wade's ties to Cigna, as well as a significant increase in campaign donations from Cigna and Anthem to the Democratic Governors Association, which backed Malloy's election campaigns and which Malloy now chairs.
<iframe id="datawrapper-chart-lAfcP" src="//datawrapper.dwcdn.net/lAfcP/1/" frameborder="0" allowtransparency="true" allowfullscreen="allowfullscreen" webkitallowfullscreen="webkitallowfullscreen" mozallowfullscreen="mozallowfullscreen" oallowfullscreen="oallowfullscreen" msallowfullscreen="msallowfullscreen" width="100%" height="567"></iframe><script type="text/javascript">var embedDeltas={"100":763,"200":679,"300":623,"400":595,"500":567,"600":567,"700":567,"800":567,"900":567,"1000":539},chart=document.getElementById("datawrapper-chart-lAfcP"),chartWidth=chart.offsetWidth,applyDelta=embedDeltas[Math.min(1000, Math.max(100*(Math.floor(chartWidth/100)), 100))]||0,newHeight=applyDelta;chart.style.height=newHeight+"px";</script>

According to IRS filings reviewed by IBT, in the 13 months since Malloy became chair-elect of the DGA and then took it over, Anthem and Cigna have donated more than $935,000 to the group. That is more than the companies donated to the DGA in the entire 2014 election cycle (and there are still three fundraising quarters left to report in 2016). It is also a fourfold increase since the 2012 election cycle.
The increase in campaign cash came as the companies were finalizing a controversial merger proposal — one that Malloy's administration, through Wade's agency, will play a pivotal role in regulating. In all, Malloy-linked groups, including the DGA, the Connecticut Democratic Party and Malloy's own gubernatorial campaign -—have received more than $2 million from Anthem and Cigna donors since Malloy began running for governor in 2009. That included $1.3 million in the lead-up to Malloy appointing Wade in March of 2015, as Anthem and Cigna were negotiating their merger.
In an email sent out on Thursday, the left-leaning Connecticut Citizen Action Group asked its 10,000 members to sign a petition demanding Malloy "replace Commissioner Wade in the review of the Cigna/Anthem merger & pledge to not accept contributions from these companies in any political committees that you are associated with." An email from the Universal Health Care Foundation of Connecticut to its members said it is "calling on Governor Malloy to ask Commissioner Wade to resign immediately."
In September 2015, Wade told the Connecticut Office of State Ethics that under the law, "Cigna Corporation is not a business with which I am associated." Yet, in documents that she filed with the same state ethics office in April of 2015 and May of 2016, she listed Cigna as a business with which she is associated.
Wade's and Malloy's offices did not respond to IBT's request for comment about the calls for Wade's resignation.
UPDATE: Democracy for America, the million-member group formed out of Howard Dean's presidential campaign, on Friday called Malloy to remove his insurance commissioner over her ties to Cigna. With Malloy set to co-chair the committee writing the Democratic Party's national platform, DFA chairman Jim Dean said "Anything less than an open, public, independent, and transparent process surrounding the Cigna-Aetna merger would legitimately call into question the ethics of our state government and, by extension, question the appropriateness of the Governor's leadership position in the national Democratic Party and its upcoming convention."
© Copyright IBTimes 2022. All rights reserved.
FOLLOW MORE IBT NEWS ON THE BELOW CHANNELS