Cy Vance's Write-In Opponent Makes Last-Ditch Effort To Oust New York DA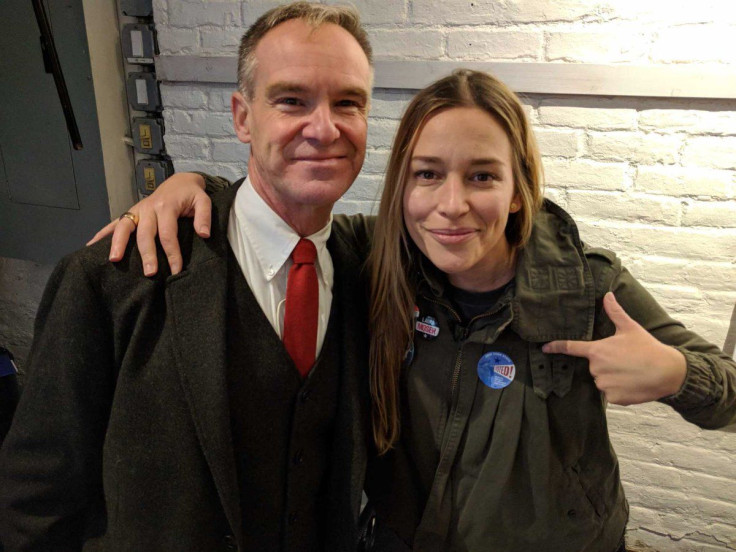 Early on the chilly morning of Election Day, half a dozen people gathered on a street corner in Manhattan's East Village neighborhood — a careful 100-plus feet from the nearest polling place, just down 12th Street — to make a final plea to passing voters in favor of the borough's lesser-known district attorney candidate. The group, which included the candidate's son and a well-known actress newly engaged in political activism, handed out pencils bearing the name of the write-in candidate making a last-minute effort to unseat the incumbent Cyrus Vance Jr.
Marc Fliedner, who spent a decade working in the Brooklyn (Kings County) DA's office and lost a primary bid for Kings County prosecutor in September, decided in mid-October to run against Vance, the only name on the Manhattan DA ballot, in the wake of reports that the latter official had dropped cases in which the defense attorneys had donated to his campaigns.
First, ProPublica, in conjunction with the New Yorker and public radio station WNYC, reported that a case against Ivanka Trump and Donald Trump Jr. over allegedly fraudulent advertising of a SoHo property came to an abrupt halt after Donald Trump Sr.'s personal lawyer, Marc Kasowitz, paid him a visit — and $25,000 in campaign funds. The next day, amid the growing scandal involving Harvey Weinstein, the International Business Times reported that Vance had also abandoned a case of alleged sexual assault against the Hollywood executive months before longtime Weinstein lawyer David Boies provided $10,000 to Vance's campaign.
Vance has denied any suggestion that donations influenced his decision-making. Kasowitz told ProPublica that this was not his intention. A spokesperson for Boies' law firm told IBT that Boies "has been a supporter of the District Attorney" since before his 2015 donation and "has never spoken to him about Harvey Weinstein," but a recent report from the New Yorker has cast doubt on that statement.
On the East Village street corner, Fliedner — who moved with his husband and dog to Manhattan but would have to head back to Bay Ridge, in Brooklyn, where he was still registered, to vote later in the day — expressed a mix of frustration and pleasant surprise with his small but growing recognition among Manhattan voters.
"The mainstream press hasn't acknowledged us," he said, adding that the several-week-long-campaign had been "too quick for polling." Still, as a passing woman affirmed that she both recognized and planned to vote for him, Fliedner said he was "surprised by some people who already know who I am."
The short-lived campaign was inaugurated, essentially, by Twitter users outraged over the Vance reports and hopeful that Fliedner would volunteer as a write-in, and semi-officially began at a book launch for Alex Vitale's "The End of Policing."
"I was so psyched that folks, instead of just being agitated, they got agitated and decided to do something about it," Fliedner recalled.
Although he said he had "criminal justice issues I've been shouting about for a year," campaign finance and related ethical issues were at the top of his list of priorities. He pointed to a Monday New York Times op-ed by former Brooklyn DA Elizabeth Holtzman and former New York City councilman David Yassky that advocated DA campaign finance reform, but was careful to deny all suggestions of donor influence on Vance, a notion Fliedner said "really unnerved" him.
To draw attention to his promises of reform, Fliedner's lean campaign is running on social media support. Noah Levinson, Fliedner's upbeat communications director, frequently referred to the run as a "scrappy campaign."
"We have, like, nothing. No one is really getting paid out here," he said, adding that anti-Vance anger has been a useful supplement to Twitter endorsements. "There was this old woman, you know, well-mannered, and I said, 'Have you heard of Cy Vance?' And she said, 'Yeah, fuck that guy!'"
Also present was the actress Piper Perabo, with a cluster of campaign buttons pinned to the front of her jacket. Known for her roles in the movie "Coyote Ugly" and the show "Covert Affairs," she said she found herself galvanized by the 2016 presidential election outcome. After flying to Manhattan from Los Angeles to vote in her home district, Perabo said she planned to head to Alabama to support former U.S. Attorney Doug Jones in the Dec. 12 special election for Attorney General Jeff Sessions' Alabama Senate seat, against former judge Roy Moore. After that, she said she'd return to her home state of New Jersey to help U.S. House candidate Andrew Kim in the 2018 contest for the state's third congressional district.
"This is the first time I've ever flown in to vote," said Perabo, who said she had first heard of Vance after the IBT report describing his controversial decision to end a case against Weinstein. She'd been in a bar with friends, discussing who ought to run against Vance, she said, gesturing to Fliedner, "and they said, 'him!'"
Closer to the ballot station, two young women wearing stickers that read "I'M FOR CY," and who did not wish to be interviewed, handed out fliers in favor of the incumbent Manhattan prosecutor. Paul Zulkowitz, a staffer at the 12th Street voting location, said he didn't think voters, for the most part, knew of the campaign for an alternative. While he knew of the controversy surrounding Vance, he said, "I don't know that many people are aware of it."
Roberta Bayley, who lived nearby and said she planned on voting later in the day, said that she didn't know of the reports concerning Vance, or the run by Fliedner.
"I haven't read anything about that," she said, naming several major newspapers she reads routinely as she moved up in line at a coffee shop near Washington Square Park.
Richard, a lawyer who declined to give his last name because he didn't want to publicly take a stance, as it might hurt him professionally, said he'd been following the Vance controversy closely.
"I just don't care for him," he said. "A lot of my friends work for Cy Vance and will probably vote for him."
As for whether he thinks other Manhattanites are keeping an eye on the contest, he said, of Fliedner, "I have no idea. He's probably gonna lose, but I think it's nice that there's an alternative."
© Copyright IBTimes 2023. All rights reserved.