Democratic Leader Debbie Wasserman Schultz Slammed For Payday Loan Industry Connections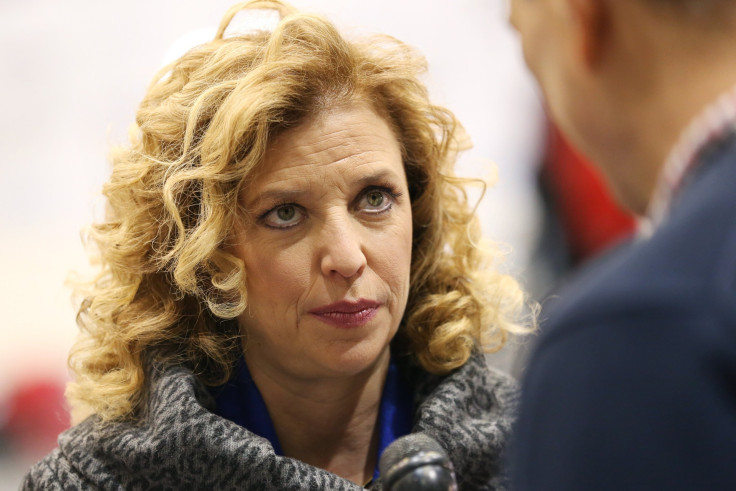 Florida Rep. Debbie Wasserman Schultz, the head of the Democratic National Committee, is catching flak from a progressive group over her opposition to stricter regulation of the payday lending industry. The group Allied Progress said Thursday it would air a television ad targeting "Debt Trap Debbie" in her home state ahead of the primary there.
Wasserman Schultz, who is facing a tough primary challenge from the left, is co-sponsor of the Consumer Protection and Choice Act, which would forestall new payday loan regulations formulated by the Consumer Financial Protection Bureau.
The proposed CFPB rules would aim to prevent "debt traps," in which cash-strapped borrowers find themselves unable to repay their loans except by rolling them over or borrowing even more. Lenders would need to assess upfront whether potential borrowers are capable of repaying their loans. The rules would also include a limit on how frequently lenders could make loans to the same client.
The Consumer Protection and Choice Act aims to prevent the CFPB from issuing regulations on the payday loan industry for at least the next two years, and in the meantime enact a far more permissive regulatory regime. The Allied Progress ad accuses Wasserman Schultz of "joining Republicans" in obstructing efforts to "hold payday lenders accountable."
But Wasserman Schultz isn't the only Democrat lining up in support of the payday loan industry. In April 2015, 26 of Florida's 27 House representatives — including all 10 Democrats — issued a letter to CFPB Director Richard Cordray decrying the agency's "one-size-fits-all" regulatory policy. The Consumer Protection and Choice Act was introduced by a Florida Republican, but nine of its 24 co-sponsors are Democrats. Half of the co-sponsors are also Floridians.
The CFPB has yet to issue finalize its proposal for regulating payday loans, but is expected to do so this spring. The Consumer Protection and Choice Act has yet to be taken up by the Financial Services Committee.
A Howard University study, citing data culled from Florida regulators, found that the state's payday lending industry raked in more than $265 million in fees and interest in 2013 alone. To protect that revenue, lenders have exerted more and more financial muscle in Washington over the past decade and a half; between 2002 and 2012, lenders more than quadrupled the amount of cash they spend per year on lobbying.
Meanwhile, the average borrower pays an exceedingly high premium for access to short-term cash. A 2012 Pew survey found that payday loan customers "take out eight payday loans a year, spending about $520 on interest with an average loan size of $375." Those borrowers were disproportionately likely to earn less than $40,000 per year.
Payday loans typically offer borrowers $500 or less for a few weeks at a time. According to the CFPB, a "typical two-week payday loan with a $15 per $100 fee equates to an annual percentage rate of almost 400 percent."
An earlier version of this article gave an incorrect date for the primary vote between Wasserman Schultz and her competitor.
© Copyright IBTimes 2022. All rights reserved.
FOLLOW MORE IBT NEWS ON THE BELOW CHANNELS