Despite Walmart Ties, Support For Free Trade, Hillary Clinton Touts Commitment To Manufacturing Jobs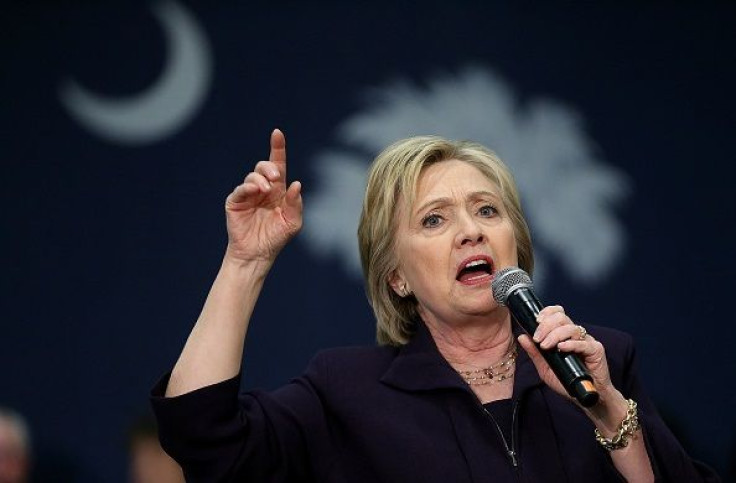 With a series of Rust Belt primaries on the horizon, Hillary Clinton's campaign Thursday planned a conference call with reporters to tout what it calls Clinton's "lifelong commitment to the manufacturing sector." That portrayal — launched by the presidential campaign of a former Walmart board member — seems designed to try to pre-emptively outflank Vermont Sen. Bernie Sanders. He has long slammed Walmart's business practices as well as Clinton-backed free trade policies — both of which economists say contributed to massive manufacturing job losses in the United States.
Clinton's 2016 campaign has numerous ties to Walmart. Most recently, Walmart heir Alice Walton donated $353,000 to the "Hillary Victory Fund," which is backing her presidential run, a Walmart lobbyist held a Mexico fundraiser for her and the consulting firm of her campaign's top strategist lists Walmart as a client. Before that, Clinton was a member of Walmart's board in the late 1980s and early 1990s. As PBS Frontline documented, that was when Walmart began offshoring its supply chain to China. A recent study by the left-leaning Economic Policy Institute (EPI) estimated that Walmart's shift to China ended up eliminating more than 300,000 manufacturing jobs in the United States.
Walmart's move was aided by President Bill Clinton's successful push to grant China permanent normal trade relations status, thereby reducing tariffs on Chinese imports. That initiative was rammed through Congress in 2000 with the public backing of Hillary Clinton, who declared that the deal "is in the interests of America and American workers."
Hillary Clinton's support for the China agreement followed her public support for the North American Free Trade Agreement. EPI estimates that overall, the trade deficits that followed NAFTA and the China pact ended up eliminating nearly 4 million American jobs — most of which were in the manufacturing sector.
Clinton has in the past recognized free trade deals' impact on U.S. manufacturing jobs. In 2007, she declared her opposition to a proposed free trade agreement with South Korea, citing concerns about the deal's effects on the domestic manufacturing sector.
"It will hurt the U.S. auto industry, increase our trade deficit, cost us good middle-class jobs and make America less competitive," she told the AFL-CIO.
Only a few years later, however, she pressed for the deal's passage, personally pushing Democratic senators to back it. Since the deal was ratified, the United States' trade deficit with South Korea has grown. According to EPI, that has cost an additional 75,000 U.S. jobs, mostly in manufacturing.
© Copyright IBTimes 2023. All rights reserved.