Donald Trump Carrier Deal Previews New War On US Trade Pacts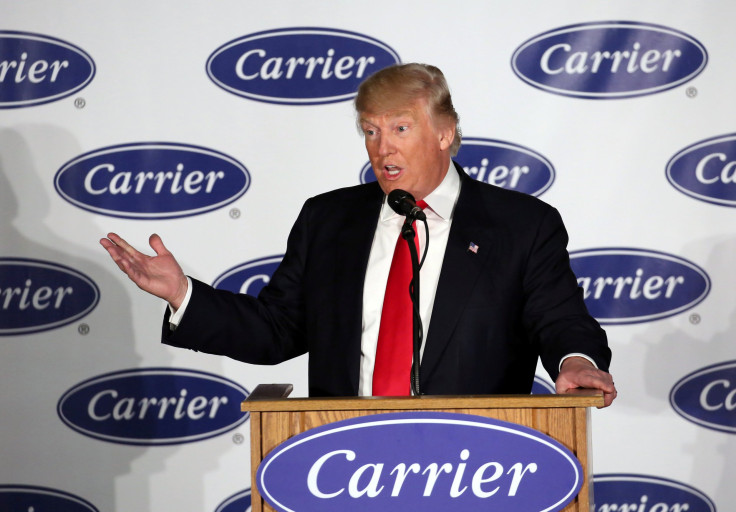 Donald Trump is still weeks away from taking the presidential oath of office, but a deal he championed with an Indiana manufacturer is already threatening to challenge longstanding trade rules designed to prevent public contracts from being targeted to domestic firms.
On Thursday, Trump and Vice President-elect Mike Pence attended an Indianapolis event to celebrate Carrier's decision to quash its plan to shift up to 1,000 manufacturing jobs from Indiana to Monterrey, Mexico. Carrier officials said that new state tax incentives were an "important consideration" in their decision to keep some of the jobs in the United States.
However, a top Indiana economic development official said the decision was based more on the firm's fear that if it shifted the jobs out of the United States, Trump's administration would punish Carrier's parent company, United Technologies, by restricting its access to billions of dollars of federal government contracts. United Technologies annually gets roughly $5.6 billion in federal contracting largesse, according to the Indianapolis Star.
"Companies are not going to leave the United States anymore without consequences," Trump said during a speech at the company. "It's not going to happen."
Trump's new administration could follow the Carrier deal by seeking to systematically leverage its power over federal contractors to get companies to preserve domestic jobs. But that would run up against key provisions in longstanding U.S. trade deals that — if broken — could subject the United States to international sanctions.
Under those pacts — which Trump and many progressive public officials have campaigned against — federal, state and local governments face restrictions on efforts to award or rescind government contracts on the basis of where a company is located, or where its workforce is domiciled. In practice, those rules effectively prevent government officials from preferencing U.S.-based companies in their decisions to award government contracts. In 2015, roughly $13 billion of federal contracts went to foreign firms or foreign-based subsidiaries, according to data from Bloomberg Government.
"The policy tool Trump just used, conditioning procurement contracts on U.S. employment, is one of the policies forbidden in our current trade agreements," said Lori Wallach of Public Citizen, a left-leaning group that has pressed public officials to alter America's current trade policies. "As part of Trump changing those trade agreements, he could announce to our trade partners that getting rid of those procurement rules are one of the things he is going to negotiate."
The idea of leveraging contracting power is hardly new. Many states' procurement codes include language designed to preference local vendors in government contracting decisions. Congress in 1983 passed the Buy America Act to try to make sure infrastructure projects use domestically produced materials.
To comply with trade agreements that bar contracting preferences, though, the United States has periodically waived those contract preference laws for companies based in trading-partner nations. Wallach told International Business Times that even before fully renegotiating trade deals, Trump could use his executive power to rescind those waivers, thereby opening up the possibility of new contract preference laws at the state and federal level.
"As a practical matter, if he was serious about this, he would announce a change in that regulation, and there's a whole process to do that — but he can do that unilaterally," Wallach said. "He would then give notice to the signatories of the World Trade Organization procurement agreements that this is an issue I intend to use the fast track authority that Congress gave me to negotiate a change of these rules."
According to Obama administration officials, U.S. companies have a stake in preserving the existing system. The current procurement rules that bar contract preferences were created "with the aim of ensuring that U.S. goods, services and suppliers will be given fair and non-discriminatory opportunities to compete" for foreign government contracts, according to the Office of the United States Trade Representative.
"One of the key U.S. objectives in negotiating access to foreign procurement markets is to obtain a commitment from a foreign country to not apply domestic preferences that would prevent or undermine participation by U.S. suppliers in that country's procurement," says the National Association of Procurement Officials in a review of the rules.
A recent case shows how those rules can operate in practice: Last week, the WTO ruled that a Washington State tax incentive for Boeing violates international trade agreements. The tax incentive package said it would be terminated if "any final assembly or wing assembly … has been sited outside the state of Washington." Arbiters ruled that the clause effectively made the tax benefits contingent on the company producing planes in the state — which they said violated trade rules against domestic preferences. The ruling could force lawmakers to rescind or amend the tax package.
If Trump moves to scrap such rules and target federal contracts to firms that keep jobs in the United States, it could prompt other countries to do the same for their own companies.
"If he tries to institutionalize this and it's not just 1,000 Carrier jobs but every company with federal contracts, he could newly introduce that federal contractors not offshore jobs, that would definitely go against what we've committed to do at the WTO," said Todd Tucker, a trade expert at the Roosevelt Institute. "It would be enormously politically popular, but the risk from a policy perspective is what if that starts going willy nilly across the board, so that we are doing it and other countries are doing it, that ends up helping inefficient industries. There's a danger of it going too far."
Tucker added, though, that "we don't want what we have now, which is under under no circumstances can countries say for this industry there is a strategic reason we want it local."
FOR FREE to continue reading
✔️ Unlock the full content of International Business Times UK for free
offer available for a limited time only
✔️ Easily manage your Newsletters subscriptions and save your favourite articles
✔️ No payment method required
Already have an account?
Log in
© Copyright IBTimes 2023. All rights reserved.