Obama's Controversial Offshore Drilling Proposal Rests On Research Funded By Fossil Fuel Industry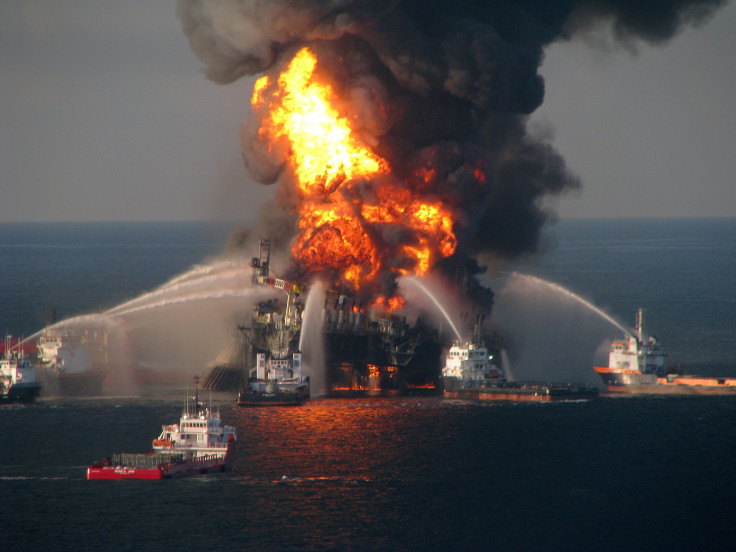 To make its case for a new proposal that could expand offshore drilling in the Gulf of Mexico and near Alaska, the Obama administration recently released a report touting what it indicated would be the significant economic benefits of the plan. The apparently impartial, 279-page analysis said the initiative was a key component of President Barack Obama's effort to support "safe and responsible domestic oil and natural gas production as a means to support economic growth and job creation."
Sparking protests around the time of the sixth anniversary of the Deepwater Horizon spill, the drilling plan would give fossil fuel companies more access to an untapped offshore reserve that holds an estimated 90 billion barrels of oil and 327 trillion cubic feet of natural gas. The U.S. Bureau of Ocean Energy Management (BOEM) report justifying that move came as some economists have raised questions about the idea that fossil fuel development is a major engine of job growth, and some have suggested that the economic ripple effects of such development have been overstated. But the report painted an optimistic portrait linking "expanded oil and gas activities" to increased economic activity.
Buried in the BOEM report's fine print, though, were footnotes shedding light on how the bureau came to its conclusions: it used studies from the same fossil fuel industry that could benefit from the expansion. Eight of the nine economic analyses cited by government regulators in their report were produced by authors or organizations with links to the fossil fuel industry — which has been lobbying the federal government on drilling issues in the lead-up to a decision.
With environmental groups set to protest the offshore drilling plan in Washington Tuesday, the fossil fuel industry's links to the studies underscored concerns about so-called cognitive capture: the growing effort by industries to quietly shape the basic research on which public policies are predicated.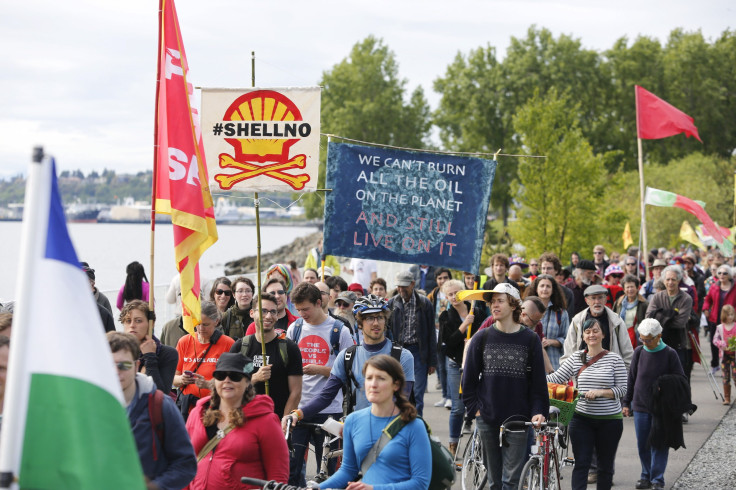 Industry-linked experts and organizations whose drilling research was cited by government regulators told International Business Times that their studies are objective. They also said businesses affected by proposals have an obligation to tell regulators about their views on proposed policies. In contrast, watchdog groups argue that such research has become a stealth and insidious form of corporate power — the kind that goes well beyond the more obvious forms of influence such as campaign contributions and lobbying.
"The oil and gas industry has managed to get an important audience for its self-serving research at an especially contentious moment for offshore fossil fuel exploration," said a review of the industry-funded studies by the Public Accountability Initiative, whose research is supported by left-leaning foundations. "Such studies, which tend not to be peer-reviewed ... often rely on flawed assumptions and easily manipulated computer models that can produce overly optimistic results."
Concerns about industry influence on the rulemaking process and on Washington's public policy debates made headlines last year when U.S. Sen. Elizabeth Warren, D-Mass., spotlighted how a scholar at a prominent Washington think tank was producing seemingly impartial research that benefited his finance industry funders. Warren had already urged banks to fully disclose how much they are contributing to think tanks that produce policy research on financial issues.
Within the debate over energy policy, environmental groups have repeatedly decried what they say is an all-too-cozy relationship between academia, think tanks and the fossil fuel industry — one they call "frackademia," playing off the name of the fossil fuel exploration method of hydraulic fracturing, or fracking.
Back in 2011, some left-leaning groups criticized incoming Energy Secretary Ernest Moniz for overseeing a project at the Massachusetts Institute of Technology that accepted funding from fossil fuel interests and published a report promoting fossil fuel development. In 2015, a Colorado weekly newspaper published a widely circulated investigative report documenting ties between the fossil fuel industry and the University of Colorado's business school, as the school was producing studies promoting the natural gas industry. Then, last week, environmental groups sent a letter to the federal Environmental Protection Agency criticizing what they reported are fossil fuel industry ties to a group of scientists on a federal panel charged with reviewing the safety of fracking.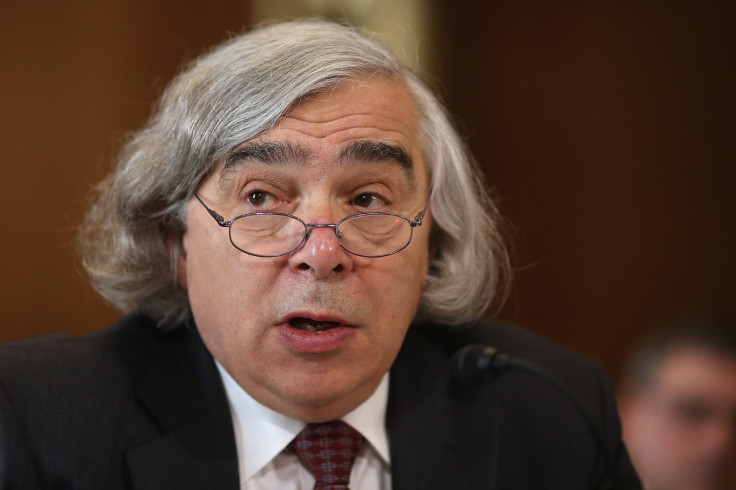 Environmental groups have not been the only ones to express skepticism about the independence of industry-funded research. In the U.S. Supreme Court's 2008 decision on the Exxon Valdez oil spill, Justice David Souter — an appointee of President George H.W. Bush — wrote in the majority opinion that the court was aware of some research on punitive damages that might be relevant in the case, but "because this research was funded in part by Exxon, we decline to rely on it."
Thomas McGarity, a professor who focuses on both administrative and environmental law at the University of Texas School of Law at Austin, told IBT that while industry links do not automatically invalidate the credibility of experts or research, regulators should not rely solely on such sources when making policy decisions.
"When you see that a company sponsored a report, it doesn't necessarily mean that it's biased. But I think that it does require one to take that report with a grain of salt and be particularly skeptical if the report comes out in support of the position of the sponsor," said McGarity, who has published a book on corporate influence in science, and whose school was embroiled in a controversy over oil- and gas-funded research in 2012. "Particularly if we're talking about employment effects — those projections are so easily manipulated that one has to be very skeptical about viewing them or taking them seriously ... A study that's on offshore drilling, the economic effects of offshore drilling that is sponsored or paid for by a driller or a company that is engaged in offshore drilling, that should get a lot less weight."
Industry-Linked Studies Tout Benefits of More Drilling
It is exactly those kinds of studies, about the employment effects of offshore drilling, that are at issue in the BOEM report outlining the Obama administration's plan to sell leases that could open more than 92 million acres in the Gulf of Mexico and the Arctic region to offshore drilling.
In the months before the controversial move, fossil fuel companies such as the Shell Oil unit of Royal Dutch Shell and industry associations such as the American Petroleum Institute (API) lobbied the federal government on drilling, alongside an advocacy group that has links to Koch Industries. Although the government backed off a plan to open up drilling off the Atlantic coast of the U.S. Southeast, the move to expand drilling in the Gulf and near Alaska was a win for the oil and gas industry. However, the decision in March prompted protests both from national environmental groups concerned about the prospect of increased carbon emissions and from local activists in the Gulf Coast region who are worried about the possibility of new spills.
"The climate science tells us that in order to not totally wreck the climate we need to keep 80 percent of known fossil fuels projects in the ground," said Jason Kowalski, the U.S. policy director of the climate activist group 350.org. "From our experience with [the] Keystone XL [pipeline], it is pretty clear to us that for a lot of executive agencies, for a lot of offices within our government, rubber-stamping fossil fuel policies is the norm."
To justify the new lease sales, BOEM issued a report making the case that opening up the Gulf and Arctic to new offshore drilling would significantly benefit the economy.
"Nationally, there are economic benefits associated with oil and gas activities, including employment and wage benefits for widely distributed workers, and the overall contribution from oil and gas revenues to the U.S. economy," the report said.
In the footnotes of the report's chapter on the economics of offshore drilling, BOEM pointed out nine economic studies that it considered. The list included studies funded directly by fossil fuel firms or fossil fuel industry lobbying groups. The studies generally promote the economic benefits of fossil fuel development.
For instance, the government cited a report called "Offshore Access to Oil and Natural Gas Resources" by the API, a major trade association for the oil and gas industry, which counts heavyweights such as BP, Chevron and Shell among its many members. The latest version of the API analysis — which was critical of efforts to restrict offshore drilling — declared that opening more of the Gulf of Mexico to fossil fuel exploration could support 230,000 jobs and add $18 billion a year to the economy.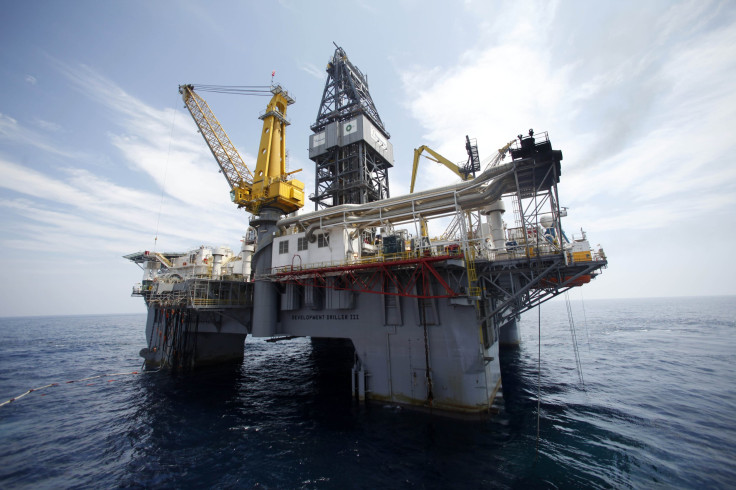 The federal government's report also cited a couple of studies by Quest Offshore Resources. One was about "the significant potential benefits to the U.S. economy that would stem from opening the Atlantic outer continental shelf to oil and natural gas exploration." The other aimed to "demonstrate the near-term potential of the offshore Gulf of Mexico oil and natural gas industry to create jobs, boost [gross domestic product] and generate tax revenues at all levels of government" — but only if the federal government "allows for the timely development" of the area. Those studies were sponsored by the API, and Quest boasts on its website that it "has long-term multiyear contracts with BP, Chevron, Exxon Mobil [and] Shell."
The BOEM additionally referenced a 2009 study by the Alaska-based consulting firm Northern Economics that argued expanded offshore drilling "could lead to a 5 percent increase in statewide population" in Alaska and "could generate an annual average of 35,000 jobs over the next 50 years." Conducted in association with the University of Alaska Anchorage, the Northern Economics study was done under contract for the Shell Exploration and Production unit, which explored the prospect of drilling in the region.
Other studies that BOEM relied on were not directly funded by oil and gas firms or their lobbying groups, but were conducted by organizations or individuals with ties to the industry.
For example, an IHS Global Insight study of Gulf of Mexico drilling touted the "economic significance of the Gulf of Mexico offshore oil and gas industry, today and in the future." IHS has billed itself as a "leading adviser to energy companies," producing reports for the API and America's Natural Gas Alliance, among others.
The BOEM also referred to a study about the prospect of fossil fuel development in the Atlantic by the Interstate Policy Alliance, which concluded that "the economic benefits of offshore oil and gas development are likely to far exceed the economic value of environmental damages." According to the left-leaning Center for Media and Democracy, the Interstate Policy Alliance is a project of the Employment Policies Institute, which is associated with Richard Berman, a corporate public relations consultant who has advised the fossil fuel industry. The particular study cited by the BOEM was written by a University of Wyoming professor whose work has been funded by the natural gas industry.
'Ridiculous, Inflated Numbers'
IBT contacted all the organizations that produced the studies cited by BOEM. Those that responded defended their research.
"IHS is recognized as a leading source of independent research and insight in many areas, energy among them," company representative Jeff Marn said in an email to IBT. He acknowledged that fossil fuel interests paid for the studies in question. "We are transparent in disclosing whenever a particular piece of research was prepared at the request of any particular organization or entity. As with all of our research, all of the analysis, content and conclusions are solely that of IHS."
Similarly, a representative of the Employment Policies Institute, Michael Saltsman, told IBT that the group does not dispute that the professor who authored its study "has received research support in the past from the energy industry." However, he said the institute contracted the professor for the drilling study "because of his expertise in the issue area, not because of his past associations, and he received no industry support for this project."
Jonathan King, a vice president at Northern Economics, told IBT the firm has worked with oil companies, but also with governments and environmental nonprofit organizations, and that its research is never skewed.
"We provide the same level of service and objective analysis regardless of the type of client in keeping with our overall mission," King said in a written statement. "This commitment means that we do not 'bend' our analysis based on client type." He said the 2009 study in question "would have produced the same results had it been contracted by BOEM, Royal Dutch Shell or an environmental group. The techniques we used to generate our results represent our industry's accepted best practices and information and countless industry, governmental and academic researchers worldwide use the same techniques."
US Offshore Oil Production | Graphiq
At the BOEM, representative Blossom Robinson told IBT that regulators consider an array of research sources when making decisions and that the studies detailed in its drilling proposal were made available in the footnotes for "informational purposes only."
When evaluating proposals to expand the areas open to offshore drilling, the bureau "considers a number of factors," Robinson wrote in an email to IBT. "BOEM conducts its own economic impact analysis of proposed activity." The bureau's drilling proposal also said that while industry-linked studies "inform the discussion of continuing or expanding oil and gas operations," the studies referred to are just "some of the studies BOEM has considered during its analysis." The bureau said that "none of these studies necessarily represent the official views" of federal regulators.
Those explanations have not satisfied the new drilling plan's opponents, such as Anne Rolfes, who leads the climate advocacy group Louisiana Bucket Brigade. In the weeks after one of her group's protests of the BOEM initiative, she told IBT the fossil fuel industry is "very insincere in their so-called concern about jobs because if the industry really cared about jobs they should and could put thousands of people to work repairing their decrepit infrastructure." She dismissed the employment claims made by the oil industry as "ridiculous, inflated numbers."
Those assertions have been amplified by some environmental groups and economists.
In December, a report by an economist at the University of Southern Maine that was commissioned by the advocacy group Southern Environmental Law Center said one of the industry-linked studies referenced by the BOEM "significantly overstates the potential economic benefits from offshore drilling by basing calculations on nonexistent leasing scenarios, outdated oil prices and unknown amounts of Atlantic oil."
A similar report by the conservation group Oceana last year asserted that the fossil fuel "industry includes oil and gas resources that are not economically feasible to extract, incorporates inaccurate resources multipliers, and assumes a nonexistent revenue-sharing system" — all of which, the group said, "result in exaggerated job creation figures."
In recent years, some public health and environmental experts have argued that more federal resources should be devoted to genuinely impartial research into the prospect of expanded fossil fuel exploration. Without such funding, public officials can end up relying on studies financed in whole or in part by the industries they are supposed to be independently regulating. The situation can also put resource-starved researchers in the position of having to turn to industry sponsors, which means those researchers face an added burden of proving their independence, according to Kirk Hanson, the executive director of the Markkula Center for Applied Ethics at Santa Clara University.
"The researcher, to maintain his or her own ethics and independence, needs to be watchful of that and to have clear guidelines at the beginning ... and then to be careful to avoid the reality or the appearance that they're responding to the policy issues or the outcomes that are funded for the research," Hanson told IBT.
One of the potential counterweights to over-reliance on industry research is the public comment period, when federal regulators solicit feedback on proposed initiatives at hearings, such as the ones that have taken place in New Orleans and Houston over the drilling expansion initiative [this comment period will conclude May 2]. The process frequently involves town hall-style meetings, but it too can be dominated by industry. In March, Sen. Warren delivered a speech in Washington reviewing data showing that when it came to U.S. rulemaking across multiple issues, business interests submitted far more comments to federal agencies than did public interest groups.
In the case of the Obama administration's plan to sell more drilling leases and whether specific research into fossil fuel exploration was unduly influenced by the oil and gas industry, the sheer age of the industry-linked studies that the BOEM relied on may be the biggest potential problem of all. In its report on the Obama administration's offshore drilling expansion plan, the agency cited studies from as early as 2009 — but longtime oil industry economist Philip Verleger told IBT that the current lower prices of petroleum products means older job projections about offshore drilling are even more likely to be inflated.
"Do these things generate jobs? Probably not," Verleger said. "The fact of the matter is that with prices where they are right now, I don't think many companies, even if they get leases, are going to do much as far as drilling."
FOR FREE to continue reading
✔️ Unlock the full content of International Business Times UK for free
offer available for a limited time only
✔️ Easily manage your Newsletters subscriptions and save your favourite articles
✔️ No payment method required
Already have an account?
Log in
© Copyright IBTimes 2023. All rights reserved.