Election 2016: Ohio State's Urban Meyer Endorses John Kasich After Kasich-Controlled Board Gave Him Big Contract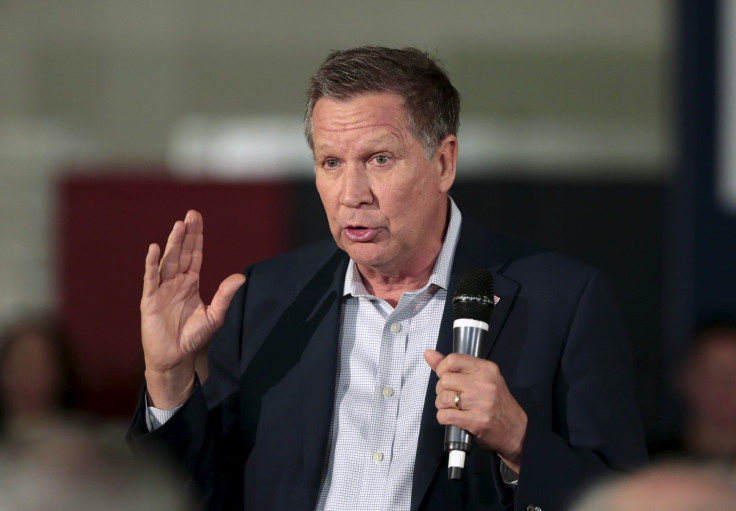 As Ohio's governor in his second term, John Kasich has inherent advantages in his state's Republican presidential primary election March 15 — and one of those advantages was on public display Thursday, as the state's most famous college football coach issued a headline-grabbing endorsement of Kasich's White House bid. That same coach just received a multimillion-dollar contract from a board controlled by Kasich.
In a video released by Kasich's campaign, Ohio State University football coach Urban Meyer tells Kasich about "all the great work, the great leadership you've shown for our great state" and tells him to "go win this darn thing." The endorsement comes less than a year after the university's board of trustees, who are appointed by the governor, approved Meyer's new contract, in which his compensation averages $6.5 million a year.
That deal boosting Meyer's pay made him the second-highest-paid coach in all of college football. The contract — which International Business Times obtained through an open-records request — affords Meyer 50 hours of travel on private jets each year for "personal use," in addition to time on private jets for recruiting players. If Ohio State were to terminate Meyer without cause before Jan. 31, 2017, he would be due a buyout of $27.4 million, according to the contract. Those payouts and perks were given to Meyer by a state whose public workers saw their pension benefits slashed by legislation Kasich signed in 2012.
Asked whether it was appropriate for the governor to accept the endorsement of the state's highest-paid public employee, whose contract is approved by a board he appoints, a Kasich campaign representative told IBT, "It was a personal endorsement."
"Urban and Shelley Meyer are friends with John and Karen Kasich, and this is something that Urban decided to do as a private citizen, not in his role as Ohio State football coach," Ohio State spokesman Chris Davey told IBT.
Both Ohio and federal laws place some restrictions on the political activities of government employees. The laws are generally designed to prevent lawmakers from using their power over state employees to coerce or financially incentivize those employees to back their electoral campaigns. However, the laws also permit some political activity by employees such as Meyer, who is a state employee but outside Ohio's civil-service system.
According to Ohio State's website, "As an employee of the university, it is inappropriate to either participate in political activities or solicit participation of others in political activities, either during normal business hours or at any time when using university assets." Meyer's university biography says he has brought in Kasich as a guest to speak to the Ohio State football team in the past.
Ohio state law allows public employees who are not in the civil service to engage in political activity outside of their workplace. But state institutions that get money from the federal government are subject to federal prohibitions on political activity "if their principal employment is in connection with an activity that is partially or fully financed by loans or grants" by the federal government, according to Fishel Hass Kim Albrecht, a law firm in Columbus, Ohio. The same firm said state employees covered by the federal law are prohibited from "using their official authority or influence for the purpose of interfering with or affecting the result of an election or a nomination for office."
Ohio State University receives major funding for research and tuition from the federal government, and recent reports have shown that college athletes at NCAA Division I schools have received millions of dollars through federal student aid programs.
John Osborne contributed to this story.
© Copyright IBTimes 2023. All rights reserved.