Hillary Clinton Excuses Lack Of Wall Street Prosecutions, Doesn't Note Scrutiny of Former Treasury Head Robert Rubin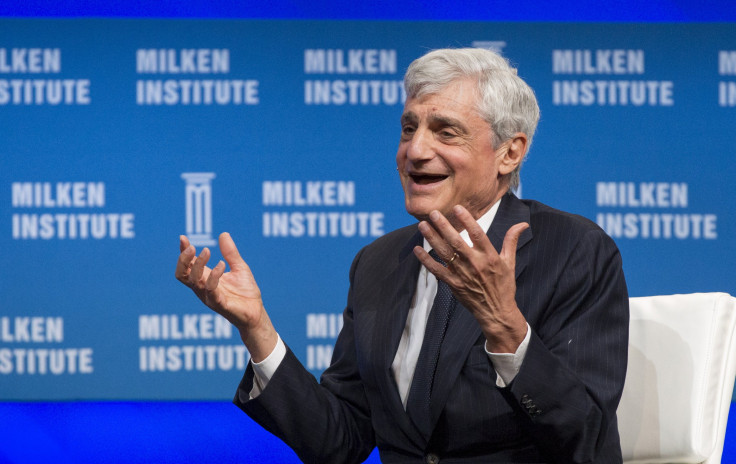 Throughout his campaign for the Democratic presidential nomination, Vermont Sen. Bernie Sanders has decried the U.S. Justice Department's failure to prosecute any of the key figures involved in the events leading up to the financial crisis. But when the New York Daily News editorial board asked Hillary Clinton about Wall Street's apparent impunity, she sounded a more cautious note.
Clinton attributed the dearth of prosecutions to a lack of "sufficient laws [and] sufficient prosecutorial resources," according to a transcript of the discussion released Monday. But neither Clinton nor the Daily News editorial board mentioned last month's disclosure that a bipartisan panel had called for a Justice Department investigation into President Bill Clinton's onetime treasury secretary.
In 2010, the Financial Crisis Inquiry Commission, which Congress had charged with examining the root causes of the Wall Street collapse, recommended an investigation into potential lawbreaking on the part of former Treasury Secretary Robert Rubin. The Justice Department apparently disregarded that recommendation, or at least left behind no evidence to suggest otherwise, multiple news outlets reported last month.
The Commission argued that Rubin — who, along with the rest of President Clinton's financial policy team, presided over a deregulatory spree in the 1990s — may have illegally deceived Citigroup investors in 2007 while serving as chairman of the Citigroup board's executive committee. The Commission said Citigroup claimed its exposure to subprime bonds was significantly lower than Rubin knew to be the case.
The Justice Department has not said whether it ever looked into the matter. Earlier this month, during a CNBC appearance, Financial Crisis Inquiry Commission head Phil Angelides said he did not know whether his panel's recommendation ever led to further scrutiny of Rubin.
"I've been troubled about the lack of individual accountability," said Angelides, referring to the lack of banker prosecutions.
Clinton, speaking to the Daily News, said the lack of prosecutions "rankles," but she believes the Justice Department made a serious effort to hold Wall Street accountable.
"I'm not going to second-judge people who I believe were acting in good faith, because I think they were — U.S. attorneys, Department of Justice prosecutors. But they concluded that they could not make cases," said Clinton.
© Copyright IBTimes 2023. All rights reserved.