West Virginia Primary 2016: Donald Trump Seizes Coal Country Voters On Promise To Revive Hard-Hit Industry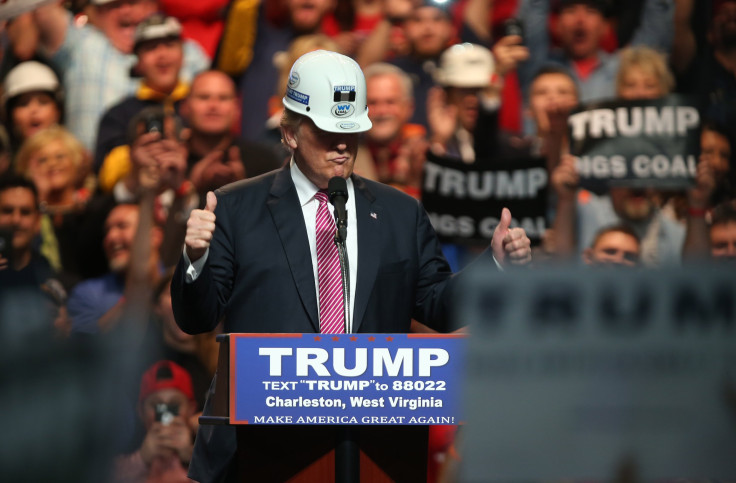 Hillary Clinton and Sen. Bernie Sanders will square off Tuesday in West Virginia's Democratic primaries. But the real fight for the hard-hit coal state is with Donald Trump, who is gaining widespread favor among Appalachian voters.
The presumptive Republican nominee has claimed he will revive mining jobs and boost heavy industry in this downtrodden slice of American coal country. During a May 5 campaign stop in Charleston, he told a fired-up crowd of 13,000 people he would make the state "better than ever before" if he wins the White House.
Clinton and Sanders also have vowed to stimulate economic growth in regions suffering from steep declines in coal production. But both Democratic candidates have promised to adopt tougher climate change policies, which would inevitably make it costlier to burn high-carbon coal. Trump, by contrast, is entirely dig, baby, dig.
The real estate mogul — now the presumptive GOP nominee — is leading front-runner Clinton in West Virginia 57 percent to 30 percent. He also leads Sanders 56 percent to 35 percent, Public Policy Polling found in a May 3 survey of about 1,200 West Virginia voters.
"People just like his no-nonsense, take-the-gloves-off attitude," said Chris Hamilton, vice president of the West Virginia Coal Association, which represents around 95 percent of the state's coal production. The trade group officially endorsed Trump earlier this week, and Hamilton was onstage at the Charleston rally to hand Trump a white miner's helmet.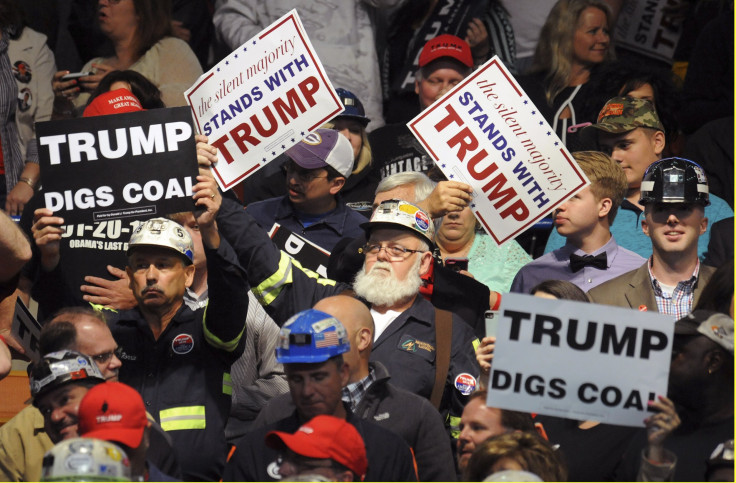 "He appears to have the resources and the drive to do what's necessary to revitalize our mining and manufacturing industries," Hamilton said by phone hours before meeting Trump. "He certainly has a strong will and personal mission to try to get that done."
The race to capture West Virginia voters is unfolding as the coal sector, the state's main economic engine, is shriveling. Coal production in the Appalachian state is expected to total no more than 90 million short tons this year — a more-than-40-percent drop from 2008 levels of around 160 million tons of coal.
Nationwide, coal production has dropped to its lowest level in nearly three decades, at less than 900 million tons in 2015. Dozens of U.S. mining companies, including giants like Peabody Energy Corp. and Arch Coal Inc., have filed for bankruptcy in recent months as their earnings declined and debt loads soared.
Three key factors are driving the downturn. In the U.S., power plant operators are increasingly ditching coal and instead burning cheap, abundant natural gas to generate electricity. Stronger federal clean air and water policies are making it more expensive to operate coal plants, especially older facilities. Globally, China's sluggish economy has resulted in lower demand for metallurgical coal used in steelmaking, dragging down prices.
Metallurgical coal is the predominate type produced in southern West Virginia. Mining there is relatively more expensive compared to other U.S. regions because the coal seams are thin and trapped deep underground. So when prices dip, this area is first to feel the economic ripple effects, said John Deskins, who directs the Bureau of Business and Economic Research at West Virginia University in Morgantown.
Six of the state's southern counties have lost as much as a third of their employment in the last few years, and poverty numbers are nudging up, he said. "Those counties were very heavily concentrated in coal, so when those coal [export] losses occurred, they were devastated," Deskins said. "There's a lot of people throughout West Virginia who sympathize with them."
That sympathy is a large reason why Trump's pro-coal agenda resonates so deeply with many West Virginians, he added. But it doesn't mean Trump can actually revive the state's coal sector as he is promising to do, the Associated Press found in a recent fact-checking report.
The Republican contender could in theory eliminate some of the environmental and climate change policies that make it costlier to operate coal plants. But that wouldn't reduce the surge of U.S. natural gas production that's crowding out coal in power plants. And Trump couldn't influence the global commodities markets to boost prices for metallurgical coal or drive up worldwide steel demand.
"It's very unlikely any change in regulatory policy would be able to bring coal back to where it was in 2008," Deskins said. "Donald Trump can't do anything to increase demand from China or other places that buy our coal exports."
Rather than boost coal production, Clinton and Sanders say they would seek to develop new economic opportunities in coal-reliant communities. Their approach would build on the Obama administration's existing programs for job retraining and professional development in Appalachia and other hard-hit areas. In eastern Ohio, for instance, dozens of laid-off coal miners are training to become truck drivers to take advantage of the nation's transportation boom.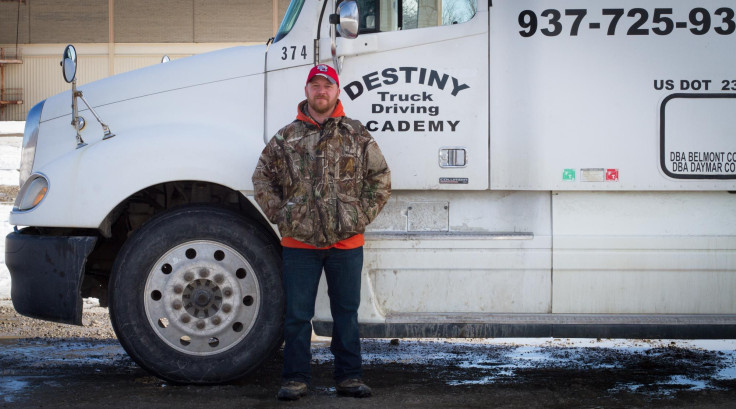 Sanders, the Vermont senator, has called for investing $41 billion to rebuild coal-mining communities and create clean energy jobs. "While I strongly believe we need to combat climate change … let me be clear: We cannot abandon communities that have been dependent on coal and other fossil fuels," Sanders said at a May 4 rally in Lexington, Kentucky.
Sanders is seizing the coal issue as Clinton faces a backlash after anti-coal-industry remarks. The former U.S. secretary of state and New York senator told CNN in March, "We're going to put a lot of coal miners and coal companies out of business."
Aiming to downplay those comments, Clinton held a series of events in coal country last week, pledging to develop an economic support package for struggling residents. And she still nabbed endorsements from fellow Democrats in the state, including West Virginia Gov. Earl Ray Tomblin.
"Although I remained concerned about some of Secretary Clinton's positions on fossil fuels, I believe she … is committed to working with us to diversify West Virginia's economy while continuing to find ways to use our abundant coal and natural gas to power the nation," Tomblin said in an April 29 statement.
Hamilton of the West Virginia Coal Association said he felt the Democratic candidates' plans were "anti-West Virginia and anti-mining interests." He said he welcomed initiatives to spark economic development and foster new industries. But he also supports an agenda to ramp up mining and expand industrial operations that consume fossil fuels.
"We believe we can have both," he said.
© Copyright IBTimes 2023. All rights reserved.
FOLLOW MORE IBT NEWS ON THE BELOW CHANNELS