Iowa Caucus: Democrats Divide Over Barack Obama's Policies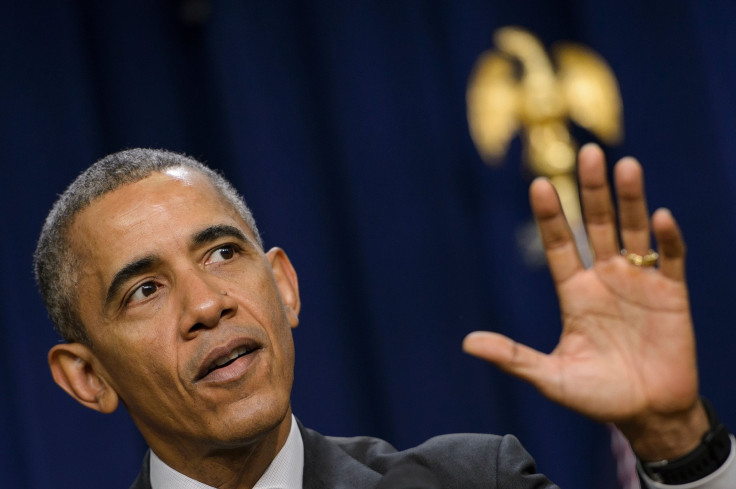 When the Iowa Democratic caucus finished in a statistical tie Monday night, the results reflected more than just voters' views of former Secretary of State Hillary Clinton and Vermont Sen. Bernie Sanders. They also appeared to reveal a divide over President Barack Obama's record — a tension that Obama's allies are now seeking to downplay.
Surveys confirm that Obama remains personally popular among self-described Democrats, and after the Iowa caucus, former Obama campaign aide Mitch Stewart discounted the notion that the president has been a disappointment to many Democrats. "What's frustrating is a very, very, very small minority of progressives hold this point of view," he said.
However, entrance and exit polls from Iowa showed more than a "very small" group of Democratic voters who want the next president to break from Obama's agenda. Only a little more than half of the Iowa Democratic voters surveyed told pollsters the next president should "generally continue Barack Obama's policies" — in a state that he won in both of his national campaigns. A third of Democrats said the next president should "change to more liberal policies" and another 7 percent said the next president should "change to less liberal policies."
With Clinton campaigning as the heir apparent to Obama — defending his healthcare initiative, foreign policy and economic stewardship — she won more than two-thirds of voters who said they want Obama's policies continued. Meanwhile, Sanders — with his push for a single-payer health care system, his critique of Obama's trade policies and his suggestion that Obama's administration has not adequately prosecuted Wall Street — won three-quarters of all Democrats who said they want a more liberal next president. And though he is a self-described socialist, Sanders also won a majority of those Democrats who said they want a more conservative successor to Obama.
In the hours after the Iowa results showed Sanders had erased Clinton's 28-point lead from last summer 2015, Politico reported that some current and former Obama aides rejected the view that Democrats are divided about the president's record. Some lashed out at Sanders, saying he had been disingenuous in both touting the ways he has supported Obama and proposing changes to Obama policies if he is elected president. (Clinton has also accused Sanders of being disloyal to the president.) Obama has declined to endorse either of the Democratic candidates.
Heading into New Hampshire, the caucus-night polls of Iowa voters offer comforts to both sides of the Democratic Party's divide.
Sanders won significant majorities among the 50 percent of caucusgoers who said their top priority was backing a candidate who "cares about people like me" or who is "honest and trustworthy." Clinton, though, won similarly big majorities of the 48 percent of Iowa Democratic caucusgoers who told pollsters they are most focused on supporting a candidate who "has the right experience" or who "can win in November."
The trouble for Clinton, however, is that the "electability" category is fluid and could change if her opponent starts winning primaries. The electability argument is further complicated by Sanders' strength among independent voters, who are considered key to general election victories. Sanders won more than two-thirds of the 20 percent of Democratic caucusgoers who said they typically identify as independents.
Clinton does have strong support from a traditional Democratic base. Despite having taken positions on trade and health care policy that run counter to unions' stated agenda, she has persuaded many major Washington, D.C.–based unions to deliver cash and institutional support to her campaign and affiliated outside groups. She won a majority of the 21 percent of caucusgoers from union households, even though Sanders is a staunch union ally.
© Copyright IBTimes 2023. All rights reserved.
FOLLOW MORE IBT NEWS ON THE BELOW CHANNELS