Martin O'Malley To Appear On TV Show Backed By Group Urging Social Security Cuts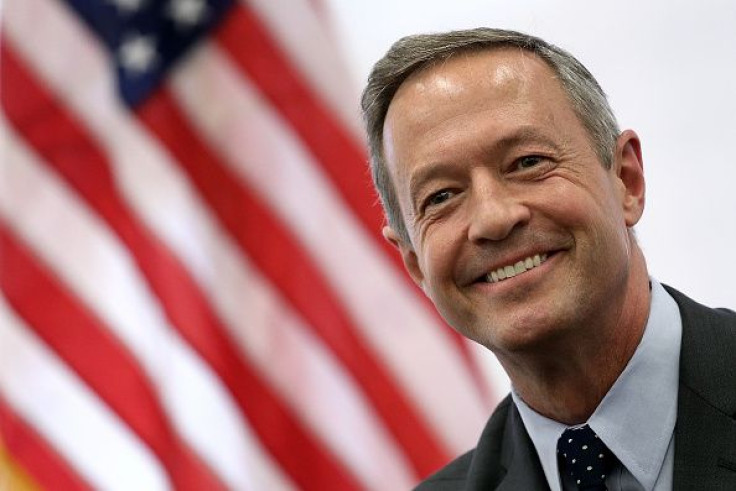 Democratic presidential candidate Martin O'Malley has pitched himself as a progressive alternative to front-runner Hillary Clinton. The former Maryland governor promotes plans to crack down on Wall Street crime and opposes the free trade model Clinton has supported in the past. In August he promised to "expand Social Security benefits, not reduce them or undermine Social Security in any other way."
O'Malley's campaign says that Friday the former governor is taking that pro-Social Security message to a television show sponsored by "Fix the Debt" -- a Wall Street-linked group that many progressives say is a driving force behind the push to cut Social Security. According to a press release from the group, O'Malley will appear on "Fiscal Fridays" -- a show that Fix the Debt says it is jointly sponsoring with the Concord Coalition, the Business and Industry Association of New Hampshire and the Warren B. Rudman Center.
A spokesperson for O'Malley's campaign asserted that the governor's appearance on the show is not an endorsement of the group's agenda, saying he is promoting his proposals to a group that may be hostile to them. O'Malley in the past has made clear that he believes the national debt and deficit is not caused by Social Security.
"The problem here is not that somehow seniors are getting too many benefits in terms of Social Security," he said in a 2014 appearance on CBS' Face the Nation. "The problem is our country's future is being choked by this ideological commitment to greater tax cuts for the very wealthiest of Americans, and that's hurting our country, it's hurting our ability to make progress, it's hurting middle-class wages."
The decision by Fix the Debt to sponsor a television show in New Hampshire represents an aggressive move by the group to try to shape the 2016 election in a direction opposed by left-leaning groups. Organizations such as Public Campaign, the Center for Media and Democracy and major labor unions have charted Fix the Debt's myriad links to corporate titans, including Blackstone billionaire Pete Peterson, as well as Morgan Stanley board member Erskine Bowles and former Senator Alan Simpson, both of whom led a presidential commission proposing Social Security benefit cuts.
The group has been led by Maya MacGuineas, who has authored articles calling for a "combination of benefit reductions and revenue increases" for Social Security and increasing the Social Security eligibility age. O'Malley has promised to oppose benefit cuts and increasing the retirement age.
Fix the Debt says it aims to "strengthen Social Security so that it is solvent and will be there for future beneficiaries" and has said the Bowles-Simpson plan is one of many "effective frameworks" to balance the nation's books. In an email, MacGuineas told IBT that "the fiscal challenges facing the country jeopardize important priorities for both the right and the left."
While O'Malley's campaign says on Friday he will reiterate his pledge to "reject efforts to privatize Social Security," he has in the past forged ties to the financial sector that could benefit from such privatization.
As a candidate for governor, he raised almost $300,000 from the securities and investment industry, and his presidential campaign has raised more than $46,000 from that same industry. While in office, his state's pension system -- which was run, in part, by his appointees -- shifted more public money into the hands of private financial firms. That move, say critics, generated big fees for Wall Street but subpar returns for taxpayers and pensioners.
© Copyright IBTimes 2023. All rights reserved.