Who Controls The Media? CBS And Sinclair CEOs Predict Consolidation If Donald Trump Goes Forward With Deregulation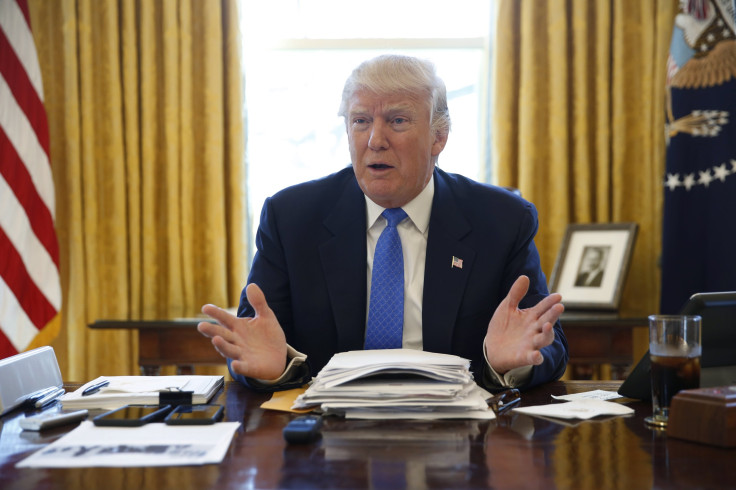 A small handful of companies control most of the media in America — and according to two powerful CEOs, major media conglomerates may be given the ability to further consolidate the industry. That long-sought deregulatory gift would come from the media industry's most famous critic, Donald Trump.
Two decades after landmark telecommunications deregulation led to a wave of consolidation, the Trump-controlled Federal Communications Commission is expected to consider whether to further loosen caps on the amount of media properties one company may own. Watchdog groups have argued that reducing the restrictions limits consumer choice and decreases resources for local reporting. Despite those concerns, the heads of CBS and Sinclair both eagerly predict more consolidation if the media industry is further deregulated.
"We know Ajit Pai very well — I think he will be very beneficial to our business," said CBS CEO Leslie Moonves, referring to Trump's new chairman of the FCC in a recent earnings call with investors. Asked about the prospect of a proposal to raise the cap on media ownership limits, Moonves said of Pai: "He's de-regulation, and we would be very interested in the cap moving up. Frankly, I have no details and no idea if that will happen or when it will happen. I can tell you in the right circumstance if the cap is lifted, we would strategically want to buy some more stations because we think it's important.... So we're looking forward to not having as much regulation."
Similarly, Sinclair CEO Christopher Ripley told investors that "we do expect this new FCC to tackle the ownership rules more broadly," and that "we're very optimistic about this new FCC and the leadership of Ajit Pai. And in terms of what that could lead to on the consolidation size we definitely anticipate that more consolidation will happen, in fact we think it's a necessary activity within the industry." He added: "We're quite optimistic about new leadership there and their plans to deregulate the industry."
The enthusiastic declarations about Trump and the prospect of more deregulation come from two companies that have benefited from Trump's political ascendance. A year ago, Moonves touted Trump's presidential run as a jackpot for the network, saying "it may not be good for America, but it's damn good for CBS." He also said, "Donald's place in this election is a good thing."
More recently, Trump's son-in-law Jared Kushner asserted that Sinclair — the largest owner of television stations — had cemented a deal with Trump to give the Republican more favorable coverage throughout its network. Sinclair has said it did not have a special arrangement with Trump and the company denied that it provided more positive coverage of him.
© Copyright IBTimes 2023. All rights reserved.