Politicians React To The Passing Of US Supreme Court Justice Antonin Scalia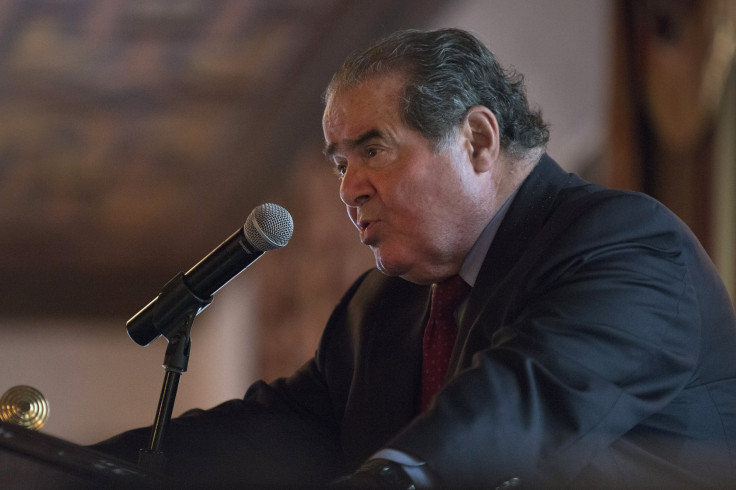 UPDATE: 8:29 p.m. EST -- Hillary Clinton tweeted the following statement on the death of Supreme Court Justice Antonin Scalia:
"My thoughts and prayers are with the family and friends of Justice Scalia as they mourn his sudden passing. I did not hold Justice Scalia's views, but he was a dedicated public servant who brought energy and passion to the bench.
"The Republicans in the Senate and on the campaign trail who are calling for Justice Scalia's seat to remain vacant dishonor our Constitution. The Senate has a constitutional responsibility here that it cannot abdicate for partisan polittical reasons."
UPDATE: 7:22 p.m. EST — U.S. House of Representatives Minority Leader Nancy Pelosi Saturday joined the list of major Washington figures expressing sympathy after learning of the death of Supreme Court Justice Antonin Scalia, NBC News reported.
"Whether or not you agreed with him, Justice Antonin Scalia served our nation with deep patriotism and distinction on the Supreme Court for nearly 30 years. He has been one of the strongest voices in the great American debate around our Constitution. He leaves behind a formidable record of jurisprudence, and a fierce articulation of his understanding of the Constitution," NBC News quoted Pelosi as saying in a statement.
Original story:
News of the sudden death of U.S. Supreme Court Justice Antonin Scalia, the longest-serving justice on the court, generated shock waves throughout the political world Saturday. Politicians across the political spectrum swiftly issued statements expressing their sympathies.
Former President George W. Bush said Scalia was a "towering figure and important judge on our nation's highest court," CBS News reported. "He brought intellect, good judgment and wit to the bench, and he will be missed by his colleagues and our country."
Republican presidential candidates Donald Trump, Ted Cruz and Marco Rubio quickly weighed in on Twitter.
While Rubio offered similar condolences, he also sought to highlight the stakes surrounding the sudden vacancy on the Supreme Court: It may be up to the next president to decide who will replace him on the bench.
Rep. Jeff Fortenberry, R-Neb., shared a photograph depicting Scalia and himself after the two apparently hunted ducks together. A report by an ABC affiliate in El Paso, Texas, said Scalia was found dead in his sleep Saturday after "a day of quail hunting."
Democrats offered praise and prayers for Scalia, their frequent nemesis, as well.
"This afternoon, the president was informed of the passing of Supreme Court Justice Antonin Scalia," a representative of President Barack Obama told reporters, according to pool reports. "The president and first lady extend their deepest condolences to Justice Scalia's family."
Like Rubio, former Obama adviser David Axelrod pointed out the potential political impact of Scalia's passing.
© Copyright IBTimes 2023. All rights reserved.