Poll: New York Gov. Cuomo Is Part of Culture Of Corruption, Voters Say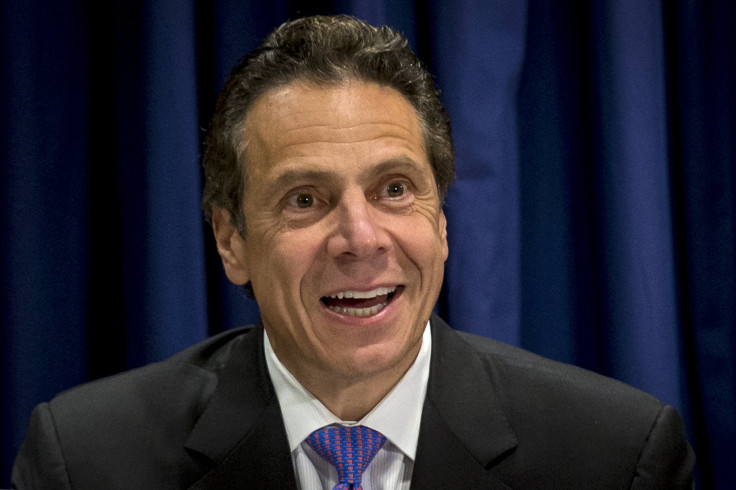 A new poll released Wednesday morning shows that New Yorkers see Democratic Gov. Andrew Cuomo as part of a culture of corruption that voters believe is a serious problem. The poll comes weeks after federal prosecutors launched an investigation into Cuomo's decision to shut down an anti-corruption panel -- a move that critics say was designed to prevent the panel from scrutinizing his administration. The poll comes as three other governors pondering presidential campaigns are facing similar scrutiny from prosecutors.
The survey of more than 1,000 New York voters by Quinnipiac University shows that although Cuomo appears for now to be in a strong position to win re-election in 2014, 52 percent of the state's voters say he has done a "not so good" or "poor" job of "cleaning up corruption" in Albany. Almost half -- 48 percent -- say that "when thinking about the problem of ethics in government (Cuomo) is part of the problem." Overall, 82 percent of New Yorkers told pollsters that government corruption is a problem in their state.
"As they have in the past, voters say government corruption is a big New York problem. How is Gov. Andrew Cuomo doing in handling ethics problems? Not too hot, voters say. In fact, voters say he's part of the problem, not part of the solution," said Maurice Carroll, assistant director of the Quinnipiac University poll.
Cuomo was originally elected in 2010 on a promise to fight corruption, and in 2013 he created the Moreland Commission "to address weaknesses in the State's public corruption, election and campaign finance laws, generate transparency and accountability, and restore the public trust." In announcing the creation of the commission, Cuomo pledged, "It's an independent commission that is free to investigate whatever they believe needs to be investigated on the merits." He also said the commission was free to scrutinize his administration.
Less than a year later, Cuomo shut down the panel, and within months the New York Times reported that internal commission documents showed "the governor's office deeply compromised the panel's work, objecting whenever the commission focused on groups with ties to Cuomo or on issues that might reflect poorly on him." U.S. Attorney Preet Bharara publicly criticized Cuomo for his decision and asked the commission to turn over documents to help his office's investigation. Bharara soon sent a letter to Cuomo threatening to investigate him for obstruction of justice in the aftermath of the commission's closure. Cuomo's Democratic primary opponent, Fordham law professor Zephyr Teachout, called on Cuomo to resign.
The Quinnipiac poll, which was conducted from Aug. 14 to 17, shows 77 percent of New Yorkers see Cuomo's decision to shutter the Moreland Commission as a "political deal" rather than "a decision based on good government."
Voters views on Cuomo's connection to corruption may reflect not only headlines generated from the Moreland Commission controversy, but also a steady trickle of news about Cuomo's ties to moneyed interests.
In 2012, for instance, Cuomo tried to hide the identities of the big donors and corporations financing a committee funding ads to boost his image. It was later disclosed that many of those donors have business with New York's state government. The New York Times reported that one of those donors was a gambling conglomerate that gave the committee $2 million at the very time Cuomo was shaping a proposal to expand gaming in the state.
Similarly, in 2013, a report showed that Cuomo was the beneficiary of hundreds of thousands of dollars in campaign contributions from the entertainment industry just before he signed legislation expanding New York's film tax credit. In 2014, a report showed that almost half of Cuomo's campaign donations came from donors who gave him more than $40,000. Those donations came as Cuomo was championing big corporate tax cuts, including a tax cut for Wall Street.
Quinnipiac's survey shows Cuomo in a solid position to win re-election, but suggests a potential liability for any national aspirations that the New York governor may have.
In recent months, three Republican governors positioning themselves for presidential runs, Texas's Rick Perry, Wisconsin's Scott Walker and New Jersey's Chris Christie, have faced high-profile investigations into allegations that they abused their power. Cuomo now makes a fourth governor facing the same kind of scrutiny. The accusations against the men may not be of equal gravity, but if all four of the governors run, the probes could create an overarching corruption narrative that might dominate the 2016 presidential campaign.
© Copyright IBTimes 2023. All rights reserved.
FOLLOW MORE IBT NEWS ON THE BELOW CHANNELS