Pope Francis In The Philippines: 5 Things To Expect From Papal Visit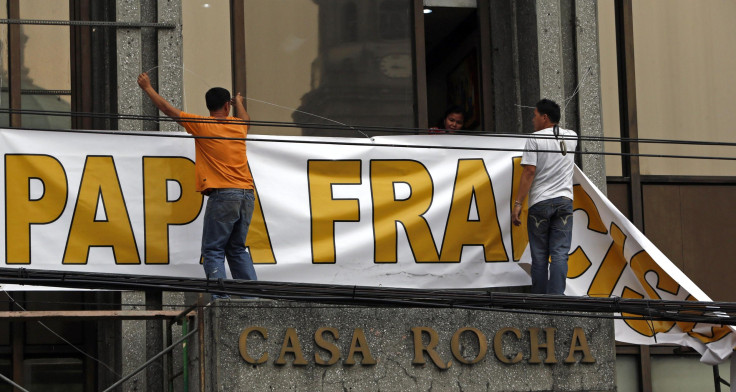 A unprecedented 6 million people are expected to attend Pope Francis' open-air Mass this Sunday in the Philippines, smashing a record set by Pope John Paul II nearly 20 years ago. Millions of devout Filipino Catholics have been anticipating the five-day papal visit, during which the leader of the 1.2 billion-strong church will meet with typhoon survivors and address climate change.
The trip gives Francis personal and direct exposure to a nation with the world's third-largest Roman Catholic population. Analysts estimate that 76 million people – or 81 percent of the population – are baptized Roman Catholics.
Francis arrives Thursday evening but will kick off his papal visit formally Friday when President Benigno S. Aquino III officially welcomes him. He will celebrate Mass at the Cathedral Basilica of the Immaculate Conception and on Saturday travel to Tacloban and Palo in Leyte province to meet survivors of Typhoon Haiyan, which killed more than 6,000 people in November 2013.
The pontiff enjoys tremendous popularity in the Philippines, among Catholics and non-Catholics alike. According to Pew Research, nearly nine in 10 Filipinos see him favorably, with more than half of those surveyed saying they view Francis "very favorably."
"Filipinos are excited about the visit because people have a lot of problems and have been through a lot of calamities," Josephine Graza, a retired government employee, told the Associated Press. "They want to see the pope so their heavy hearts can be relieved, so their problems can be bearable."
Below are five things to expect from the pope's trip to the Philippines.
Massive crowds
When John Paul II visited the Philippines in 1995, he drew the largest attendance ever at a papal event with 5 million people attending a Mass he celebrated. Francis is expected to beat that record by at least 1 million.
Ahead of the pope's visit, Filipinos have already shown their Catholic pride. "Pope mania" has caused vast numbers of people to take selfies in front of life-sized cutout images of the pontiff and buy posters, T-shirts, cookies, coins and stamps with papal themes.
The pontiff's popularity is fueled by the so-called "Francis effect." He is seen as a reformer, diplomat and media darling to a vast majority of the 1.2 billion Catholics worldwide. In the Philippines, Francis, the first pope from outside Europe, also is seen as a model of humility in a country where 25 percent live below the poverty line.
Security concerns
Nearly 40,000 troops have been deployed to protect the pope during his stay. About 2,000 of them have been ordered to wear diapers during their long shifts of crowd control because they will be surrounded by throngs of people and, thus, without timely access to lavatories.
"For this year, this will be the greatest security nightmare that we can have," military chief Gen. Gregorio Catapang said.
Civilians have been banned from bringing firearms near the pope. But Francis has refused to use a bulletproof "popemobile," saying he wants to greet worshippers as he makes his way to his open-air Mass at Rizal Park.
"I ask you, do you want history to record that a tragedy involving the pope happened in the Philippines?" Aquino said in a televised address Monday.
Security concerns stem not only from the enormous crowds that are expected. An assassination attempt was made on Pope Paul VI in 1970, the first pope to visit to the nation. During that visit a man dressed as a priest stabbed the pope in the neck. The wound was superficial and assailant was subdued and arrested. In 1995, John Paul II -- who was shot in 1981 -- was the target of an assassination attempt by al Qaeda operatives in the Philippines. It was thwarted after police responded to a fire at an apartment where bomb-making materials were found. The plot allegedly was organized by Khalid Sheikh Mohammed, later one of the accused architects behind 9/11. Police also discovered plans for "Operation Bojinka," a plot to bomb 11 U.S. passenger jets and crash an aircraft into the Central Intelligence Agency's headquarters in Langley, Virginia.
While the Philippines is a predominantly Catholic country, a Muslim minority exists, mostly in the southern island of Mindanao where an autonomous region of Muslim provinces was established in 1989. The Islamic State group has reportedly recruited Filipinos from these regions. Al Qaeda-linked terrorists, including the Abu Sayyaf group, present growing threats in the area as well.
While there have been no direct threats against Francis, the Philippine government says it has been coordinating with the International Criminal Police Organization and the Association of Southeast Asian Nations to establish a watchlist of individuals associated with or members of the Islamic State.
"We are maximizing all of these efforts and we're touching base with so many allies to … identify any threat whatsoever coming from any direction," Aquino told reporters.
Matt Williams, of Manila-based security and risk consultancy Pacific Strategies & Assessments, told the Wall Street Journal that Francis' trip "presents an attractive target for both coordinated and lone-wolf style attacks." He added, "Violent crowd movements, such as mass pushing, can quickly reach levels that are difficult to contain and result in a domino effect."
Addressing social change
Church leaders play a powerful role in the politics of the Philippines, where divorce is illegal, adultery is a criminal offense and contraception is just starting to be introduced.
The Reproductive Health Law, approved by the Philippine Supreme Court in August, provides greater public access to birth control and family planning services across the country. Ahead of the decision, private pollster Social Weather Stations said 84 percent of Filipinos agreed with the measure, citing the country's high maternal death rates, birth rates and poverty levels.
Francis won't necessarily announce any formal changes to the church's stance on contraception or abortion, but his compassionate reputation might change the tone in which the issue is presented.
"Francis brings his own personal style, lifestyle. They see a guy here who loves everybody. And he really wants to be with people, wants to love the people. That's the secret of Francis," Catalino Arevalo, a prominent Filipino theologian, told ABS News.
Climate Change
Besides social issues, Francis is expected to address environmental issues, according to the Vatican. This will be done during Francis' visit to typhoon survivors in Tacloban, an issue the government has touted as an example of extreme weather and climate change.
According to Vatican spokesman Federico Lombardi, the pope will not make a speech on the environment during his stay in the Philippines, but "we can expect some references."
This would not be the first time Francis has addressed the environment and climate change. He is preparing an encyclical on the environment, expected to be presented in the spring to influence the U.N. Climate Change Conference in November.
"The pope himself brought up the issue of the environment. And he talked about his deep concern that we need, the church needs, to find the way to respond using the best of science," Michael Anthony Perry, minister general of the Order of Friars Minor, told Rome Reports about the encyclical on ecology. "But also using the best of goodwill of all of humanity, to bring together a consensus on trying to respond to the crisis, the ecological crisis."
Evangelizing
Evangelizing will be a primary focus of Francis' trip. He has previously visited two other Asian countries, Sri Lanka and South Korea, where Catholics are minorities. Despite the church's stronghold in the Philippines, the high-profile visit can be an entry point for lapsed Catholics to reconnect and for Asians to convert.
Vatican spokesman Federico Lombardi said Asia is "one of the great frontiers" of the Roman Catholic Church. As the largest continent in the world with an "impressive human presence," it represents "a boundless terrain of evangelization, of proclamation of the Gospel in very varied cultural, social, and political situations, often very difficult."
Even though the country is predominantly Roman Catholic, the church says Francis' trip can encourage Asians from other countries to join the faith. While more than 80 percent of the Philippines is Roman Catholic, only 3 percent of Asians throughout the continent are Roman Catholic.
"So there is room for enlarging the numbers of Christians, and obviously that's a very nice spot to start, from the Philippines, which is a Catholic country," Vatican deputy spokesman Ciro Benedettini said.
© Copyright IBTimes 2023. All rights reserved.