Pope NYC Live Stream St Patrick's Cathedral Prayer Service: Watch Francis' First Visit To New York City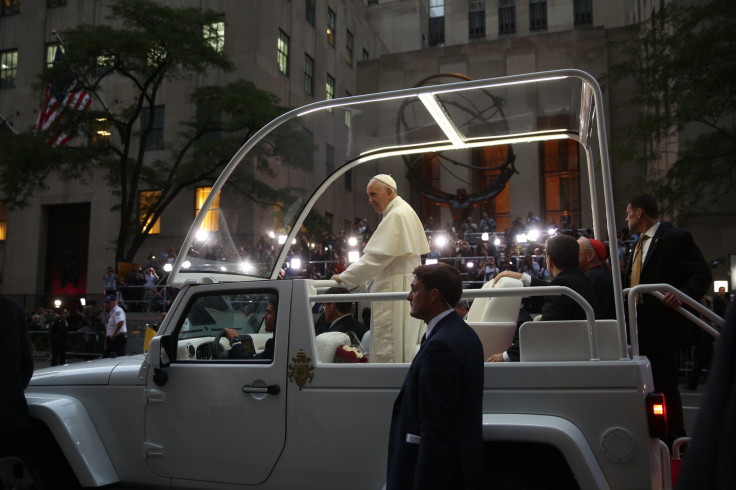 Like many tourists visiting the Big Apple for the first time, Pope Francis plans to stop by Harlem, Rockefeller Center and Central Park during his visit to New York City. But unlike most tourists, the leader of the Roman Catholic Church will also address his faithful followers during a prayer service Thursday night at St. Patrick's Cathedral.
Francis arrived in New York on Thursday after meeting with President Barack Obama in Washington, D.C. The prayer service at St. Patrick's Cathedral was scheduled for a 6:45 p.m., just hours after Francis became the first pope to address Congress in a speech where he called for the abolishment of the death penalty and more charity toward undocumented immigrants.
"We, the people of this continent, are not fearful of foreigners, because most of us were once foreigners," Francis said. "I say this to you as the son of immigrants, knowing that so many of you are also descended from immigrants."
The pope was expected to continue his New York City tour Friday with a multireligious service at the 9/11 Memorial Museum, a visit to Our Lady Queen of Angels School in East Harlem, a papal procession through Central Park and a Mass in Madison Square Garden. Francis was also scheduled to address world leaders at the United Nations General Assembly on Friday morning.
A live stream of the St. Patrick's prayer service can be found here. Time Warner Cable is also offering a 24-hour streaming channel of the pope's visit.
Francis' Mass at Madison Square Garden will feature performances by Jennifer Hudson, Gloria Estefan and Harry Connick Jr. The event, called "A Journey in Faith," will also include the recitation of the Rosary.
The cornerstone of St. Patrick's Cathedral was laid in 1858 and construction was completed in 1878.
© Copyright IBTimes 2023. All rights reserved.