Porn Industry Looks To Virtual Reality Technology For Next Boom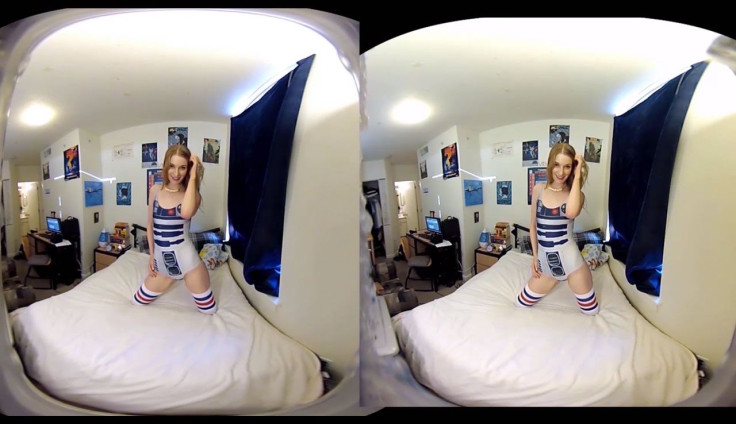 If ever an industry needed a revitalizing shot in the arm, it's the porn industry. In an era of piracy and free porn sites, Xbiz President Alec Helmy estimates profits are down as much as 40 percent since 2005.
But it wasn't always that way. Before the Internet, tech was a great ally of the porn business: the advent of the VCR, pay-per-view and DVDs all provided new ways to sell product. The rise of the Internet, though, cut into those gains, and now the porn industry is again looking to a new technology as its savior. With the coming release of a consumer version of Oculus Rift and Samsung's virtual reality headset for the Galaxy Note 4, the promise that VR technology could shift porn viewing from a 2D voyeuristic experience to an immersive 3D kind has the adult biz scrambling to get their Virtual Reality porn on.
VR debuted at Sundance in 2012, and Nonny de la Peña's "Hunger in Los Angeles," developed by Palmer Luckey, then 19, prompted him to create a consumer version of the VR headset Oculus Rift, which Facebook bought this year for $2 billion. Many say that virtual reality came into its own this year at Sundance, particularly with the VR interactive experience "Birdly," a "full-body VR experiment," according to the Verge, that allowed the viewer to turn into the bird flying above San Francisco.
At this early stage, immersion with VR porn means different things to different people, from the ability to feel sensations that sync with what is being viewed, and ideally interacted with; to 3D worlds with animated avatars; to 180-degree POV (point-of-view) porn with filmed actors in which the viewer is in the position of a porn star who is having sex on-screen.
Most analysts would agree that the industry is years away from a "you are there" experience, which presumably would involve 3D, realistic POV porn involving interactivity and sensations in real time. Instead, what's available is a stitched-together version of an enhanced virtual sexual experience rather than a seamless one. But everyone agrees VR porn will eventually transform the adult industry. Some even think it will take over 2D porn.
"Virtual reality porn will make 2D porn obsolete," said Helmy, founder and president of Xbiz, which, like AVN, publishes a sex industry trade magazine and hosts conferences and an annual adult entertainment awards show.
The kind of free porn being given away now, Helmy said, "will be of little worth." What Helmy and many others are really excited about is the joining of virtual reality porn with haptics, technologies that add sense, touch and interactivity to the porn-viewing experience.
The RealTouch, an Internet sex toy, is already being used by couples in long-distance relationships and sex workers on webcam ("camgirls"). It facilitates synced-up, tactile interactivity between two people using computers.
"Traditional porn is like the cassette tape," said Helmy. "Virtual reality is the CD. But virtual reality and haptics – that will be like the advent of the Internet. Viewing devices will be the driver – the ability to control the view naturally, through haptics."
Oculus Rift 3D Avatar Porn
Brian Shuster, founder and CEO of Utherverse, a virtual reality network that's essentially the sexy version of Second Life, has been around since 2005. Shuster told IBTimes that his company invested $40 million making Red Light Center 2.0, a 3D animated online sex club now compatible with Oculus Rift, which debuted at the AVN Expo.
Utherverse has 25 million registered users. The 3D browser can be downloaded for free, but monthly subscriptions are $20-$30. Avatars can also be customized with wigs and accessories – for a price.
The two demos available for viewing on Oculus Rift goggles revealed both the possibilities and the limitations of the technology to date. The strip club demo, on the one hand, immerses the viewer in a 3D world, but it's a world populated with avatars that, although moving with realistic motions thanks to motion capture technology, still look more animated than life-like.
Shuster told VentureBeat: "As soon as the Oculus consumer version comes out, we'll be ready. You'll be able to do pole dancing, lap dancing, and full-on hardcore."
They've even done 3D scans of Tera Patrick, Shuster told IBTimes, so the promise of interacting with an avatar of a recognizable porn star is in the works. The incorporation of haptics and Leap Frog technologies, which allow you to control things with your hands, is also coming soon.
VR 3D 4K Porn
Porn director Lee Roy Myers, a founder of WoodRocket.com, has spent the past year and a half filming virtual reality porn with specially rigged cameras. "We're at work on true VR 3D 4K porn. We're ahead of systems to put it on Samsung and Oculus Rift." He hopes to shoot and release VR porn next month.
The porn industry is excited about VR porn, says Myers, but before this technology, few were willing to innovate. "Especially in an environment of piracy," said Myers, "people have been less willing to be innovative and make high-risk investments. Since sales are dropping in porn, people have stuck to the tried and tested. But VR isn't just a novelty -- it's the future of adult entertainment."
Every porn producer attempting to make VR porn expresses different production-related challenges. But for Myers, the biggest problems involved how not to create a "fish-eyed" view, which can often happen when using only a few cameras, and how to eliminate the head of the porn star whose point of view the scene is supposed to represent, so that the viewer can feel it's happening to them. (Most POV is male, since most mainstream porn is made for heterosexual men.)
"People expect VR to be mainly POV porn," said Myers, "so the viewer feels they're in the (typically male) position." He said there isn't really a perfect rig camera that helps you shoot POV properly, so he can mount it on the actor's head "like a helmet, which gives you a god's or bird's-eye view," which he said can be seen in a lot of 180-degree porn. Shooting can also be done over the shoulder. Lighting in a 360-degree 3D environment is also a problem. "We created a rig that solved these problems."
Giving It the Ol' College Try
Even porn stars like Ela Darling, an early adopter of VR porn who was flown out to Baltimore by science majors still in college to create VR porn -- "It was like 'Weird Science' " -- are getting in on the act. She and "James," whom she met on a Reddit forum, are now equal partners in a startup VR porn company, involved in a technology still in its infancy. "There are so many wires in the Oculus Rift Development Kit!" said Darling. "It's a baby technology with umbilical USB cords."
"Although the porn industry is going to make VR content and it's going to be big," said media consultant Mike Vorhaus, president of Magid Advisors, he thinks gaming -- not porn -- will be the biggest driver of VR technology.
The 2D Panoramic (180- or 360-degree) videos and virtual CGI "scenes" that have a gaming aspect to them -- the two kinds of VR porn that seem to dominate this early field -- have yet to wow Jordan Holberg, a New York City-based creative technologist. And although he's excited that early adopters and tech enthusiasts are embracing VR and attempting to create content, he doesn't see a true consumer VR porn product coming out any time soon.
"While Oculus, Samsung and Google (and Sony and Microsoft) are all taking VR very seriously, I don't see VR being a mass-consumed product success this year or next," said Holberg.
For Jeroen Van den Bosch, whose erotic video game "Wicked Paradise" showed a lot of promise, according to Gizmodo, VR technology is still too new. "After a year of R&D," Van den Bosch told International Business Times, "we realized that the current VR space (especially the hardware) simply is not good enough to make a lifelike realistic erotic VR adventure game, so we decided to put it on hold until the market matures." The "Wicked Paradise" creator decided that without haptic feedback, "I can't create a VR erotic experience worth having. But eventually low-latency haptics will become part of mainstream VR, and when that starts to materialize, we will resurrect 'Wicked Paradise.'"
© Copyright IBTimes 2023. All rights reserved.
FOLLOW MORE IBT NEWS ON THE BELOW CHANNELS