Women In Porn: They Direct, Win Awards, Control Their Careers; More Progressive Than Hollywood?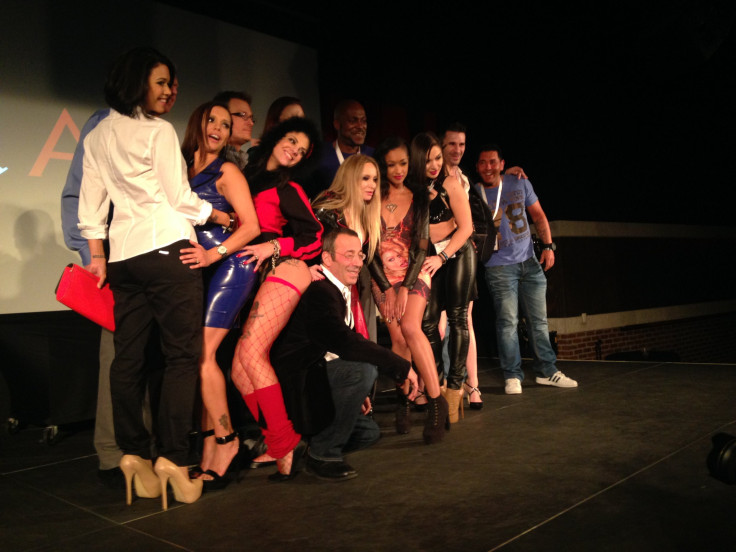 LAS VEGAS -- Fewer than 8 percent of the top-grossing Hollywood movies in 2014 were directed by women. And while media discussion of the "director gap" in Hollywood is growing, particularly after the Ava DuVernay Best Director Oscars snub for "Selma," one film industry seems to have no problem employing female directors or handing them awards: the adult film industry.
At the Adult Video News awards on Saturday, considered the Oscars of the adult film industry, Mason, a female director who has been filming hard-core porn since 2002, won two directing awards: for the non-feature "Allie," starring Allie Haze, and for Director of the Year. And she is one of many female directors in the adult industry with clout.
The barriers to entry for women as porn directors tend to be as low as they are for women as performers, in part because of the star power of women in the industry and the low economic risk of films made cheaply and quickly. Not only are many female directors mentored by male directors, who provide them with opportunities to direct, but once they're in -- not surprisingly – their films tell different stories and reflect different desires from the films of their male counterparts. And they make money. Everybody wins. So why can't Hollywood do this?
"I didn't realize until I got into porn how much creative space there would be for women," said adult performer Tasha Reign, a former gender studies major at UCLA. "I didn't know how much ownership there would be. After you start shooting for people, you get bored, but if you want, you can create your own stuff. It's such a big industry."
In addition to "camming," or producing personal porn from a webcam for a price, which she says can be more lucrative than shooting for a porn studio, "especially if you have a name," Reign sells some videos she has starred in exclusively on her website.
This AVN Expo marks Nina Hartley's 30th, and since her time in the adult film industry as performer and director, she also has seen an increase in the number of smart women who are directing their own films and their own careers.
"I'm a red diaper baby," says Hartley, who was raised in Berkeley, California, by left-leaning parents. "And when it comes to the means of production in porn, they are now in the hands of workers." She says that technology, by giving women multiple platforms from which to reach out to fans and a variety of ways to be part of the industry, has made porn both empowering and, yes, even feminist. Says Hartley, "If you have a camera, a computer, a modem and an idea, you can choose to access pornography however you want."
"Punk porno princess" Joanna Angel started BurningAngel.com in 2002 while in college at Rutgers, majoring in English lit, and she demonstrates that not only is it possible to be successful as a female director in porn, it was easy for her to take control early on.
In 2002, Burning Angel was a website she'd upload sexy pictures onto "maybe once every six weeks," she told International Business Times. Fans of tattooed "alt" models could access those pictures for a monthly subscription of $10. Now, Burning Angel creates about two porn films a month, and she estimates that Burning Angel has produced around 128 films since it began. She jokes that she doesn't have the skill to shoot films, and is "only" a director, but that, "I know how to tell people what to do."
Burning Angel offers an alternative to the stereotyped porn look: blonde, busty and spray-tanned. Angel compares her films' aesthetics to cult director John Waters: "colorful, bright, happy, with tattooed punk rock girls – not mainstream."
Dana Vespoli got into the business in 2003 – at age 30 -- with the goal of eventually directing. Although she balks at the idea that women have a different style of directing, there's no question women bring different experiences and viewpoints to their work -- a contrast to the largely male vision that dominates Hollywood.
"When I came in," says the Mills College comparative lit grad, "there was really only one female director who I knew was shooting her own camera and creatively involved. She was an auteur named Mason. Some stars would lend their name to a title, but when I'd show up on set they weren't even around." But by 2011, she said, female directors were ubiquitous.
Vespoli describes the style of films she likes to direct as "psychosexual," and she's interested in themes of gender, power and transgression -- a departure from mainstream porn.
"My work tends to be dark," she says. She's not kidding: She described a recent series of films she shot titled "Fluid" that explored water bondage, and one scene even featured "light waterboarding." Recently, Vespoli directed a film called "Girl/Boy" starring Jiz Lee, a "gender queer" performer who eschews gender pronouns, and Vespoli's own ex-husband, porn star Manuel Ferrara, with whom Vespoli has children.
Like Vespoli, Aiden Starr is interested in the dark side, and although she had been directing and starring in her own fetish porn since 2003, it was infamous "gonzo" director John Stagliano who hired her last year to shoot for his production company, Evil Angel. Stagliano hired her, Starr said, "Because I was a strong, strange woman and because I knew how to shoot with a camera." An irony for an industry seen as solely objectifying and oppressing women.
Jessica Drake has seen a lot in the 14 years she has been in the adult industry, and describes it as less "patriarchal" now, as an increasing number of women direct, write and produce porn. For Drake, who directed a few feature films herself, a niche market came to her attention four years ago when she was signing autographs at an event: instructional sex videos. And when she asked Wicked Pictures, the production company she was contracted to, to allow her to create one, they said yes.
"Jessica Drake's Guide to Wicked Sex" was born of a shift Drake began to see in her demographic shift from mostly men, to couples, and then women who showed up at some events alone. At signings, Drake said, women would ask her sex questions. Her guides zero in on specific sex topics, and she seeks to make them informative but "not clinical." She has guides to oral sex, to sex for plus-size women, and her new BDSM instructional vid addresses the "Fifty Shades of Grey" wave for people who "don't have a clue" what they're doing.
Perhaps it's the free-wheeling, "gonzo" ethos of porn coupled with the unconventional nature of its subject that contributes to women's success as creators of porn – along with the economic reality that women have cachet in porn and their names bring in dollars. Contrast this with risk-averse Hollywood, where women's films are held to absurd standards of success, but male directors' films can fail and yet they can still continue to make movies.
But if women can contribute and excel by speaking in the vernacular of hard-core sex, shouldn't they also be able to do so in traditional film narratives?
As Melissa Silverstein wrote in CNN about the need for gender parity in Hollywood, "They [movies] are a reflection of who we are and what we value. They are what we talk about at work on Monday morning. They are how we socialize. When we don't see women, and we don't see women's stories, we get the message that women don't matter as much, that our stories don't count, that our experiences are less valid. And that's something that is just not acceptable."
© Copyright IBTimes 2023. All rights reserved.
FOLLOW MORE IBT NEWS ON THE BELOW CHANNELS