'Power' Season 4 Spoilers: Ghost Keeps Identity Hidden As Threat Of Death Row Looms In Episode 2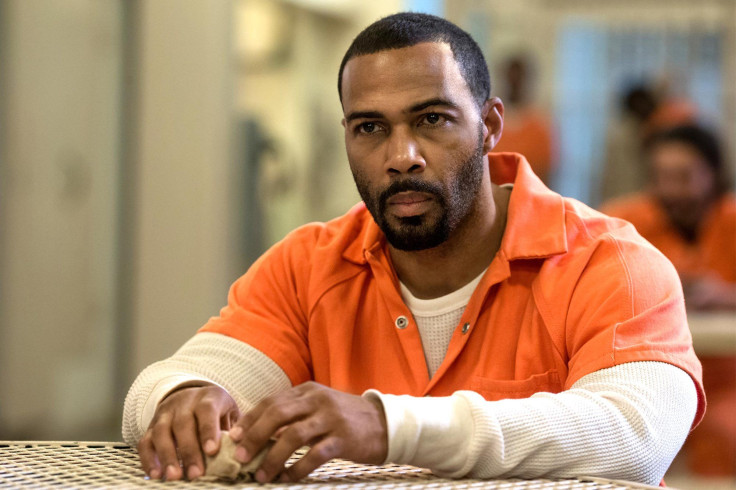 "Power" Season 4, episode 2, titled "Things Are Going To Get Worse," sees James St. Patrick (Omari Hardwick) struggling to hide his identity as Ghost as he keeps a low profile in prison.
After being denied bail, James is told by Proctor (Jerry Ferrara) to make sure that no one finds out he's Ghost and to assume his family man alter ego during his time behind bars. During one of their meetings, James suggests using the love triangle between him, Angela (Lela Loren) and Greg (Andy Bean) as their angle. However, Proctor quickly dismisses the idea since he knows it will backfire and give the prosecution the "jealous ex" motive. For now, Proctor suggests that his best bet to convince the jury of his innocence is to appear as a family man at all times.
Meanwhile, James' kids, Raina (Donshea Hopkins) and Tariq (Michael Rainey Jr.), butt heads over their father's innocence. Raina believes James didn't murder Greg, while Tariq is convinced that he did. Tariq seems to have completely lost faith in James, replacing him with Kanan (Curtis Jackson) as a father figure. Tasha (Naturi Naughton) does her best to keep their children in line, telling Raina and Tariq not to talk about their dad at school or call him by his alias. She also tries to get Tariq to open up about what's been going on with him, including his connection with Kanan, but to no avail.
READ: Will Ghost Choose Tasha Or Angela In 'Power' Season 4? 50 Cent, Omari Hardwick Share Details
"Power" Season 4, episode 2 also sees a development in Keisha (La La Anthony) and Tommy's (Joseph Sikora) relationship. Keisha tries to get Tommy to take her name down from the shop, which has become a front for laundering money, but he refuses, assuring her that she won't get in trouble. The two then hook up and later agree not to tell Tasha about it.
After using the media to publicly discredit James' arrest, Proctor finally gets vital information about the prosecution's angle. Apparently, they are aiming to prove that James murdered Greg in order to protect Tommy, whom they believe is the real Ghost. Once they prove that Tommy is a drug dealer, they would win the case, and both Ghost and his partner will be stuck behind bars.
Proctor then tells Tommy about this new development and advises him to keep a low profile while the investigation is ongoing. But Tommy stubbornly refuses to lie low and calls his mother, Kate, to tell her about what's been happening. He gives his mom the keys to his car, which has a tracker on it courtesy of the feds, before riding with B.G. in a different car.
After failing to get a gag order on Proctor, the prosecutor's office raids Truth nightclub. Unbeknown to the others, Sandoval (David Fumero) plants a gun in Ghost's old office, which the rest of the team later finds.
Angela isn't convinced about the gun, however, and decides to confront Sandoval about it. She tells him that she believes it could be a trap and doesn't think James would have carelessly left the gun lying around in his office. Sandoval, of course, disagrees with her. In the middle of their conversation, John Mak (Sung Kang) comes in and tells them that he got approval for the death penalty he filed for St. Patrick. This means that if James is found guilty of the murder, he will die. Angela looks disgusted by the turn of events and is later blocked out of future meetings by Mak.
When Tasha is informed about James possibly being put in death row, she confronts Angela and gives her a piece of her mind. "You had my kids here, and you're going to let their father die for something he didn't do," she says.
Angela retorts that there is a lot of evidence pointing at James as Greg's killer, including his DNA that was found in the crime scene. However, she does tell Tasha, "For what's it worth, I wish I never walked into Truth that night. I wish I'd never seen Jamie again."
At the end of "Power" Season 4, episode 2, James calls Tommy, and it's obvious that the fact that he might die in prison is starting to sink in.
Find out if the truth will finally be revealed when "Power" Season 4, episode 3 airs on Sunday at 9 p.m. EDT on Starz. Meanwhile, for those who missed episode 2, check out this sneak peek by Starz below:
© Copyright IBTimes 2022. All rights reserved.
FOLLOW MORE IBT NEWS ON THE BELOW CHANNELS