Preet Bharara Trolls Trump On Twitter For 'Stronger Vetting Procedures' Tweet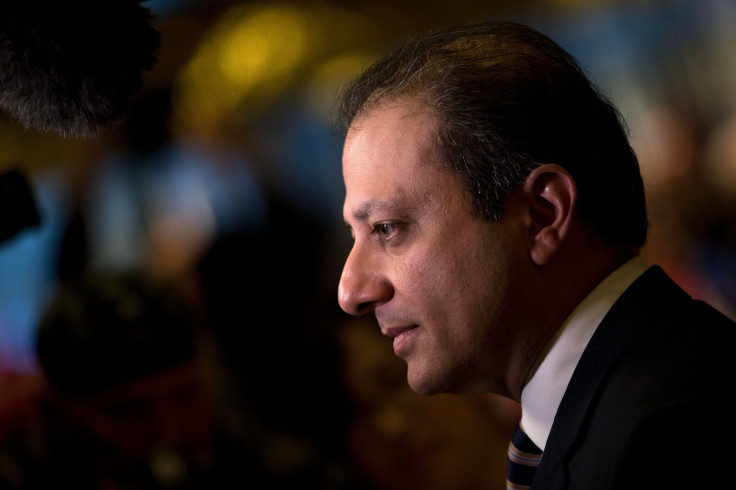 Former U.S. Attorney Preet Bharara trolled President Donald Trump on Twitter after the latter said he would order tougher vetting procedures following the attack by an Uzbekistan man in New York that killed eight and injured twelve more.
"I have just ordered Homeland Security to step up our already Extreme Vetting Program. Being politically correct is fine, but not for this!" the president said in a Twitter postTuesday night.
The former attorney for the Southern District of New York who was fired by Trump in March quoted the president 's tweet Wednesday and remarked that the stronger vetting procedures should be applied to all.
He referred to the three associates of Trump who were arrested Monday after being charged with crimes including money laundering, lying to the FBI and conspiracy, in the federal investigation into whether Trump's campaign colluded with Russia.
Bharara's implication seemed to be that the associates should have been thoroughly investigated before they were taken into the cabinet and that the vetting should start closer home.
The associates who were arrested include Trump's campaign manager Paul Manafort and his aide Richard Gates who were taken into custody by the FBI after they were indicted on charges of money laundering and illegal lobbying charges on behalf of Ukrainian leader Viktor Yanukovych. The pair had pleaded not guilty to the charges.
Trump foreign policy adviser George Papadopoulos, however, entered a guilty plea to charges of lying to the FBI about meetings in which he reportedly discussed potentially colluding with Russian agents to acquire Hillary Clinton's private emails.
Bharara remained staunchly critical of Trump and lashed out against him after the latter in a series of tweets downplayed the indictments and suggested that the investigation by special counsel Robert Mueller should focus on Democrats.
"The Fake News is working overtime. As Paul Manaforts [sic] lawyer said, there was 'no collusion' and events mentioned took place long before he came to the campaign," Trump tweeted. "Few people knew the young, low-level volunteer named George, who has already proven to be a liar. Check the DEMS!"
Bharara replied to the president and asked him in what seemed like a snide tone to "keep it up."
He also said on Oct. 31 that if the president fired Mueller, he should be impeached as president.
Bharara also predicted there were more charges to come in the probe after Papadopoulos' guilty plea.
It was not immediately clear in Trump's tweet on Tuesday what it was that he was ordering the Department of Homeland Security to do in terms of bringing about a stronger vetting program. Earlier, the president had ordered the State, Homeland Security and Justice Departments to conduct a review spanning worldwide of whether foreign nationals should provide additional information about people wanting to enter the U.S. He also ordered the agencies to conduct enhanced screening for those seeking visas in order to protect the country against terrorist attacks.
© Copyright IBTimes 2022. All rights reserved.
FOLLOW MORE IBT NEWS ON THE BELOW CHANNELS