Former Manhattan US Attorney Preet Bharara Throws Shade At Trump In First Speech Since Firing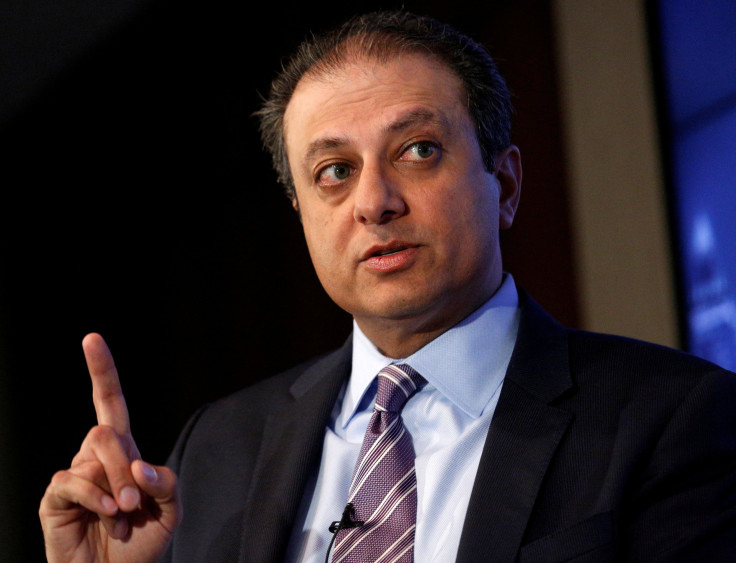 NEW YORK—In his first public talk since President Donald Trump abruptly and unexpectedly fired him nearly a month earlier, Preet Bharara, former U.S. Attorney for the Southern District of New York, acknowledged several times Thursday night that his new status as a private citizen allowed him to say things he otherwise wouldn't. And he didn't hold back.
Early on, Bharara poked fun at the Trump administration's inauguration crowd size dispute, during which officials made false claims about the number of attendees, attributing the appearance of a smaller audience than that of former President Barack Obama's ceremony to "floor coverings to protect the grass" on the National Mall, as Press Secretary Sean Spicer reasoned.
Read: Former Manhattan US Attorney To Serve As NYU Distinguished Scholar
Addressing an audience at the Manhattan-based Cooper Union's Great Hall, where Obama spoke as a senator in 2008, Bharara asserted jokingly that he was welcomed by far more attendees than the former president, and, in a riff on Trump's response to criticism of his inaccurate remarks about the magnitude of his Electoral College victory, said, "That's the information I was given." The auditorium seats, by most estimates, fewer than 1,000 people.
He also played on Trump's oft-repeated promise to "drain the swamp," as well as the president's pre-election Twitter claim that "THE SYSTEM IS RIGGED!" and other phrases that have become commonly associated with the former reality TV star and his administration.
"A lot of the system is rigged, and lots of your fellow Americans have been forgotten, and have been left behind," Bharara said. "Those are not alternative facts. That is not fake news. But I will respectfully submit that you don't drain a swamp with a slogan. You don't drain it by replacing one set of partisans with another. You don't replace muck with muck. To drain a swamp, you need an Army Corps of Engineers."
On a more serious note, Bharara drew on his family background in an anecdote on what "makes America great," describing a naturalization ceremony—his "most favoritest event" as U.S. Attorney—during which his parents, both immigrants from India, led the reciting of the pledge of allegiance for the newly-naturalized citizens.
"I challenge you to name another country where on any given day, in any given city, foreigners from 31 homelands might be happily swearing an oath of allegiance to a country they were not born in, and you can't do it, because there is no such country," he said, alluding to Trump's executive orders to halt or limit immigration from Mexico and several Middle Eastern nations. "Only America welcomes every day populations of people like my mom and my dad, who ate biryani before they ate burgers, who learned cricket before they learned baseball, who felt only limits before they felt freedom. And these ceremonies, they happen all over the country, every day, and each one… is a fire of hope and promise, and not just for the new citizens, but for longtime Americans too."
Read: New York Attorney Was Investigating HHS Secretary Tom Price Before His Removal
Bharara was unexpectedly asked to resign along with 45 other U.S. attorneys—a normal action by a new president to clean out holdover prosecutors from the previous administration—despite being asked to stay on in November.
In his first interview since his March 11 removal, he told the New York Times the sudden firing was "a direct example of the kind of uncertain helter-skelter incompetence" of the new administration. Since then, reports surfaced that his office had been investigating the stock trades of Trump's Health and Human Services Secretary Tom Price, as well as the handling of sexual harassment settlements at Trump-friendly network Fox News.
On March 21, New York University's School of Law announced that it had appointed Bharara as a distinguished scholar, a new job he said he was "thrilled" to begin.
© Copyright IBTimes 2022. All rights reserved.
FOLLOW MORE IBT NEWS ON THE BELOW CHANNELS