What Will Preet Bharara Do Next? Former Manhattan US Attorney To Serve As NYU Distinguished Scholar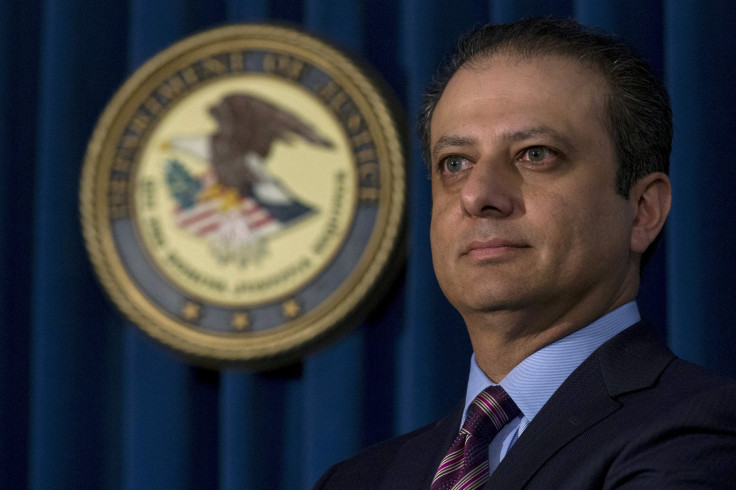 Former Manhattan U.S. Attorney Preet Bharara, who was unexpectedly fired by the administration of President Donald Trump on March 10, will become a distinguished resident scholar at New York University's School of Law starting April 1, the school announced Tuesday.
Bharara, known for his aggressive prosecution of financial wrongdoing on Wall Street, said in a statement that he "welcomed the chance to contribute" and was "thrilled for this opportunity to continue addressing the issues I so deeply care about—criminal and social justice, honest government, national security, civil rights and corporate accountability, to name a few."
Read: Is Trump Hiding Something? Preet Bharara Declined Trump Call Before Firing
After a late-November meeting in Trump Tower with the then-president-elect, the former U.S. attorney for the Southern District of New York told reporters that he'd had a "good meeting" with Trump and would remain in his post once the new administration took over, the New York Times reported.
On March 10, however, Bharara found himself among 46 holdover attorneys from former President Barack Obama's administration abruptly told to resign. It's normal for new presidents to replace U.S. prosecutors appointed by their predecessors, but Bharara's termination widely came as a surprise.
Two days after his firing, Bharara alluded to an anti-corruption panel formed by Gov. Andrew Cuomo, who disbanded it amid interference by his own office, an investigation by the Times found. Upon his 2009 appointment, Bharara adopted the cases left behind by the broken-up Moreland Commission.
At the time of his removal, Bharara had been investigating the stock trades of new Department of Health and Human Services Secretary Tom Price, who has a history of allegations that he mixed financial and professional interests, ProPublica reported last week, citing an anonymous source within the former attorney's office.
Read: Why Was Preet Bharara Fired? New York Attorney Was Investigating HHS Secretary Tom Price Before His Removal
© Copyright IBTimes 2023. All rights reserved.