President Obama: Healthcare Reform in Keeping with 'Love Thy Neighbor as Thyself'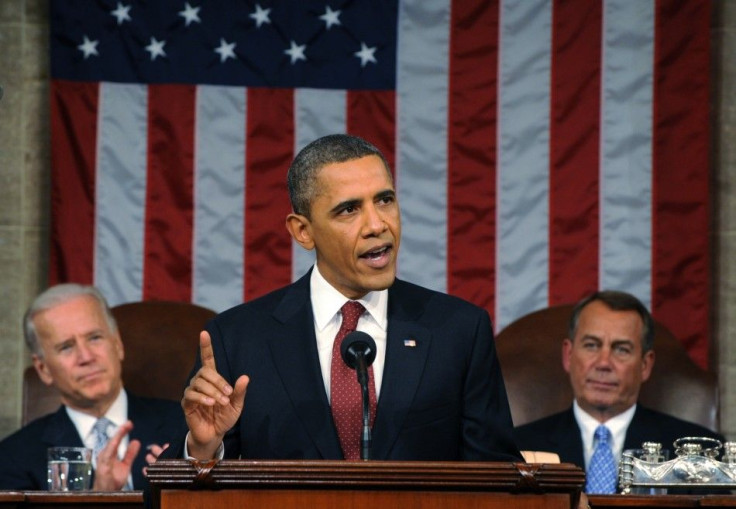 President Obama, often criticized by Republicans for his controversial healthcare reform bill, dubbed Obamacare, said the bill is in line with religious teachings. Obama, who has been accused of secretly being a Muslim, spoke at the National Prayer Breakfast in Washington, D.C., and said that his Christian beliefs play a large role in his decisions.
And so when I talk about our financial institutions playing by the same rules as folks on Main Street, when I talk about making sure insurance companies aren't discriminating against those who are already sick, or making sure that unscrupulous lenders aren't taking advantage of the most vulnerable among us, I do so because I genuinely believe it will make the economy stronger for everybody, he said, according to Fox News. But I also do it because I know that far too many neighbors in our country have been hurt and treated unfairly over the last few years, and I believe in God's command to 'love thy neighbor as thyself.'
The president and first lady were welcomed to the bipartisan breakfast by Sen. Jeff Sessions, (R-Ala.), who started the day by thanking him for all the way your strive for all Americans, you give your life to that.
During the breakfast, President Obama spoke about his foreign policy, and said it was part of Christ's teachings to help others, and he wants to uphold that teaching. And when I decide to stand up for foreign aid, or prevent atrocities in places like Uganda, or take on issues like human trafficking, it's not just about strengthening alliances, or promoting democratic values, or projecting American leadership around the world, although it does all those things and it will make us safer and more secure. It's also about the biblical call to care for the least of these--for the poor; for those at the margins of our society. To answer the responsibility we're given in Proverbs to 'Speak up for those who cannot speak for themselves, for the rights of all who are destitute.'
President Obama said he often gets down on his knees in prayer, but emphasized that he did not believe his decisions were ordained by God. Our goals should not be to declare our policies as biblical. It is God who is infallible, not us. Michelle reminds me of this often, he said, according to The LA Times.
© Copyright IBTimes 2023. All rights reserved.