Presidential Debate 2020 Rule Change: Biden, Trump To Have Mics Muted At Times
KEY POINTS
The Commission on Presidential Debates has allowed a mute button ahead of the third debate
Trump and Biden will be given two minutes of uninterrupted time to answer the moderator's questions
Both candidates will also be given time to discuss the topics with both microphones opened
The Commission on Presidential Debates on Monday announced it will now allow a mute button Thursday night following a chaotic first presidential debate.
Under the new rules, President Donald Trump and Democratic challenger Joe Biden will be given two minutes to speak at the start of each segment of the debate. The other candidate's microphone will be muted.
After both candidates have been given two minutes of uninterrupted time to speak, they will be given time for discussion where both microphones will be open, NPR reported. The commission said both the Trump and Biden campaigns agreed to the new rule.
"It is the hope of the Commission that the candidates will be respectful of each other's time, which will advance civil discourse for the benefit of the viewing public," the statement said.
"We are comfortable that these actions strike the right balance and that they are in the interest of the American people, for whom these debates are held," it added.
The change comes after the messy first presidential debate in September, where Trump frequently interrupted Biden and argued with the moderator, Chris Wallace. That debate received criticism, with many saying it "fell short of expectations" and deprived voters of the opportunity to learn about where the candidates stand on national issues, CNBC reported.
The commission had initially planned to host three debates between the two presidential candidates. However, the second debate was canceled after Trump refused to participate in a virtual event. Instead, both candidates held nationally televised town halls.
The third and final presidential debate is set for Thursday at 9 p.m. EST. The event will be held at Belmont University in Nashville and will follow a town-hall-style arrangement, according to the New York Times,
Thursday's presidential debate will be hosted by Kristen Welker, an NBC News White House correspondent. She is also the co-anchor of "Weekend Today." Welker is the second Black woman in U.S. history to serve as the sole moderator of a presidential debate.
Trump and Biden will be answering questions about six topics, including fighting COVID-19, American families, race in America, climate change, national security, and leadership.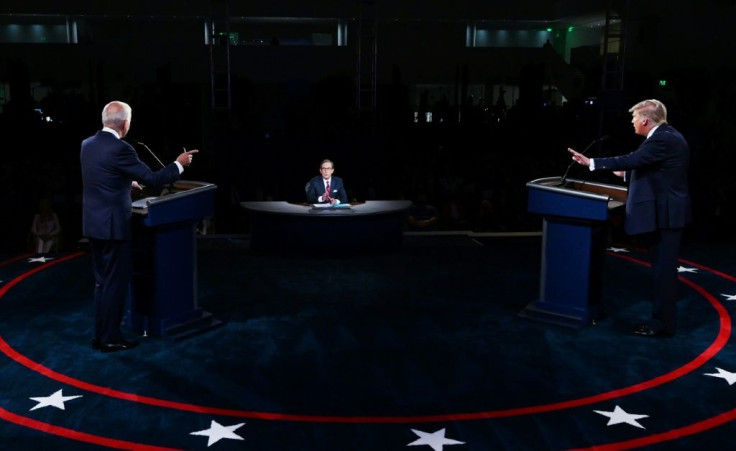 © Copyright IBTimes 2023. All rights reserved.