Presidential Hopeful Nikki Haley Throws Trump Under The Bus
Former U.N. ambassador Nikki Haley said in an interview with Politico published Friday that she is "disgusted" with former President Donald Trump.
Widely expected to make a bid for the White House in 2024, Haley, a former South Carolina governor, moved to distance herself from the former president.
"When I tell you I'm angry, it's an understatement," she said. "I am so disappointed in the fact that [despite] the loyalty and friendship he had with Mike Pence, that he would do that to him. Like, I'm disgusted by it."
Trump fell out of favor with Pence, his vice president, in the waning days of his administration. Pence refused to embrace the Trump narrative that the Nov. 3 election was fraudulent, upholding his role as the president of the Senate by acknowledging Joe Biden's victory.
Trump was later charged with one article of impeachment in the House for inciting an insurrection on the Capitol on Jan. 6 when lawmakers were certifying the results in the Electoral College.
"We need to acknowledge he let us down," Haley said of Trump. "He went down a path he shouldn't have, and we shouldn't have followed him, and we shouldn't have listened to him. And we can't let that ever happen again."
Given her presidential ambitions, Haley was the subject of criticism online Friday. Haley's name trended on Twitter after the interview's release, with Stephanie Ruhl, a correspondent for NBC, tweeting that Haley was not showing courage for her outspoken criticism of the former president as much as she was already running for the 2024 Republican nomination.
CNN's John Harwood, meanwhile, said Haley's comments to Politico are a sharp reversal from previous comments where she said Trump deserves "a break."
Haley on Jan. 6 tweeted her disappointment with the Capitol riots.
But in an op-ed published just a week after the unrest, Haley stuck to many of the themes embraced by those adhering to Trump's brand of politics. Democrats, she said, have abandoned the truth.
"They have replaced it with socialism — the opposite of capitalism and economic freedom," she wrote.
In January, Haley created a political action committee that advocates for conservative leadership in government ahead of the 2022 midterm elections. The PAC, according to The Hill, will be "laser-focused on the 2022 midterms and electing a conservative force to the House of representatives and U.S. Senate to serve as a bulwark against the liberal agendas of Joe Biden, Kamala Harris, Chuck Schumer, and Nancy Pelosi."
A poll released last month showing favorability of would-be 2024 Republican presidential candidates from Morning Consult saw Haley drawing only 5% favorability.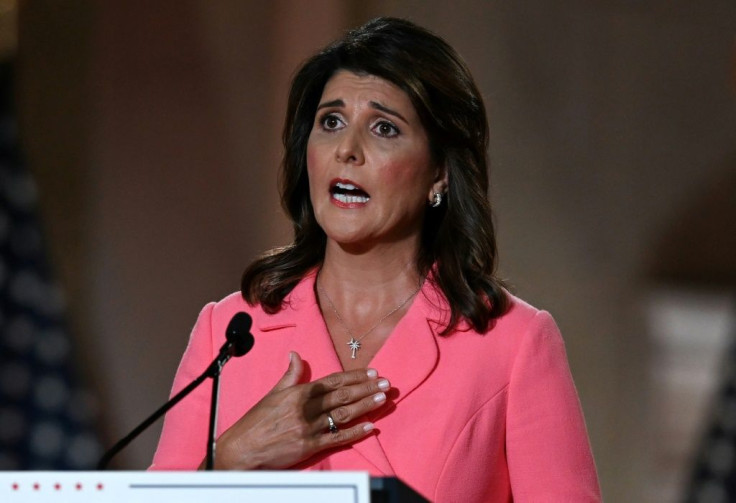 © Copyright IBTimes 2023. All rights reserved.