'Project Homerun': Marissa Mayer's Yahoo Homepage Overhaul Leaked [REPORT]
Redesign Shows Simplified Landing Page For No. 3 Internet Search Engine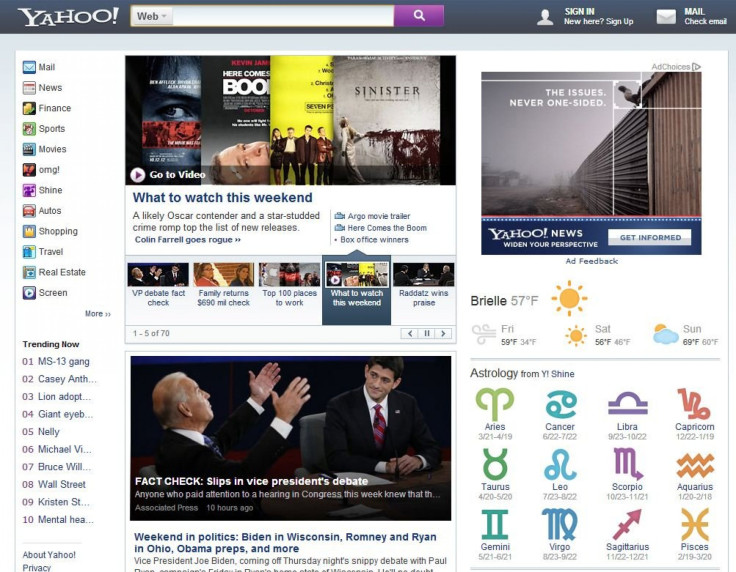 Fresh on the heels of Yahoo's (Nasdaq: YHOO) third quarter earnings report that soared past analyst expectations, Business Insider reported on some leaked details about "Project Homerun," the highly-rumored redesign currently being planned for the struggling No. 3 search engine by newly-minted CEO Marissa Mayer, the former Google (Nasdaq: GOOG) veteran.
Mayer, who became CEO of the Sunnyvale, Calif.-based tech company in July and gave birth to her first child in September, has been widely regarded as the last possible savior for the struggling Internet company which has seen online moguls like Google and even Facebook (Nasdaq: FB) soar past the service in terms of daily visitors.
The Yahoo homepage remains the third largest site on the Internet behind the Google homepage and the Facebook newsfeed, but recruiting one of Google's earliest employees was perceived by many tech journalists and industry analysts as a tacit admission that the company's core products and services needed serious retooling.
The Yahoo homepage, with its iconic yet somewhat silly purple logo, is no doubt one of the most historic and recognized brands in the Internet economy. But the design looks clunky and over-cluttered compared to the start white simplicity of Google's juggernaut of a web portal, or Facebook's personalized social media offerings -- a relic from the dot-com era that seems about as relevant to today's Web users as AOL's (NYSE: AOL) chipper "You've got mail!" message.
The alleged leaked images from Business Insider seemed pared-down and thoroughly modern in comparison. The purple of the "Yahoo!" logo has been replaced with a slate-blue background. The web search bar has been cut down and simplified as well, giving space on top the page for user-specific information such as email and a sign-in button. The long list of Yahoo sites running down the left side of the page has also been chopped down. Dating, Flickr, Games, Jobs, Messenger, Music, My Yahoo!, and TV have been removed in the process. The "trending now" feature has also been shrunk and moved to the bottom-left corner of the page.
Business Insider cites anonymous sources that leaked the image from Yahoo. The company has yet to comment on the leak.
Yahoo shares rose slightly during trading Thursday, reaching $16.77 in morning trading before dropping back to $16.60
© Copyright IBTimes 2023. All rights reserved.