Protect Your Bubble: Smartphone, Tablet Insurance that Replaces Device in 24 Hours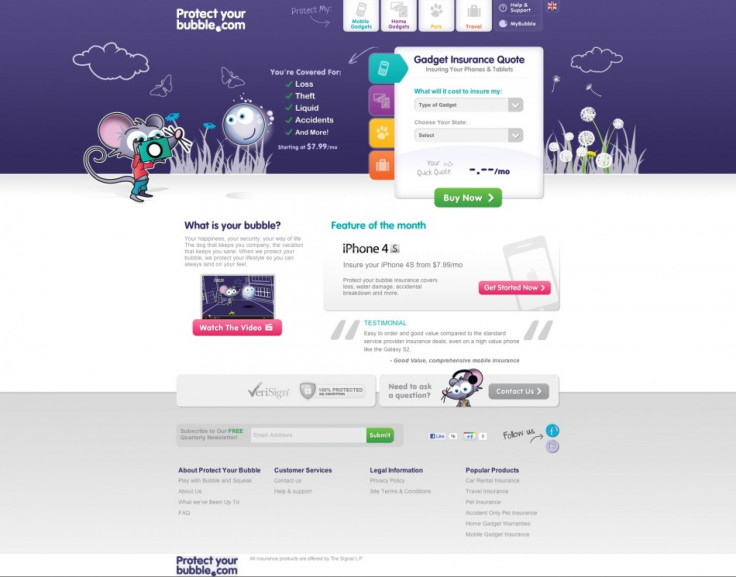 The most valuable thing you own is probably within reach at this very moment: Your primary mobile device -- either a smartphone or a tablet computer -- holds dozens of documents, text messages, photographs, contact numbers, email addresses and other data that could reveal sensitive personal information. So what happens when you misplace your mobile device? Or, even worse, what if your mobile device falls into the wrong hands?
Protect Your Bubble, a new online insurance company that launched Tuesday in the U.S., offers a way to assure that lost devices won't put security at risk, and that those who have lost their device won't go long without their beloved gadget. The company provides gadget insurance for smartphones, tablets, laptops, cameras and other devices that dominate our lives.
Protect Your Bubble will replace any lost or damaged gadget within 24 hours. To boot, it offers a lock, wipe and locate feature for Android-based devices and a locate feature to complement Apple's iCloud service. In short, those that are insured by Protect Your Bubble won't lose any data and will always be able to locate their mobile device, the company promises.
Stephen Ebbett, president of Protect Your Bubble in Europe and North America, sat down with the International Business Times to talk about the launch. He spoke at lenghth about the explosive growth the company has experienced in the U.K., where it launched in 2008, in addition to the values that continue to drive the company forward.
[We want to] protect the small things that have become a significant part of our life, said Ebbet when asked about the wide-ranging insurance plans the company offers. Your smartphone is there with you 24/7, everywhere you go. Therefore, by its very nature, it's more at risk than some of the other things in your life.
After seeing a high level of success in the U.K., with roughly 400,000 people now insured, the company naturally thought the U.S. would be a good fit for the service. Ebbet says booming tablet sales and common consumer patterns led the company to believe that its value proposition would work well in America. Most importantly, smartphone adoption has been rampant in the U.S. and touchscreen devices continue to be taken on by large enterprises in all sorts of business settings.
There's a real recognition that there's a need to protect [mobile devices] and that consumers can't be without them, says Ebbett. What we've done in terms of reacting to [the growing importance of devices] is that if you make a claim it's processed by 8 p.m.; we'll have your phone with you by the next day.
Smartphone, tablets and other gadgets aren't the only things that can be insured using the service. Protect Your Bubble also offers several variations of pet, home gadget and travel insurance--three other areas in people's lives that hold tremendous value, but aren't often protected.
This love affair that we have with our gadgets and our pets and the smaller things in our life -- we really haven't considered protecting them, said Ebbett. It's really familiar with us to protect our cars and protect our houses. We really wanted to change that.
Pet insurance provides up to 90 percent reimbursements for veterinary fees. The coverage is flexible: it allows pet owners to visit any licensed vet in the country. As is the case with any insurance plan, there are several types to choose from. As with gadget insurance, a 10 percent discount is offered for those with multiple pets.
Travel insurance provides coverage of trip cancellation, trip interruption, medical, dental, baggage, rental car and many other risks inherently involved in traveling. Perhaps most importantly, Protect Your Bubble offers 24/7 emergency services, roadside assistance, can help set restaurant reservations, tee times and other concierge services.
As the company continues to grow, Ebbett appears to be content with focusing on helping customers maintain a modern lifestyle, one that includes a home life and life on the go. When asked about what keeps him going, Ebbett said, The pace of change and the way that consumers are changing in terms of their behavior -- and their gadget adoption -- and the way the modern world changes.
You know, we're all sitting back and waiting for the next iPad to launch, said Ebbett. It's just [the level] of enthusiasm. I find that hugely invigorating.
© Copyright IBTimes 2023. All rights reserved.
FOLLOW MORE IBT NEWS ON THE BELOW CHANNELS