With Protests Over Police Brutality, Do Americans Still Want To Go Into Law Enforcement?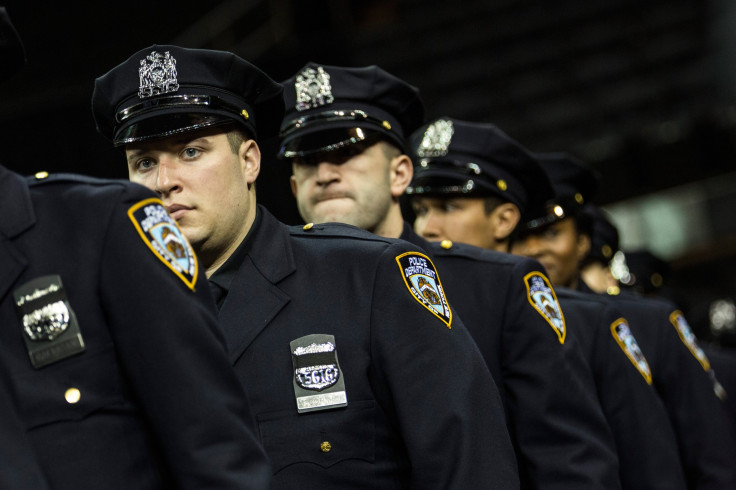 It was the graveyard shift in Apple Valley, California, five Januarys ago when Jacob Rollins went on his first ride along with a police officer, a friend's brother. After a night filled with confronting people for running red lights and having broken taillights, and responding to a drunk driving accident, Rollins knew he wanted to be a police officer.
"I liked the idea of serving and protecting the community," said Rollins, 23, now a junior criminal justice major at California State University, San Bernardino. "I liked the adrenaline, doing something different every day. I liked being on the scene of the thing people read about and being one of the ones handling it."
While Rollins is intent on entering law enforcement, various police leaders have said increased police scrutiny in the wake of officer-involved deaths in places like Ferguson, Baltimore and Cleveland has led to a dropoff in the number of people who want to become police officers. However, police departments in major U.S. cities across the nation said their recruitment numbers are fairly consistent and they don't see a correlation between criticism of police and police academy enrollment. In cities that have seen dropoffs, police departments are reluctant to blame protests against law enforcement, and some cite financial woes as part of the reason they've had trouble attracting new officers.
Following the August 2014 fatal shooting of Michael Brown, who was black, and the decision not to indict Darren Wilson, the white officer who shot him, many began to question how police patrolled the communities they worked in. That questioning continued in the face of other instances of African-Americans dying by police actions or in police custody, such as Walter Scott in South Carolina, Sandra Bland in Texas, Freddie Gray in Baltimore and Tamir Rice in Cleveland.
These events have spawned activist groups such as Black Lives Matter, a social justice group determined to bring attention to inequality, police brutality and racism, and has even led to the U.S. Department of Justice getting involved, such as in the case of Laquan McDonald, a black 17-year-old fatally shot by a white Chicago police officer. The federal government recently announced it would investigate the Chicago Police Department's use of force and accountability.
Union officials, trade associations and policing experts alike have said fewer people are putting in officer applications because of growing anti-police rhetoric. Jonathan Thompson, executive director of the National Sheriff's Association, a trade association of U.S. sheriffs headquartered in Alexandra, Virginia, said he has had many discussions with sheriffs across the country who have said departments are seeing significantly fewer applications as a result of low morale and the current focus on police misconduct.
Police Attitudes Toward Abuse of Authority | Graphiq
"You watch these beatings of police and you start to think, 'Wow, I'm getting bombarded with all these messages that police are bad,'' Joseph Giacalone, an adjunct professor at John Jay College of Criminal Justice in New York City and a retired New York Police Department sergeant, said of anti-police protests. "You start looking at it and thinking, 'Maybe I don't want to be a part of this.'"
But departments in large metropolitan areas across the U.S. said they have seen relatively consistent recruiting levels. Seattle, Washington; Houston, Texas; San Diego, California; Jersey City, New Jersey, and Austin, Texas have all reported relatively steady applications over the past five or six years without much fluctuation, while Phoenix, Arizona, coming out of a six-year hiring freeze in 2014, had almost too many people applying at once.
"When the Phoenix Police Department was advertising open recruitment, and when people were signing up to take the police test, what would happen is within one week the police test would fill up and we'd have to shut down," said Lt. Anthony Lopez, supervisor of recruiting and operations with Phoenix police. "The data tells me there's still healthy interest in people who want jobs on the police force."
In Texas, Houston averages about 2,100 applicants each year, and Austin's police recruitment rates have increased since 2013 after it removed a requirement that anyone who applied had to have either two years of military service or 30 hours of college. The rate fell by about 350 in Austin in 2014 but rose again in 2015.
The Seattle Police Department averages about 1,200-1,500 exam takers per test every year, Seattle Det. Andre Sinn, a recruiter for the department, said. "We haven't noticed any correlation whatsoever, our numbers are exactly where they've been for applications," Sinn said. "Our applications haven't fallen off at all."
In California, about 3,900 people applied to be officers in the San Diego Police Department last year, a number slightly higher than the rate of applications in 2012 and 2013 but lower than the 5,000 people who applied to be officers in 2014, Sgt. Steve Villalobos, a San Diego police recruiter, said. However, 2014 was an outlier, Villalobos said, because the department began a rigorous new recruitment system that year that included more-actively going out to military bases and colleges to recruit.
Number of People Killed by Police in the U.S. | Graphiq
In New Jersey, the Jersey City Police Department has seen an uptick in the number of people applying to be on the force. In the past year, more than 500 people have applied, a number Jersey City recruiter James Waiters said is higher than previous years as a result of a push to diversify the force to better represent the ethnic and racial makeup of the city.
Despite the increase, Waiters said more people would be applying to be Jersey City police officers if there weren't as much media focus on high-profile police shootings. "We have some people who want to become officers, but they try to do it secretly," he said.
Not all police departments have seen consistent recruitment, however. The San Antonio Police Department has seen a decrease in applications, but San Antonio Recruiting Sgt. William Smith said the difference was not significant enough to pinpoint on a particular reason. Recruiting rates are cyclical, Smith said, and San Antonio's recruiting numbers have regularly fluctuated over the past couple years.
In Washington, D.C., police saw about 6,300-7,400 people applying to become officers in 2012 and 2013, but that number fell to about 5,490 in 2014. About 2,300 applied between January and July 2015 and D.C. police spokesman Sean Conboy said he expects the total number for the year to be in the 5,000-6,000 range, which he said department recruiters are comfortable with. Conboy said there's no reason to think the current media focus on police tactics has created a recruiting issue.
Union officials said otherwise. "That's spin, that's pure company spin," Washington, D.C., police union Chairman Delroy Burton said in response. "When I speak to recruiters, I get a completely different story. At the mass hiring events, we're not getting the same numbers and they're having difficulty putting together classes" of recruits, he added.
New York Police Department Sergeants Benevolent Association President Ed Mullins said it's not so much that fewer people are applying to be police officers because of negative publicity but that fewer qualified candidates are submitting applications to be on the force. More-selective individuals are going to other better-paying jobs, not wanting to deal with the public pressure, Mullins said.
"There's so much more job availability, so now what's happening is police are having to compete with the private sector for jobs," Larry Gaines, the department of criminal justice chair at California State University, San Bernardino, said. "At the same time, the negative publicity police has probably had some impact, but [the applicant number] has more do with the potential job pool."
Low pay and pension troubles have also been credited with steering applicants away from law enforcement. For six years following the financial crisis of 2008, pay increases weren't granted to many police officers across the nation as homeowners lost their jobs or saw wage cuts that drove foreclosure and vacancy rates, and local governments dependent on property taxes were forced to cut back.
"So if you have a young candidate out there, they have to deal with negative scrutiny, pushback from family, coupled with the relatively low pay and the high stress and high risk; it has definitely impacted our ability to recruit," said Burton, the D.C. police union head.
Lt. Heather Randol, a recruiter with San Jose Police, said the California department has seen a decrease in interest of people wanting to become police officers. Part of the reason stems from the tensions between police and the public, but the department was also adversely affected by the 2012 Measure B, a local measure approved overwhelmigly by San Jose voters that reduced pension benefits and made workers pay more for their retirement.
The architect of Measure B said multimillion-dollar budget deficits created a situation where San Jose had to either reel in high retirement costs or lay off employees, the San Jose Mercury News reported at the time. Randol said the policy change not only dissuaded people from applying but also forced an exodus of officers already there.
"We know that across the country you can see what's happening in communities where there's been lower trust between police departments and communities," Randol said. "In San Jose, it goes deeper than that…other agencies offer higher benefits and better packages."
While San Jose officials have been working to resolve the pension issues, Randol said the negative publicity some police departments have faced has made it much more difficult to convince potential recruits of the rewards of a career in law enforcement.
"It's an overall feeling across the country that law enforcement is a difficult and challenging career," Randol said. "We have to offset that with the positives; and the pay helps."
For Rollins, the positives still outweigh the negatives. The increased media attention on police misconduct has only reinforced his idea of what the job would be like – dangerous and difficult.
"I really want to go in and rebuild the public's trust," Rollins said. "Nowadays, departments are looking for people who can converse with other people and who can communicate with members of the community. I think that's more important nowadays than having some macho person in the department."
© Copyright IBTimes 2023. All rights reserved.