Putin: Russia-China 'Partnership' Stronger Than Ever Amid Cybersecurity Accusations, Economic Trouble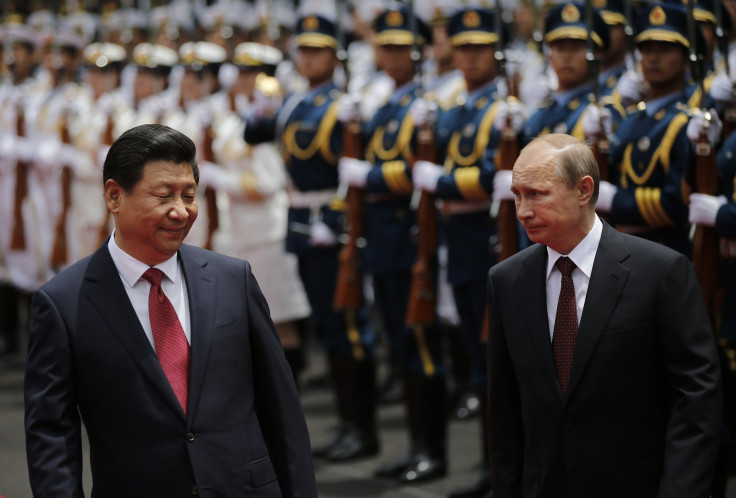 With his trip to China approaching, Russian President Vladimir Putin spoke to reporters about how the two countries recently fortified their relationship after years of discord. Putin, who is scheduled to travel Wednesday to China, said relations were at a "historic peak" as commonalities between the two have developed, despite "illegitimate Western restrictions," Russian news outlet RT reported.
Schisms in the Sino-Russian relationship have persisted for decades because of ideological differences and an economic gap, but the two have found some common ground as trade amid increasing trade. Russian-Chinese gas supply and nuclear power deals have fostered closer cooperation.
"Our countries are consistently moving toward the creation of a strategic energy alliance," Putin said.
Both also face potential U.S. economic sanctions in response to cybersecurity allegations. Putin said "illegitimate restrictions imposed by certain Western countries against Russia" have not affected the Russian-Chinese partnership.
Even with China's recent economic decline, the country still remains Russia's major trading partner, the Moscow Times reported. Putin said that he believes China has made a lot of progress in the past few decades and that has strengthened their partnership.
"The development road China has covered over these years is a path of successful economic reform and wise social policy. This experience is of great value for us," Putin said.
While in China, Putin will take part in the celebration of the 70th anniversary of the end of World War II. Putin noted the two countries both try to preserve the history of the Holocaust and condemn those who deny its occurrence.
"Our two countries were allies in the fight against Nazism and Japanese militarism and bore the brunt of the aggression, and they not only withstood this battle, but won it, liberating enslaved peoples and bringing peace to the planet," Putin said. "Efforts by certain countries to glorify and exonerate war criminals and their henchmen are an outrageous flouting of the Nuremberg and Tokyo trials."
During the visit, Putin plans to also hold bilateral meetings with Chinese leadership regarding energy and other issues, Radio Free Europe reported.
© Copyright IBTimes 2023. All rights reserved.