Qualcomm 4Q Earnings: Barometer Of Smartphone Growth?
Analysis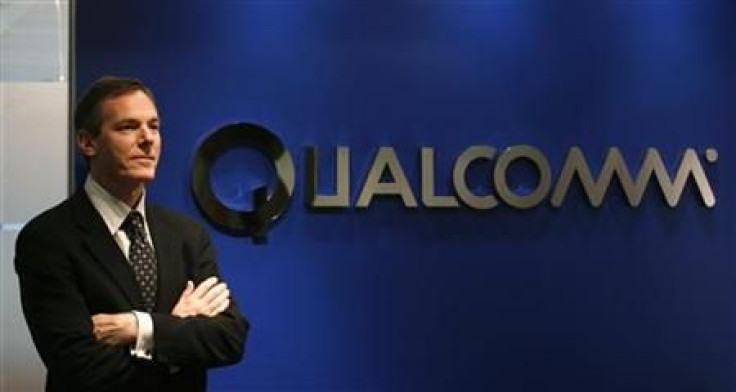 Qualcomm Inc. (Nasdaq: QCOM), the biggest U.S. designer of chips for smartphones, is scheduled to report higher fourth-quarter results Wednesday. The big question: clues for continued demand for the current quarter and into 2013.
The San Diego, Calif., semiconductor giant founded by engineering professor Irwin Jacobs and now run by his engineer son, Paul Jacobs, has benefited for decades from the boom in mobile phones.
But change always looms. Qualcomm essentially invented the CDMA wireless technology, the mainstay of so-called 3G (third-generation) mobile networks. But now the focus is on 4G, which the big carriers headed by AT&T Inc. (NYSE: T), the No. 1 carrier, are speeding to develop.
Qualcomm isn't a slouch. Last year, it acquired Atheros Communications, a next-generation developer of Wi-Fi networking chips, for $3.2 billion, creating the Qualcomm Atheros division.
The company previously acquired well-regarded RF Micro Devices to get deeper into networking, for products like radio-frequency tags used in warehouses and systems like EZ-Pass.
Analysts polled by Thomson Reuters expect Qualcomm to report earnings of 82 cents per share on revenue of $4.67 billion, a slight increase from the prior-year's 80 cents per share on $4.12 billion in revenue.
After third-quarter results were published, Jacobs suggested Qualcomm would report fourth-quarter operating earnings ranging between 78 cents and 84 cents on revenue between $4.45 billion and $4.85 billion.
By all rights, Qualcomm's business should be thriving, especially because its designs support chips built around the architecture of the A5 and A6 chips from ARM Holdings of the UK (Nasdaq: ARMH), which are used in the iPhone and iPad families from Apple Inc. (Nasdaq: AAPL), the world's most valuable technology companies.
Third-quarter sales of all mobile phones rose about 2.4 percent, estimates market researcher IDC, to about 445 million units. Sales of smartphones surged more than 45 percent to nearly 180 millions.
So, given that Qualcomm benefits from both higher sales of Android phones using Google's (Nasdaq: GOOG) standard, as well as Apple's, earnings ought to be robust.
Qualcomm chips are designed into the iPhone 5 and earlier models of phones from Apple.
Indeed, Sterne Agee analyst Vijay Rakesh believes Qualcomm derives as much as $12 to $15 per iPhone 5 from selling its baseband chip. If Apple starts selling iPhones through China Mobile Ltd. (NYSE: CHL), China's No. 1 mobile carrier, the potential is enormous, he said.
Rakesh has a "buy" rating on Qualcomm shares, with a price target of $71.
Meanwhile, a new line of Qualcomm chips, Snapdragon, has been designed into scores of new smartphones and laptops, dominated by Chinese makers such as Lenovo Group (Pink: LNVGY), the No. 2 global PC maker, which is shipping ThinkPad tablets and may unveil its own smartphone lines.
Rakesh said he was impressed that Quacomm's 40+ design wins could yield a profitable new opportunity for the company.
Shares of Qualcomm fell 6 cents to $60.37 in Tuesday trading. They've risen about 10 percent this year and 7 percent over the past 52 weeks.
© Copyright IBTimes 2023. All rights reserved.