Quentin Tarantino Knew About Harvey Weinstein Sexual Harassment For 'Decades'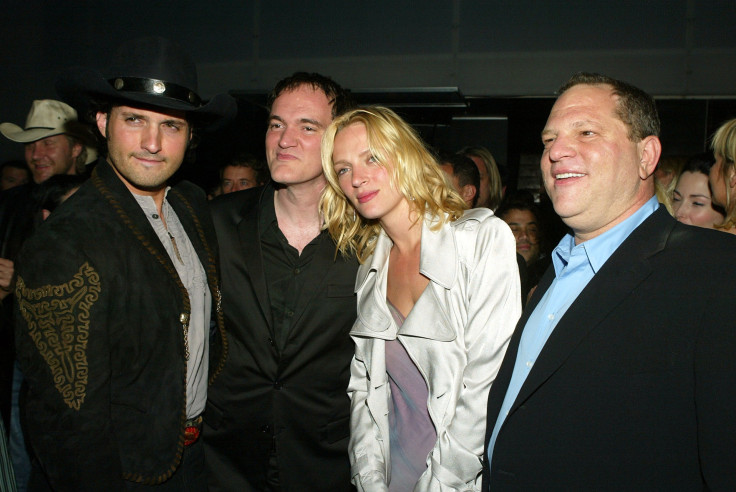 Quentin Tarantino, famed director and longtime friend of Harvey Weinstein, reportedly knew of the disgraced film producer's alleged sexual harassment for "decades." The New York Times, which broke one of two damning exposés on Weinstein, spoke with Tarantino for his first official interview on the subject.
Tarantino now feels "ashamed" that he did not refuse to work with Weinstein, the New York Times reported Thursday. The director said that beyond rumors, he had knowledge of several incidents involving alleged misconduct against actresses.
"I knew enough to do more than I did," he told the Times. "There was more to it than just the normal rumors, the normal gossip. It wasn't secondhand. I knew he did a couple of these things."
Tarantino reportedly had knowledge of "unwanted touching" by Weinstein toward his ex-girlfriend Mira Sorvino. In addition to an incident involving another actress, Tarantino also reportedly had knowledge of a settlement reached between Weinstein and Rose McGowan, who wrote that she was raped by a studio head with the initials H.W.
The New York Times described the relationship between Weinstein and Tarantino as "symbiotic" and noted the many movies they've work on together, including "Pulp Fiction" and the "Kill Bill" movies.
While Tarantino said he was unaware of the scope of the allegations, particularly those of rape, he claimed that everyone who was close to the former studio executive "had heard of at least one of those incidents." Describing his reaction to the alleged misconduct against Sorvino, he said he "couldn't believe he would do that so openly."
"I thought Harvey was hung up on her in this Svengali kind of way," he said. "Because he was infatuated with her, he horribly crossed the line."
Tarantino, who was previously criticized for his brief and seemingly delayed response to the allegations, said that Hollywood operates "under an almost Jim Crow-like system that us males have almost tolerated." He claimed himself and others "allowed it to exist because that's the way it was."
"I'm calling on the other guys who knew more to not be scared," he said. "Don't just give out statements. Acknowledge that there was something rotten in Denmark. Vow to do better by our sisters."
Weinstein has since been fired from his company and is seeking treatment at a rehabilitation center in Arizona. After a growing number allegations against Weinstein were made public, his wife Georgina Chapman announced she was leaving the former studio head.
"My heart breaks for all the women who have suffered tremendous pain because of these unforgivable actions. I have chosen to leave my husband," she said in a statement to People. "Caring for my young children is my first priority and I ask the media for privacy at this time."
© Copyright IBTimes 2023. All rights reserved.