R.A. Dickey Trade Rumors: Is Mets Cy Young Winner On His Way Out Of New York?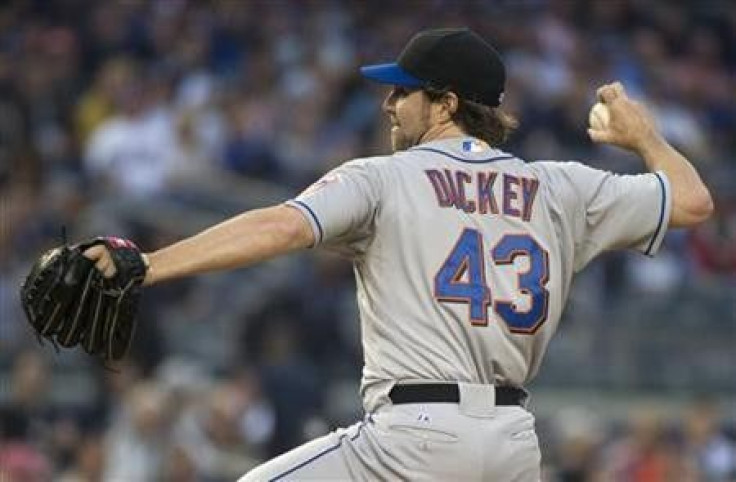 As baseball's Winter Meetings kicked off this week, one of the hottest rumors circulating is whether the New York Mets are close to trading 2012 Cy Young Award winner R.A. Dickey. So will the Mets pull the trigger?
The latest update in the rumor mill – a team source who spoke to New York Daily News Mets beat writer Andy Martino – points to Dickey staying with the Mets, although don't count out the Amazins trading the 2012 Cy Young winner.
"Here's a very good Mets source on Dickey. 'I think he stays.' That's interesting, but don't take it to the bank yet -- lot of balls in air," Martino wrote on his Twitter account Monday morning.
The latest trade rumor speculation comes as Mets General Manager Sandy Alderson reportedly spoke to eight teams who have an interest in trading for Dickey, a rags-to-riches story who relied on the knuckleball to save his baseball career. The pitch catapulted Dickey as a Cy Young contender in 2012, going 20-6 for the Mets with a 2.73 ERA. He wound up winning the award, the first Met to do so since phenom Dwight Gooden in 1985.
John Heyman of CBS Sports identified the eight teams as the Kansas City Royals, Baltimore Orioles, Texas Rangers, Los Angeles Dodgers, Arizona Diamondbacks, Boston Red Sox, Toronto Blue Jays and Washington Nationals.
Heyman noted that the Mets would have to be wowed by the Nationals to trade Dickey to Washington since the Nats compete with New York in the same division.
What do the Mets expect to get in return for Dickey in a potential trade?
"What we've tried to say to ourselves is that we have to get back difference makers," Alderson told ESPN New York's Adam Rubin. "It doesn't have to be a catcher. It doesn't have to be an outfielder. It doesn't have to be anything. But it has to be a difference maker. Because R.A. is a difference maker."
Catcher and all three outfield positions are the Mets' most glaring needs.
Heyman reported the Blue Jays may dangle catcher J.P. Arrencibia in a Dickey deal, but it's doubtful the Mets would bite on a trade centered around the catcher.
Other clubs who have spoken to the Mets said New York has lofty demands in return for Dickey, who is still under contract for 2013 at $5 million. The Mets are also in discussions to extend Dickey's contract, and it's still possible New York will hold onto their Cy Young winner.
Alderson reportedly asked for top Red Sox prospects Jackie Bradley Jr., an outfielder, and shortstop Xander Boegarts in exchange for Dickey, Heyman reported.
The Mets GM also inquired about Royals prospect Wil Myers, an outfielder, but Heyman reported Kansas City is reluctant to part with the top prospect in a Dickey trade.
© Copyright IBTimes 2023. All rights reserved.