Radical Islam Not Responsible For Vast Majority Of Mass Shootings In America, Says Report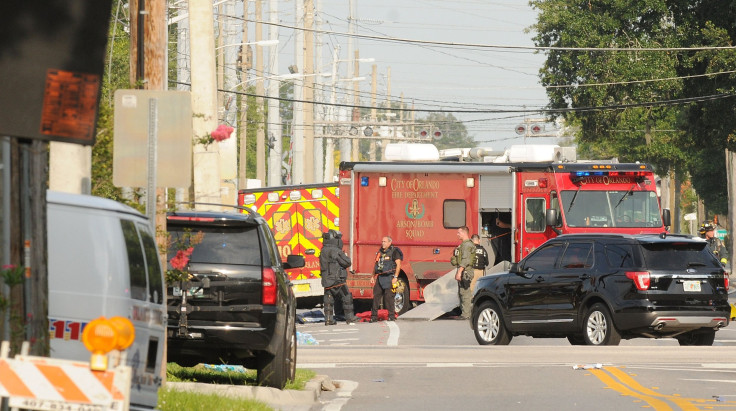 The terrorist group known as ISIS has claimed responsibility for the mass shooting in an Orlando gay club that left 50 people dead and more than 53 wounded. Taken together with December's mass shooting in San Bernardino, California, for which ISIS also claimed responsibility, and the July 2015 shooting spree perpetrated by a Muslim man in Chattanooga, Tennessee, it might seem as though attacks on U.S. soil carried out in association with radical Islam are becoming something of an epidemic.
But data put together by the Washington Post shows that of the dozens of mass shootings that have taken place in America since 2014 in which three or more victims died, only three could be associated with radical Islam.
The Washington Post's map of those mass shootings divides the tragedies by the shooters' motivations: radical Islam, some other political stance (race, anti-abortion), or no apparent political stance.
There were two mass shootings designated as having some political motivation not related to radical Islam: the massacre of nine men and women at a church in Charleston, South Carolina, and the murder of three people at a Planned Parenthood clinic in Colorado Springs, Colorado. The rest were deemed apolitical.
Many observers have pointed out that simply because the Orlando shooter, Omar Mateen, pledged allegiance to ISIS, also known as the Islamic State group, in a 911 call shortly before opening fire on the 300-plus crowd gathered at the club that night, doesn't mean this was an attack plotted by ISIS.
The official ISIS newswire, Amaq Agency, released a statement from a source claiming the attack was carried out by an ISIS fighter.
That doesn't rule out the shooter being a so-called lone wolf. It also doesn't wipe away what is believed to be his primary motivation: hatred of the LGBTQ community.
But the real point of this data, the Washington Post's Philip Bump writes, is to see just how commonplace these mass shootings are — regardless of motivation.
© Copyright IBTimes 2023. All rights reserved.